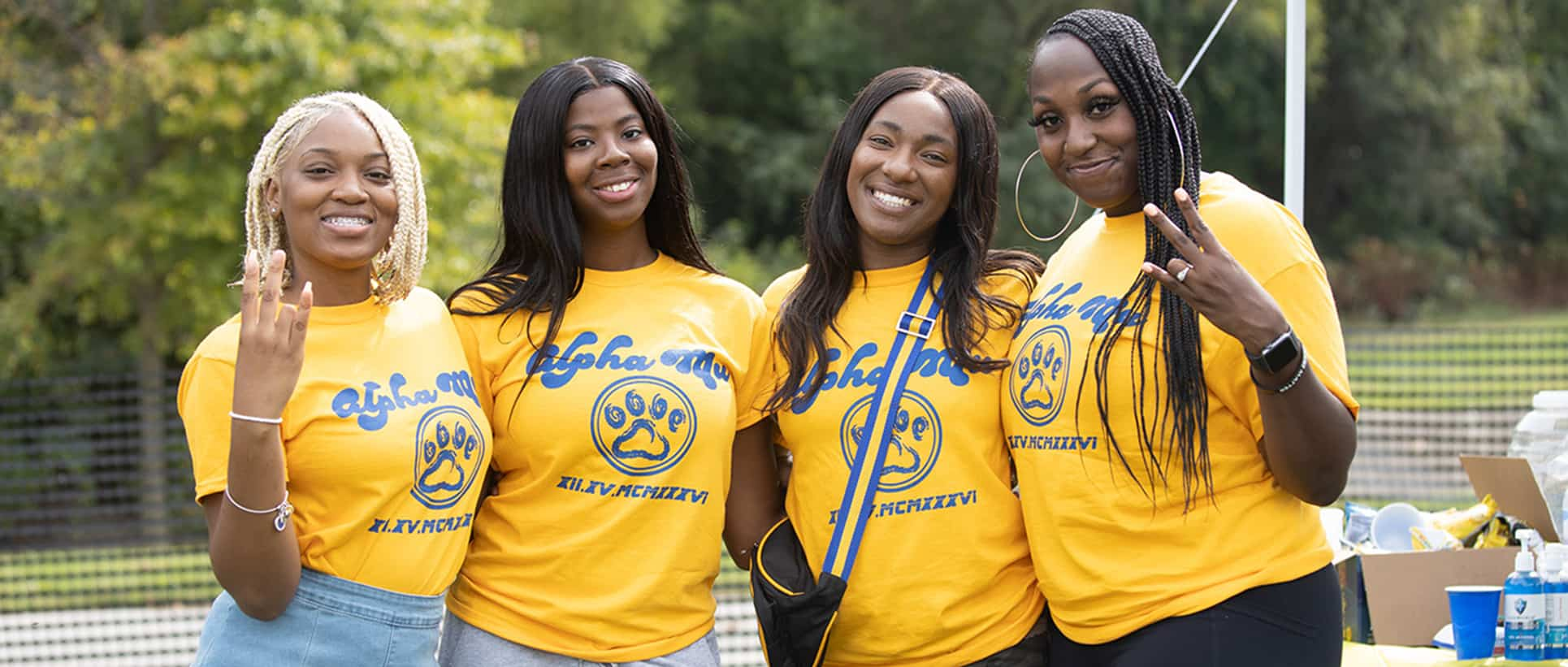 Student Life
Life as a Blue Tiger is about more than just going to class. As a student at Lincoln University of Missouri, you will be part of a secure, supportive, and fun-loving community. You will have many opportunities to relax, enjoy yourself, and make lasting friendships.
Our campus is a vibrant one, energized by frequent events that give students and faculty a chance to come together and celebrate Lincoln's proud history and culture. From our annual new student Welcome Week, to sporting events and concerts, there is always something exciting happening on Lincoln's campus. Overseen by our student-led Campus Activity Board, these events are chosen and planned to provide memorable and exciting cultural, as well as social and educational experiences for you.
Become A Member!
Fraternity & Sorority Life is also an essential part of the Lincoln experience for many students. Many fraternities and sororities opened their first chapters in Missouri on the Lincoln campus. All of the Greek organizations that Lincoln chapters are community-based service organizations, devoted to making a difference while offering plenty of fun and bonding opportunities for their members.
Get Involved!
In addition to campus events and Sorority & Fraternity life, there are also a number of clubs and organizations on campus where you can pursue your passions and interests. You can also get some exercise or join a game at the LINC Recreation Center or help guide the future of Lincoln as part of our Student Government Association.
Stay Safe!
Of course, safety and security are essential to making our campus a welcoming place for everyone. Lincoln is home to its own police department that enforces criminal laws, ordinances, and provides security to everyone on the Lincoln campus.
However you choose to spend your time, all of these activities and organizations will help ensure that your time at Lincoln is one you will never forget. This is Blue Tiger country, and we know how to have a good time!
CONTACT US
Have questions about life on the Lincoln campus? Want to start your own club or volunteer for an event? Reach out to the Office of Student Engagement and we'll get back to you as soon as possible.
Lincoln University Project Success Emergency Fund
Do you have an emergency you weren't expecting? Review the eligibility below and if you meet the criteria, submit your application: 
Student Eligibility: 
Undergraduate, part- or full-time degree-seeking student.
Enrolled during term they receive the emergency grant, including summer.
Meet your institution's satisfactory academic progress requirements.
May receive up to $1,000.
Emergency funds are granted once every academic semester.
Pay within two business days of application approval.
No payments directly to students, issue payment to third parties only.
Payments cannot be used to cover school expenses (parking fees, fines, tuition, books, supplies, required tools/equipment, etc.).
Financial Emergency:
An unforeseen expense that, if not resolved quickly, could lead to departure from the college and loss of momentum toward completion.
Shawnda Hayes-Dunnell, M.S.
Assistant Dean of Judicial, Title IX and Compliance
Young Hall, 303F
820 Chestnut Street
Jefferson City, MO. 65101
P: (573) 681-5495
E: 
Hayes-DunnellS@lincolnu.edu
Marnita Stovall-Brown

 
Project Specialist/Assistant to VPSA 
303 Young Hall 820 Chestnut Street
Jefferson City, MO 65101
P: 573-681-5502 F: 573-681-5979
E: 
Stovall-BrownM@LincolnU.edu