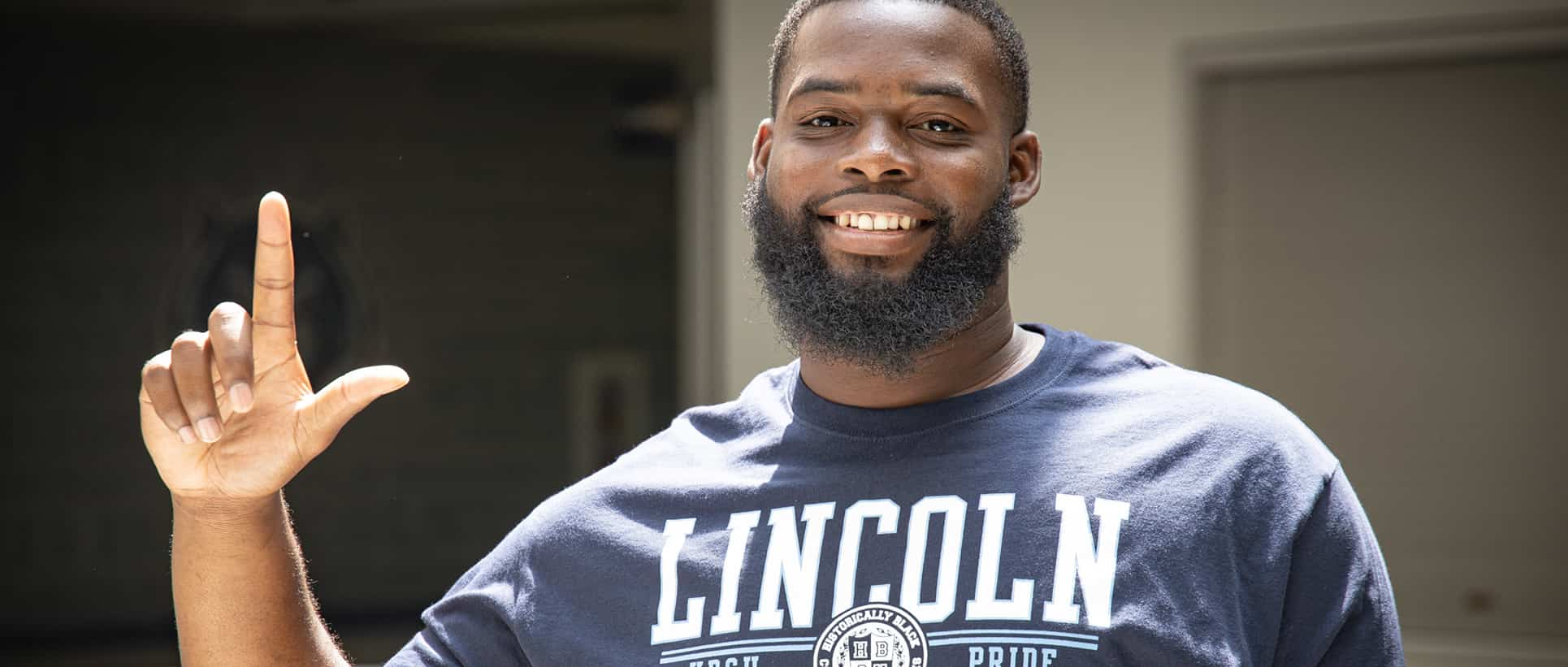 Undergraduate Admissions
Welcome, future Blue Tiger!
We are excited that you have chosen to learn more about pursuing your undergraduate college degree at Lincoln University of Missouri.
At Lincoln, we find power in together — where the people walking beside you, those who came before, and those leading the way are all here for your success. At Lincoln, education is within reach.
Founded in 1866 by the men of the 62nd and 65th United States Colored Infantries and their white officers for the special benefit of freed African-Americans, Lincoln is one of a select group of Historically Black Colleges and Universities (HBCU). The university is known for its collaborative, diverse student body, innovative undergraduate and graduate programs, and exciting athletics and residential life.
What you'll find at Lincoln ...
A high quality, affordable education (flat-rate tuition, plus merit and need-based scholarships)
Small campus, big resources
35 undergraduate degree majors — with academic coaching to help you succeed
Master's degree programs in education, business and the social sciences
50+ student organizations, ranging from fraternities and sororities, to academic and professional affiliations
11 NCAA II sports programs: men's basketball, football, golf and track & field; women's basketball, cross country, golf, softball and track & field
Global-reaching research opportunities
Admission Criteria
Please review the following and gather the necessary documentation. If you have questions about admissions, please view our Frequently Asked Questions page. If you need further assistance, then please contact us and we'll get back to you as soon as possible.
New First-Year Students
Official high school transcripts, with a GPA of at least 2.5 ( Students below a 2.0 GPA will be required to attend LU's Summer Bridge Program)
Official SAT or ACT scores (optional)
GED recipients must submit official GED scores
Transfer Students
Official college transcripts for all previously attended institutions
Minimum GPA of 2.0 for all attempted college credits
Good standing with the previous institution
Homeschooled Students
Submission of transcripts or list of completed courses
Must have homeschool administrator signature on the transcript
Official SAT or ACT scores (Optional)
Non-Degree-Seeking Students
We offer various options for visiting or non-degree-seeking students. Please email us at admissions@lincolnu.edu or give us a call at 573-681-4357 to receive more information.
Did you know?
Students at HBCUs receive more financial assistance, Pell Grants, and scholarships than at other institutions — on top of enjoying some of the nation's lowest tuition rates.
Request Information
Want to get information from us?
Fill out our info request form so your recruiter can reach out to you!