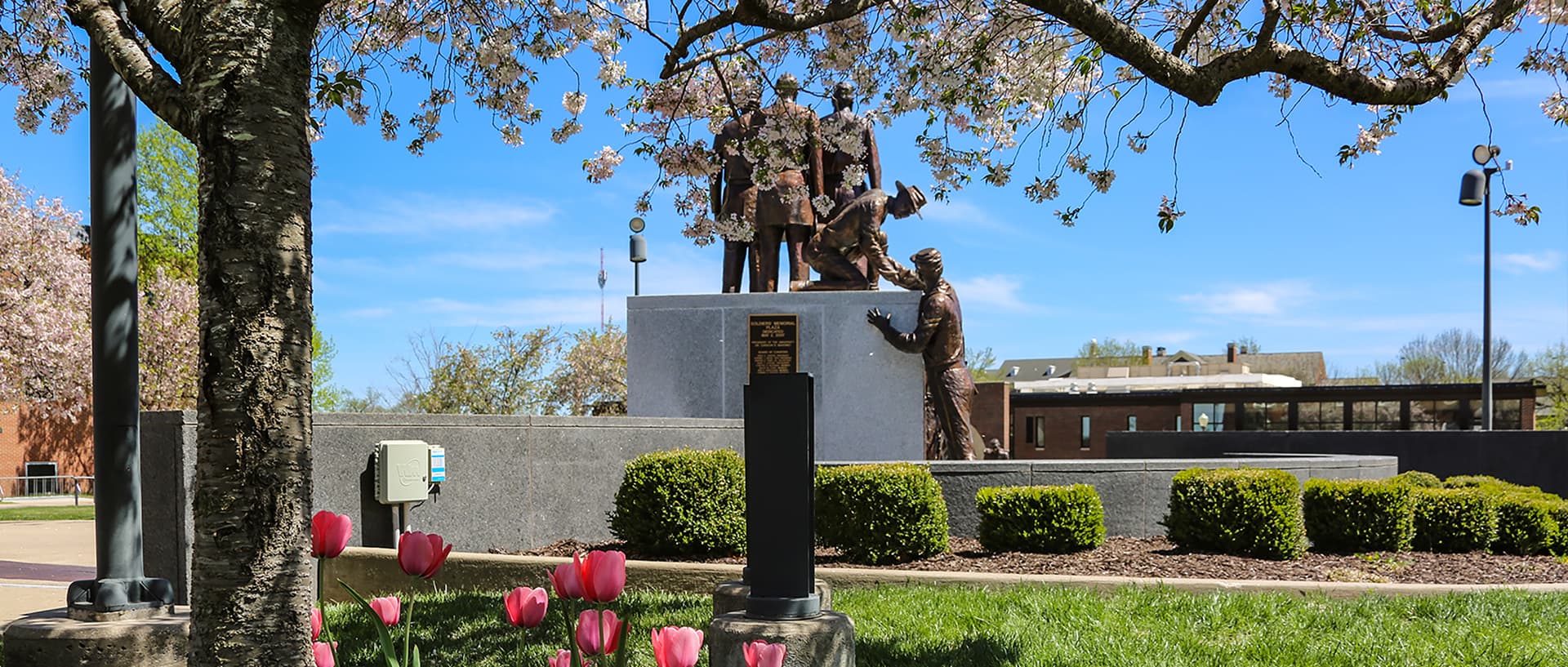 About Lincoln
At the center of Lincoln University of Missouri's campus, in the Soldiers' Memorial Plaza, there's a statue that every student passes by. It portrays a group of soldiers, standing atop a monument. One reaches down, extending a helping hand to one of his brothers-in-arms, so he too can stand proud and stand tall.
An inscription on the monument reads: "Dedicated to Officers and Soldiers of the 62nd and 65th United States Colored Infantries." The men memorialized here were born in enslavement and fought for—and won—their freedom.
In 1866, these same men helped to found what was then Lincoln Institute to help soldiers like themselves and other Black Americans get an education. Lincoln is one of the state's two historically black colleges or universities (HBCUs) and the only one founded by former slaves.
Today, Lincoln is open to and proudly attended by students of all backgrounds and ethnicities. The same values this institution was founded on still apply, though. Education. Support. Opportunity.
Through innovative academic programs, small class sizes, and a tightly knit community, we provide access to learning that will have a lasting and real impact on your life so you can find success and give back to your community.
Be a Blue Tiger
When you join Lincoln's Blue Tiger Nation, you're getting more than a typical college experience.
You'll get your pick of some 50 learner-centered undergraduate degree programs and master's degree programs in education, business and the social sciences.
You get to go to school in the capital city of Missouri and have access to a variety of cultural and professional experiences you won't get anywhere else, while still feeling secure living in a small and open campus where everyone knows everyone.
You'll have access to internships with local and national employers and opportunities to take on global-reaching research so you can begin building a career while you are still in school.
You'll be part of an incredibly diverse student body, meeting students from across the state and from around the world, discovering new perspectives and friendships.
You'll get to take part in a vibrant campus culture, filled with traditions, like our annual Founders' Day celebrations where we celebrate our history and the people who risked so much to make it possible. You can also pledge one of our many fraternities or sororities and have fun giving back to the community as part of your Greek life.
You can be an athlete, joining our competitive and title-winning teams in basketball, football, track and field and many more. Or you can be part of the Marching Musical Storm, the University's world-class marching band.
Most importantly, you'll be part of a learning community that will challenge you to push yourself to greater heights while also giving you the support and encouragement you need. You'll find your Blue Tiger Pride, devoting yourself to being your best and leaving your campus better than you found it. You'll discover the value you add to your community, and that there are no limits on what you can achieve.
Earn Your Stripes
At Lincoln, we're all of this and so much more. We're always true and always blue. So come join us. Be a Blue Tiger and earn your stripes.