Sunfish Nutrition Project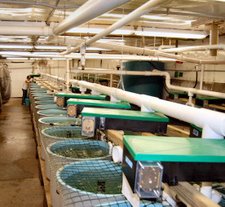 Water reuse system at Busby Farm.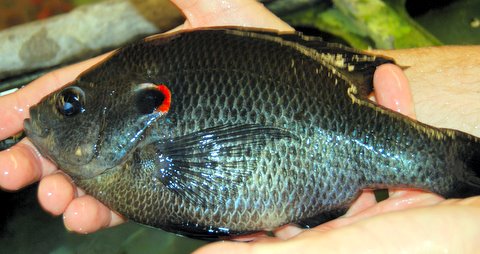 Project Title: Aquaculture Nutrition Research Initiative in Missouri:  Developing Least-Cost Diets with Alternative Protein Sources to Fishmeal for Bluegill and Redear Sunfish.
Principal Investigator: Dr. Thomas R. Omara-Alwala
Project Summary: The feasibility of using bluegill for aquaculture purposes in the north central United States is promising.  However, many culture, nutrition and genetic aspects of the species are still unclear.   Little work has been done with redear, a larger member of the sunfish family that may have aquaculture production potential as well.  The goal of this project is twofold.  Firstly, to determine the protein and energy requirements for bluegill and redear sunfishes in the late fingerling to early grow-out stages (20 -100g) and secondly, to create least-cost diets for them.  The use of plant-based over the expensive fishery byproducts for protein sources will be prioritized. The study could result in major feed cost savings for the sunfish operators in the United States.
Contact Information:
Lincoln University Cooperative Research
Room 107 Foster Hall
Jefferson City, MO 65101
Phone: (573) 681-5967
Fax: (573) 681-5955