ROTC Program Standards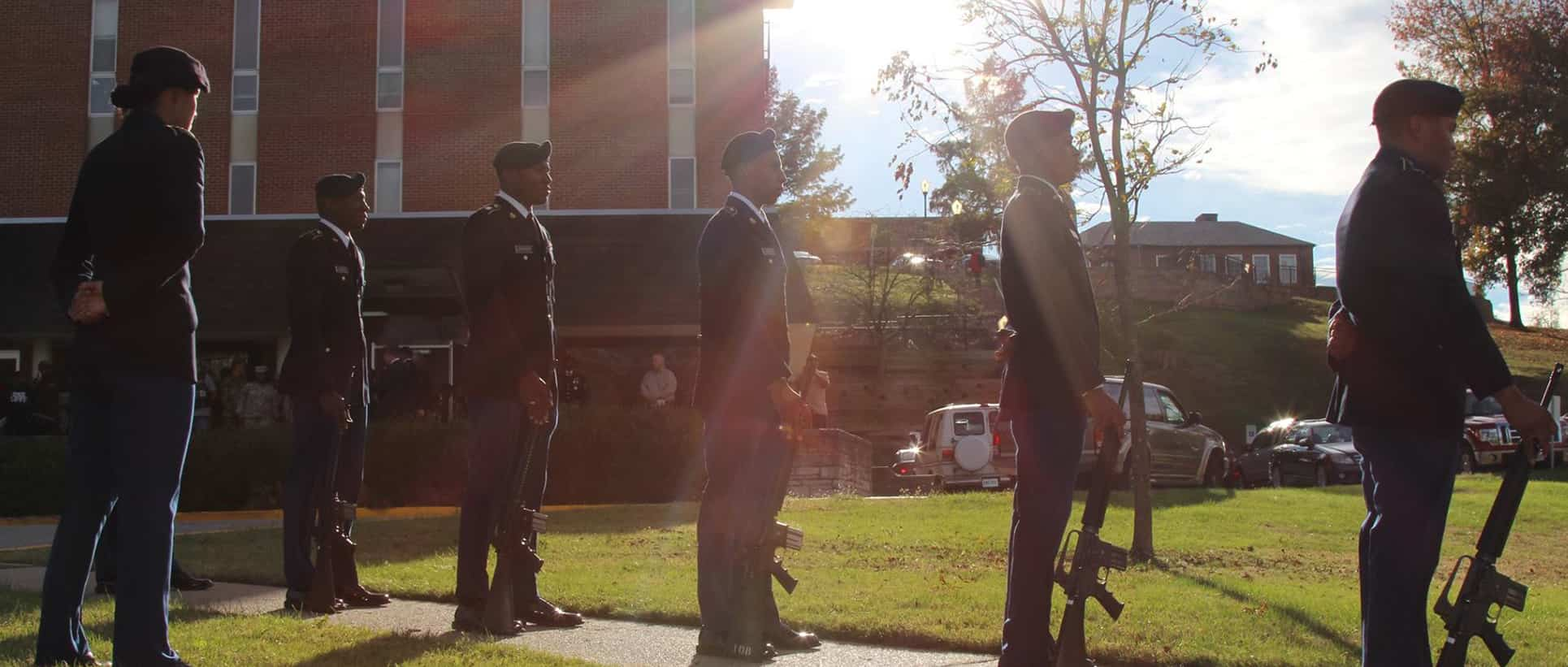 Learn more about the ROTC program standards at Lincoln University of Missouri.
Academics:
Maintain a cumulative GPA of at least 2.00 once contracted
Maintain a cumulative ROTC GPA of at least 3.00
Maintain full-time student status (enrolled in no less than 12 credit hours)
Make normal progress towards a degree. Cadets must successfully complete each semester approximately 1/8 of the total credits needed to graduate.
Earn a bachelor's degree prior to commissioning.
ROTC:
Receive credit for the Army ROTC Basic Course (MSC 101, 102, 201 and 202). Credit may be earned by attending Army ROTC Basic Camp or Basic Combat Training (BCT).
Successfully complete the Army ROTC Advanced Courses (MSC 301, 302, 401 and 402).
Maintain academic alignment. (ex. Academic classification (freshman, sohomore, etc.) mirrors ROTC status (MS level I, MS level II, etc.). Exceptions to this policy must be approved by the Professor of Military Science (PMS).
Successfully complete Army ROTC Advanced Camp at Fort Knox, KY upon completion of junior year/MS level III.
Earn a degree in the academic major specified in their contract. (Cadets may not change their major without the approval of the PMS.)
Physical Fitness:
The physcial fitness assessment for contracting Cadets will be the Cadet Command Fitness Assessment (CCFA). The CCFA consist of 1 minute of push-ups, 1 minute of modified sit-ups and a 1 mile run. The standards to pass the assessment is based on gender.
Male Standard: Push-up: 30; Modified Sit-up: 35; 1 Mile Run: 8:00 minutes
Female Standard: Push-up: 13; Modified Sit-up: 30; 1 Mile Run: 10:00 minutes
Credit for Military Schools
Credit for military schools will be granted according to the recommendations of the American Council on Education. Individuals must present official documents before an evaluation will be made.
Lincoln University awards credit for military training and experience based on American Council on Education (ACE) credit recommendations. ACE has a National Guide to College Credit for Workforce Training and the ACE Military Guide: expert evaluators review workplace training, military experiences and national exams for potential college credit matches.
There is no limit to the number of credits Lincoln University will award; however, a maximum of 30 non-traditional credits can be applied towards an associate's degree program and 90 applied towards a bachelor's degree.
Military credit evaluation
The Joint Services Transcript (JST) is required for current and former Army, Navy and Marine Corps, and Coast Guard students.
The Community College of the Air Force (CCAF) transcript is required for current and former Air Force students.
Military equivalencies
Military equivalencies are determined using ACE credit recommendations. To find out our equivalencies, please contact the Registrar's Office.
Contact
573-681-5348
ArmyRotc@LincolnU.edu
Lincoln University Army ROTC
903 Lafayette St., Soldiers Hall
Jefferson City, MO 65101