ROTC Activities & Events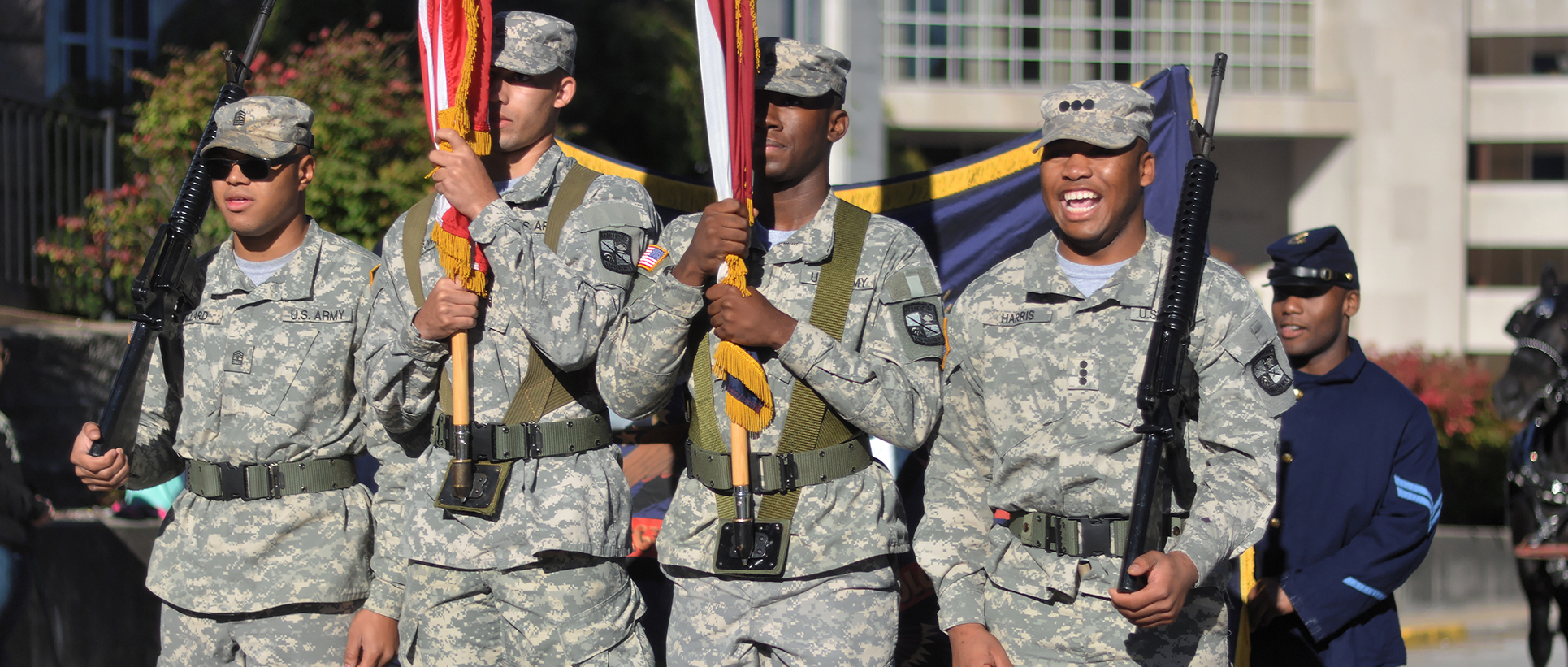 Rotc is calling! Explore ROTC activities and events at Lincoln University of Missouri.
Extracurricular Activities
Ranger Challenge
Ranger Challenge is ROTC's varsity sport. The competition consists of mental and physical challenges in selected skills, which can include: APFT, weapons assembly/disassembly, one-rope bridge, orienteering, patrolling, grenade assault course and a 10 km road march. The Ranger Challenge Tab is awarded to those who make the competition team.
Color Guard
The Color Guard is usually a five-man detail, with two soldiers carrying the national and state colors (or Army flag), two carrying rifles and a Cadet NCOIC. LU Army ROTC provides color guards for various events held by the university and throughout the community.
Cannon Crew
The Cannon Crew is present at all home football games. The crew is responsible for firing the cannon to commence the game and to signify points scored. Along with each touchdown or field goal scored, the Cannon Crew performs the appropriate number of pushups for each point on the scoreboard in the end zone.
Events
Military Ball
The Military Ball is a formal event held during the spring semester. All Cadets and Cadre from the program attend, accompanied by their guests. The night consists of dinner, a featured speaker, the Grog Bowl, and a dance. This is a mandatory event and Cadets wear the Army Service Uniform.
Awards Day
The Awards Day Ceremony, held in the spring semester, recognizes Cadets' training and academic achievements for the school year. This event gives Cadets the proper accolades in front of their subordinates, peers, Cadre, university officials and distinguished guests. This is a mandatory event and Cadets wear the Army Service Uniform.
Commissioning
Commissioning marks the transformation from Cadet to Second Lieutenant in the United States Army. It is a monumentous event and is attended by the Cadets, Cadre, family, friends, university officials and distinguished guests. This event is mandatory for all Cadets.
Contact
Lincoln University Army ROTC
903 Lafayette St., Soldiers Hall
Jefferson City, MO 65101
Phone: 573-681-5348