LUCE's Small Ruminant Fall Field Day: Cultivating Innovation and Entrepreneurship Among Small-Scale Farmers
Contact
Office of Communications and Marketing
Young Hall
820 Chestnut Street
Jefferson City, MO 65101

Archives
Categories
Social Media
Stephanie Cobian
|
November 3rd, 2023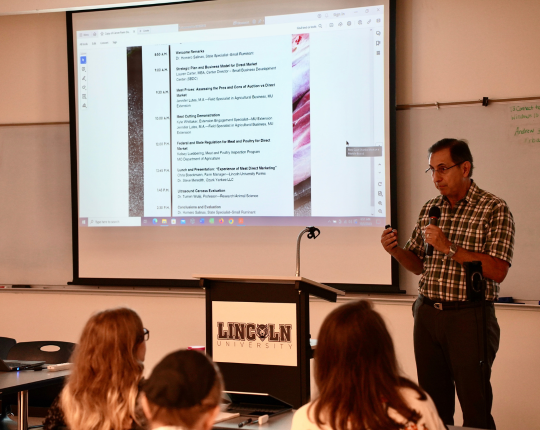 Lincoln University Cooperative Extension (LUCE) Small Ruminant Program recently hosted its annual Fall Field Day on October 5, 2023, at LU's George Washington Carver Farm. The event drew participation from 30 small-scale sheep and goat farmers from various regions of Missouri and neighboring states. Attendees gathered to gain insights into meat processing, strategic business planning, marketing, and pricing with the aim of enhancing their small ruminant farming enterprises.
Dr. Homero Salinas-Gonzalez, State Specialist of LUCE Small Ruminant Program, emphasized the program's commitment to providing valuable tools and strategies for small ruminant farmers involved in meat production. He stated, "The workshop aims to equip farmers with knowledge and skills that could improve the sustainability and profitability of their operations, benefiting both the farmers and the local community through the availability of locally produced and processed meats."
The event, led by Dr. Salinas and featuring expert collaborators from MU Extension, Missouri Small Business Development Center (SBDC), Missouri Department of Agriculture and Lincoln University, covered a range of topics, including strategic business planning, marketing, pricing, compliance with federal and state regulations, and included a meat cutting demonstration.
Keith and Norma Cooper, owners and operators of Cooper Farms in Bismarck, Missouri, shared their motivation for attending the workshop. Norma Cooper stated, "Prices dropped so low on our goats that we needed to do something different." With 12 years of farming experience, they sought new strategies to ensure the viability of their operation. The decline in prices of goats resulted in a loss of $100 less profit per animal. To offset these losses, they plan to implement direct marketing on September 25, selling their products directly from the farm to consumers. This approach will enable them to capture a greater percentage of the food dollar by eliminating middlemen, such as distributors, packing houses, or processors.
The event also explored the benefits and risks of direct marketing with insights from Lauren Carter, the Center Director of the Small Business Development Center (SBDC) at Lincoln University. Carter highlighted how direct marketing can enhance an operation's viability, foster personal connections with consumers and boost brand visibility. Additionally, Carter disclosed the considerations of direct marketing to farmers' markets, farm to school/farm to institution and restaurants, as well as components of a good marketing plan.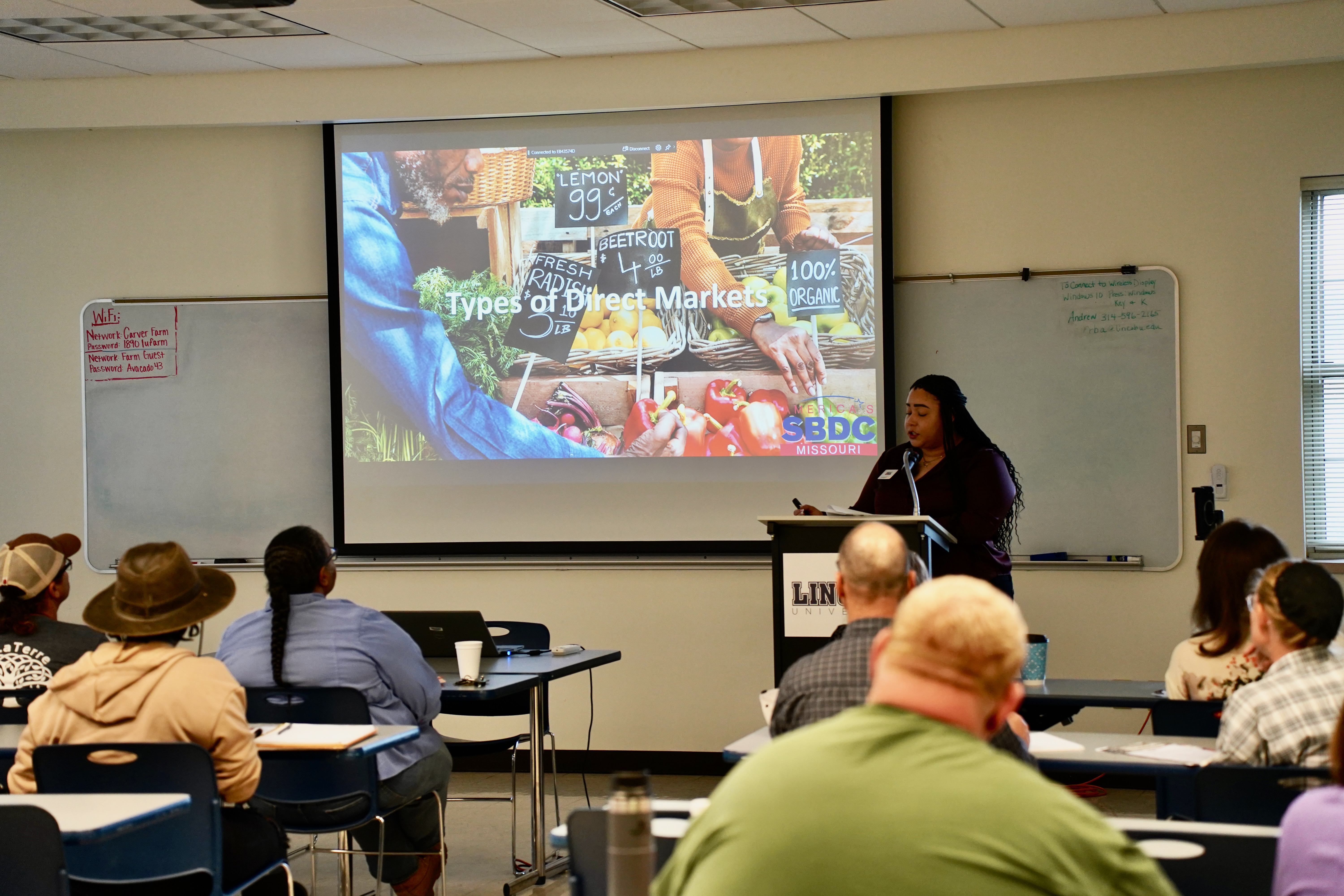 Lauren Carter, Center Director of the Small Business Development Center (SBDC) at Lincoln University, discusses the benefits of direct marketing and offers insights into marketing strategies
To encourage goal setting and explore international opportunities, SBDC International Trade Director Leslie Fischer discussed expanding operations globally, emphasizing the importance of having a well-structured export plan. Through the SBDC and their partnerships with the Missouri Department of Ag and Food Export Midwest, Fischer works with business owners to assess readiness to export and build an export plan to take domestic products abroad. "I always say you wouldn't take a trip without having a plan in place to go unless you're very adventurous, and you wouldn't do that with your business as well," commented Fischer.
Kelsey Luebbering, the Meat and Poultry Inspection Program Coordinator at the Missouri Department of Agriculture's Division of Animal Health in the Missouri Department of Agriculture, provided insights into federal and state regulations governing meat and poultry. Participants gained valuable knowledge about the importance of adhering to these standards, encompassing safety, quality, and accurate labeling. Legal compliance builds consumer trust plays a pivotal role in safeguarding public health.
Jennifer Lutes, MU Extension Field Specialist in Agricultural Business, provided participants with insights into meat pricing, the pros and cons of selling at auctions versus direct marketing, and facilitated a meat cutting demonstration conducted by Kyle Whittaker, MU Extension Engagement Specialist. Whittaker emphasized, "This is something you can do on your own," during his demonstration using a few inexpensive tools.
Donna Isaacs, co-owner of DeLaTerre Permaculture Farms in Eros, Louisiana, attended the event with the goal of learning how to establish a certified organic processing facility. Isaacs and her business partner have been practicing regenerative sustainable farming on their 14-acre farm since 2020. Currently, their animals are sent to a USDA-approved slaughtering facility in Texas. However, to achieve organic certification, they need their own certified organic processing facility. Given their small-scale operation, Isaacs is left with the task of building their own organic certified slaughtering facility.
Driven by her commitment to regenerative sustainable practices. Isaacs' dedication extends beyond her farm, as she supports 20 farmers on their path to becoming viable economic producers through funding from an RCS Conservation Innovation Grant. "This workshop was very timely…" shared Isaacs. "It's about being a model to the community. People think that you need to have a lot of land and a lot of money to get into agriculture, but you can do a lot on small acreage and with small investments. We want to show them how to do it."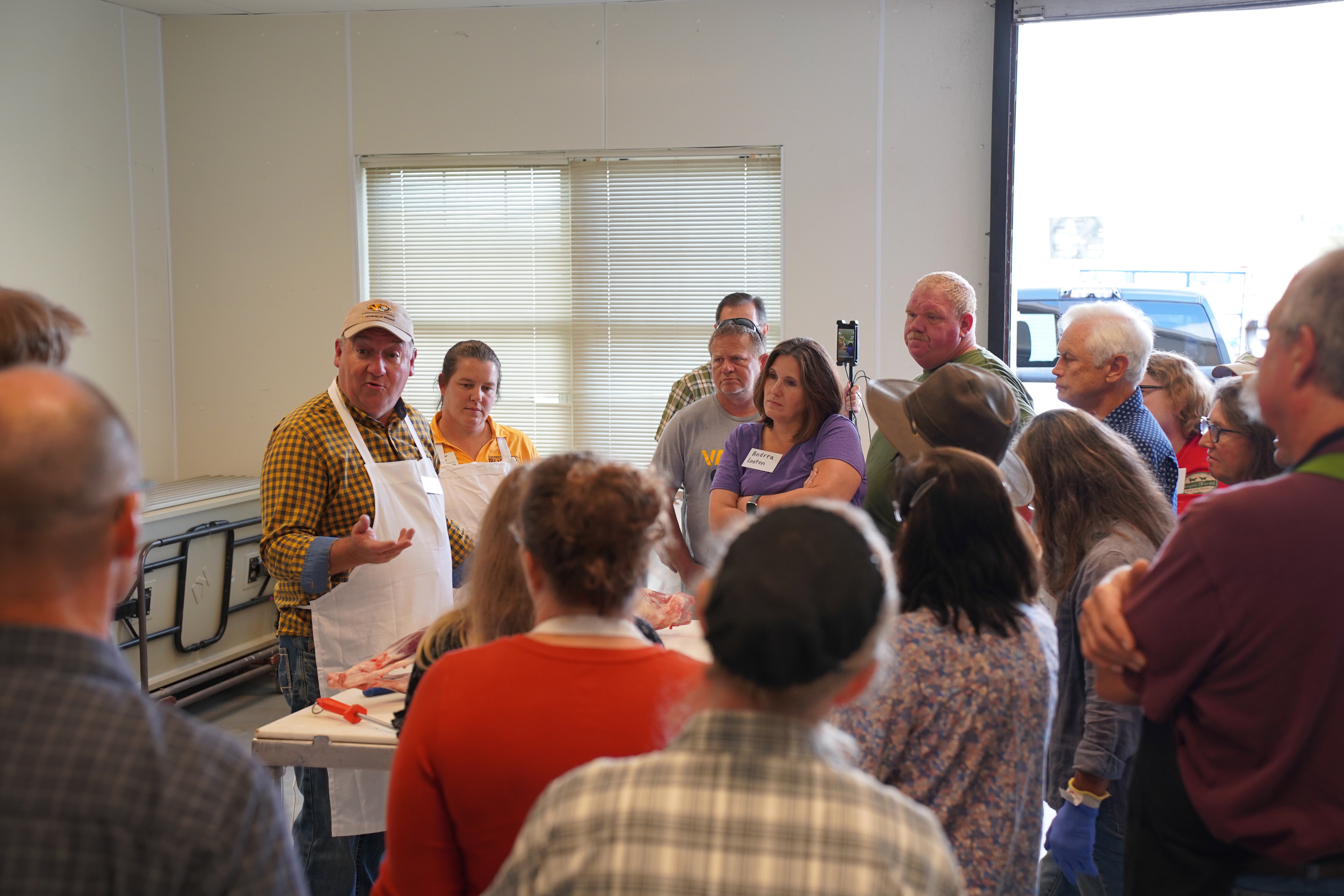 Kyle Whittaker, MU Extension Engagement Specialist, demonstrates meat cutting techniques using affordable tools, emphasizing self-sufficiency in the process
For more information about the Lincoln University Cooperative Extension (LUCE) Small Ruminant Program and its initiatives, please visit https://www.lincolnu.edu/cooperative-extension-and-research/programs-and-projects/small-ruminant-program.html or contact Dr. Homero Salinas-Gonzalez at 573-681-5169.
Cooperative Extension Academics University News