Lincoln University Hemp Field Day: A Journey Into a More Sustainable Future
Contact
Office of Communications and Marketing
Young Hall
820 Chestnut Street
Jefferson City, MO 65101

Archives
Categories
Social Media
Jenny Schaben
|
September 28th, 2023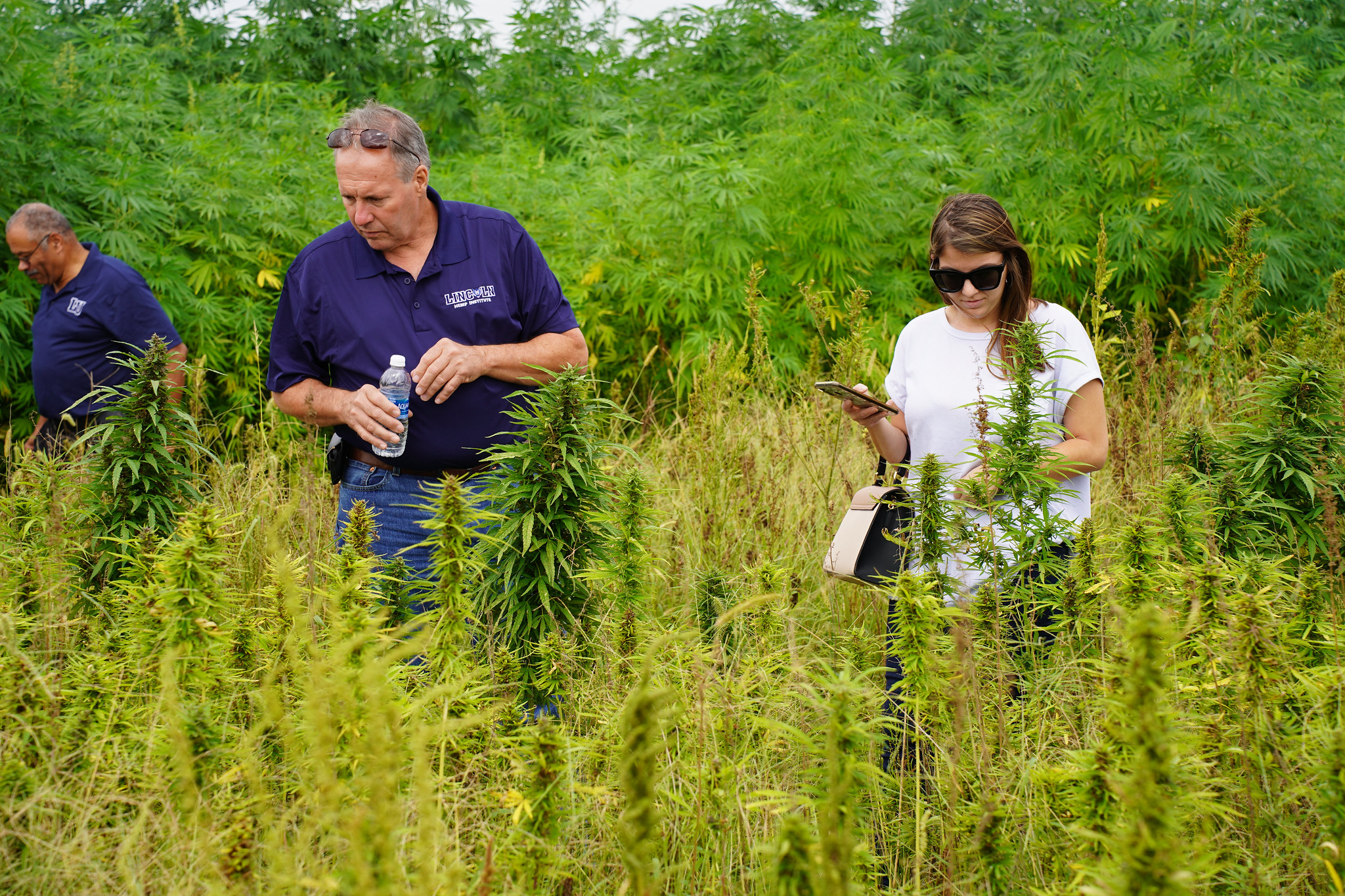 Lincoln University of Missouri held its annual LU Hemp Field Day event on September 6, 2023. Attendees were able to get a first-hand look at Lincoln University's hemp field trials while also learning about genetics, breeding, pest management, planting methods, climate-smart agricultural practices, biofuel and renewable energy applications, economic projections, market opportunities, and Lincoln University's hemp initiative through their nationally recognized, groundbreaking program—LU Hemp Institute.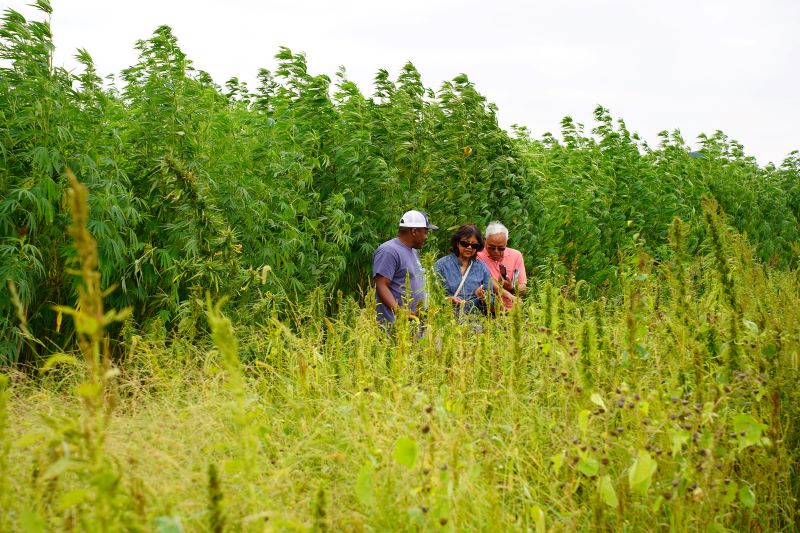 Participants get an up-close look at industrial hemp being grown at Carver Farm.
Over 60 participants attended the event, presented by the Lincoln University Hemp Institute. Interested parties included potential growers, established producers, legislators, educators, stakeholders, and community residents. Introductions were made by Lincoln University President Dr. John Moseley, Vice President Dr. Stevie Lawrence, College of Agriculture, Environmental and Human Sciences Dean Dr. Douglas LaVergne, Cooperative Research Director Dr. John Yang, and Cooperative Extension Associate Administrator Yvonne Matthews, who stated "hemp is the way to the future" in her opening remarks. 
Knowing this plant's potential has undoubtedly helped Lincoln University become a forerunner of sustainable agriculture and the industrial hemp market. The LU Hemp Institute was created in 2020 after legislation passed, allowing Missourians to grow industrial hemp with a permit that same year. Over three years later, the LU Hemp Institute has made great strides with research and outreach. During the event, LU Hemp Institute Chair and Assistant Professor of Genetics and Genomics Dr. Babu Valliyodan stated that Lincoln University is "a landmark in the national hemp highway."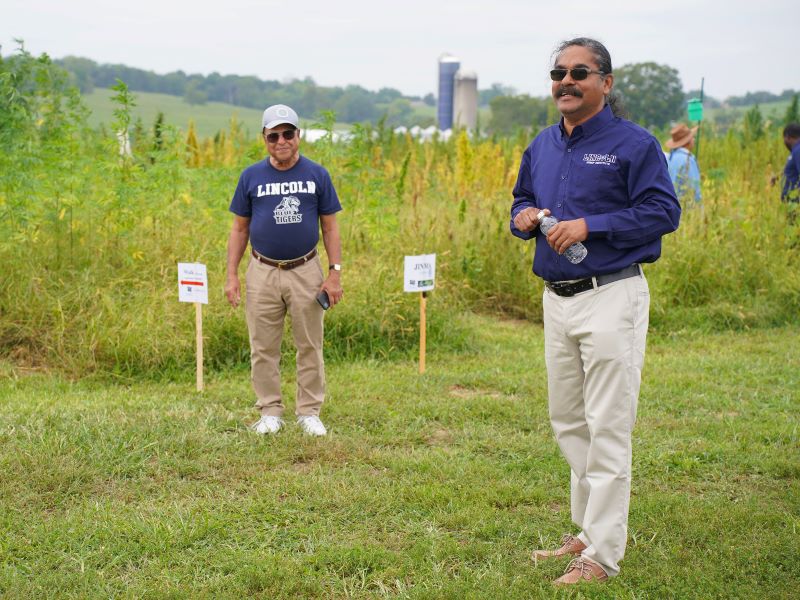 Dr. Babu Valliyodan leads educational tours throughout LU's hemp fields.

The LU Hemp Institute is undoubtedly paving the way to a better understanding of this contemporary commercial crop. However, hemp is not new—it has a deep history within our natural planet, providing communities with resources essential for growth and progress. The first hemp crop in Missouri was planted in 1835, but the industry for this substantial plant declined in 1937 with the Marihuana Tax Act, eventually leading to the ban on the product over 50 years ago. Due to this, there are not any U.S. genetic resources, such as seed materials and DNA sequences, that have been maintained for the purpose of plant breeding. However, Lincoln University Hemp Institute is looking to change this. 
"Some of our most important aims are to develop superior genetics for the Midwest and evaluate industrial hemp cultivars under Missouri's growing conditions, leading to improved yields and quality of the industrial hemp crop for a better economic profit to the Missouri agricultural industries and farmers," stated Dr. Valliyodan. 
Valuable research like this helps educate growers and processors, especially for private stakeholder Jeff Limbugh, chief operating officer and co-founder of Midwest Natural Fiber in Sikeston, Missouri. He works closely with Lincoln University to find the best-suited strains for industrial hemp production in his area. Limbugh spoke at LU Hemp Field Day and told participants about his collaborations with the LU Hemp Institute, the economic benefits Midwest Natural Fiber has had working with hemp fiber, and the company's success in the animal bedding business. 
"Hemp is an alternative, sustainable product with multiple uses in different industries: construction, health, automotive, personal care, beauty, and textiles. As the demand for hemp products increases, the expected industrial market value will also increase," stated Dr. Eleazar Gonzalez—LU State Extension Specialist for Small Sustainable Farms and Ranches. He reported that farmers who are making industrial hemp profitable have large, multi-acre farms in order to make a positive return on their investment at this time because economies of scale.
Lincoln University Innovative Small Farmers' Outreach Program Director and Integrated Pest Management Specialist Dr. Clement Akotsen-Mensah commented, "However, the LU Hemp Institute's goal is to allow small farmers to be a part of the hemp program, so they can grow it themselves." He further stated that he does not want small farmers to be left behind with this new opportunity, informing participants of Lincoln University's excellent Cooperative Research and Extension departments, which are aimed at helping underserved populations.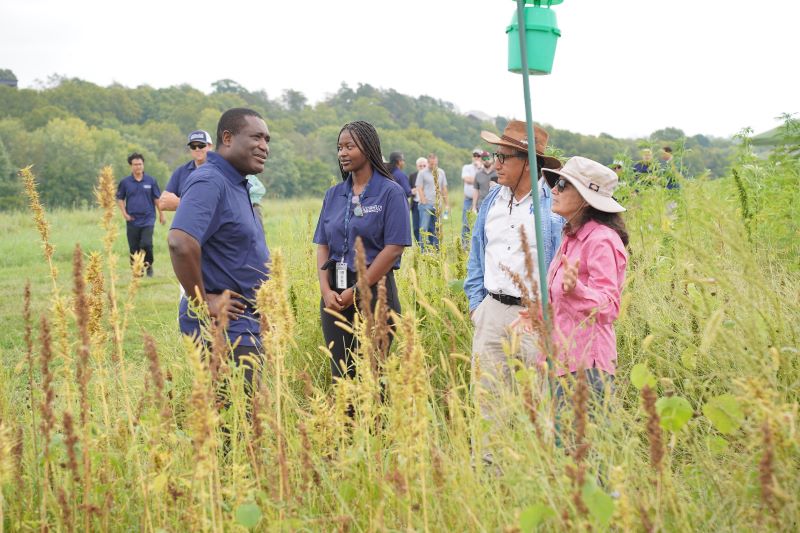 LU's Dr. Clement Akotsen-Mensah collaborates with visiting guest speaker Dr. Raul Villanueva from the University of Kentucky.
Dr. Gonzalez also spoke on his presentation, "Industrial Hemp Markets and the 2023 Hemp Farm Bill," during the event's classroom sessions. He reported that the USDA requires compliance testing for growers' hemp crops, which cannot have a THC level higher than 0.3%. The difference between marijuana and hemp is the THC level dividing line. 
Another informational session that took place was presented by Dr. Raul T. Villanueva from the University of Kentucky's Entomology Department. His presentation was titled "An Overview of Insects and Mites Affecting Hemp and Their Management in Kentucky." Dr. Villanueva discussed some of the major pests affecting hemp in the Midwest region, like hemp russet mites and corn earworms. He also spoke on detection methods for the airborne fungus Hirsutella thompsonii.
Assistant Professor of Research for Forest Hydrology and Watershed Management Dr. Sean Zeiger showcased a weather station deployed to monitor climate-smart hemp at George Washington Carver Farm. It is part of a state-wide network of weather stations supported by Lincoln University Cooperative Extension and funded by the USDA through a climate change effort to provide climate-related information. Zeiger stated, "With those tripods, they're monitoring all the big climate variables, including precipitation, air temperature, relative humidity, solar radiation, wind speed and direction, soil temperature, and soil moisture."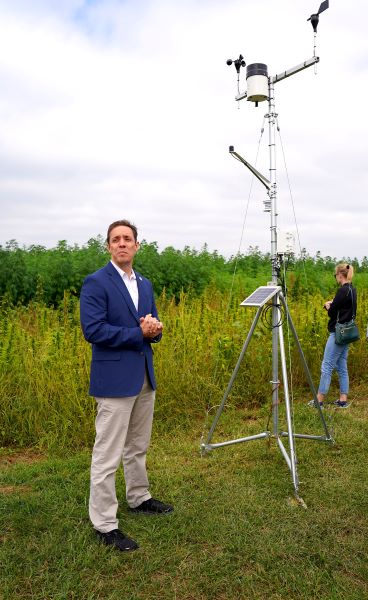 Dr. Sean Zeiger displays one of Lincoln University's weather stations, which has free and public data available on Weather Underground.
Other field activities included a drone demonstration by Taylor Geospatial Institute, an interdisciplinary community of preeminent scientists located in St. Louis, Missouri. Taylor Geospatial Institute collaborates with LU Hemp Institute on drone work to collect aerial data and analysis for carbon, nitrogen, and biomass content. The primary objective is to measure variables in the soil and hemp using computer vision techniques.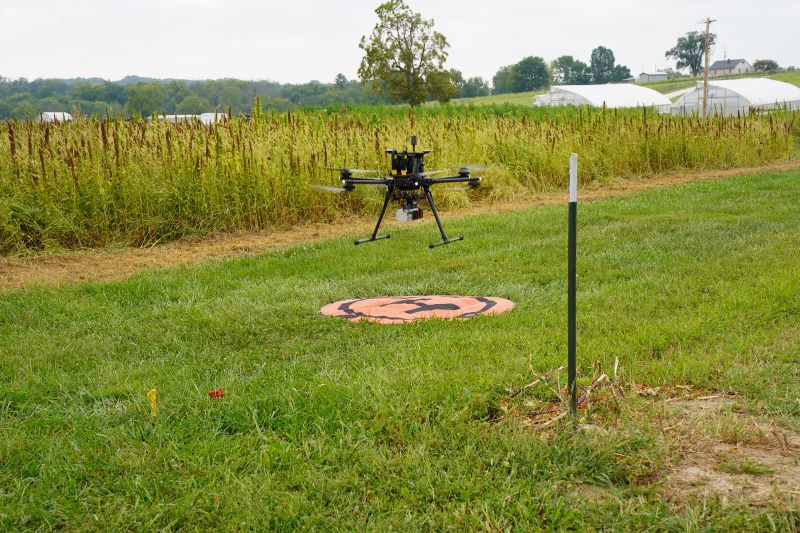 A drone demonstration was presented through Taylor Geospatial Institute.
After the event, participant Heather DeRose said, "Attending the educational Hemp Field Day at Lincoln University and getting the opportunity to tour a thriving industrial hemp field was an incredibly enriching experience. I enjoyed meeting fellow hemp producers and researchers while connecting with a passionate community dedicated to the future of sustainable agriculture. The event provided valuable insights into the latest research, innovations, and technological advancements in the field."
As a community member, regenerative farm owner of Kind Living Farm, and certified USDA hemp sampling agent, DeRose knows the benefits that outreach and this powerful plant have to offer. "It's clear that hemp is not just a valuable crop, it's a bridge to a more sustainable future, offering solutions in various industries—from textiles to health and wellness. Lincoln's event showcased the collaborative spirit of those involved with the hemp community and their shared commitment to harnessing the potential of this remarkable plant. It was truly an inspiring experience, reminding me of the boundless possibilities for hemp in Missouri and beyond."
For more information on the LU Hemp Institute, please contact Dr. Babu Valliyodan at (573) 681-5533 or ValliyodanB@LincolnU.edu.
Faculty/Staff Cooperative Research Academics University News Cooperative Extension