Clinical Laboratory Science

Do you have a strong interest in science? Have you ever considered a career in healthcare, but don't want to be a doctor or nurse? 
Bachelor of Science with a major in Clinical Laboratory Science
The Clinical Laboratory Science Degree at Lincoln University opens the door to endless career possibilities. This high-demand field offers rapid advancement, multiple employment opportunities and a competitive salary. Studying Clinical Laboratory Science at Lincoln University provides you with a personal, hands-on learning experience that prepares you for a successful career. The first three years of your degree are completed on Lincoln's campus and the final, fourth-year clinical rotation can be completed at Regional Clinical Programs across the state. This provides you options and the flexibility to choose an education and a location that's right for you.
Students wishing to enter the field of Clinical Laboratory Science may obtain their preparatory training at Lincoln University.  After the completion of 90 semester hours of approved college work, Lincoln University will award 30 semester hours of credit upon satisfactory completion of the clinical program at an American Medical Association approved School of Medical Technology.  Prior to matriculation at an approved school of Medical Technology, the student must secure from the Lincoln University Registrar a certified statement indicating the satisfactory completion of all the requirements for the degree, with the exception of the clinical portion of the program.  Following completion of the clinical program, Lincoln University will grant the B.S. in Clinical Laboratory Science degree.
Each of Lincoln's academic programs is made up of a set of core curriculum, program requirements and electives. The courses listed below are just a small sample of courses that must be taken as a part of this specific program.  Most of the Biology courses have an additional laboratory setting or a separate course that accompanies and supplements the lecture portion of the course.
| | |
| --- | --- |
| Biology I & II | Introduction to concepts in biology including the physical and chemical basis of life, the cell, genetics, evolution, diversity and ecology. These courses also encompass the structure, function and evolutionary history of Bacteria, Potista, Plantae and Animalia. |
| Human Anatomy and Phsiology & Lab | Course materials include but are not limited to an integrated study of the morphological and functional aspects of the human body.  During coursework students will experience laboratory obeservations that are designed to supplement lecture material presented in Human Anatomy and Physiology with an empahsis on morphological identification  |
| General Microbiology | Coursework designed to facilitate gaining a profound understanding of morphology, classification, phsyiology and the cultivation of micro-organisms. |
| Molecular Biology of the Cell | This course introduces material relating to studying the structure and function of cells at sub-cellular and molecular levels. |
| General Physiology | Coursework is devised to expose students to the theoretical and applied concepts of animal physiology. |
| Immunology | In this course students are acquainted with introductory concpets inherent to the field of immunology, which includes but is not limited to: antigens, antibodies, cells of the immune system, immune reactions, host defense mechanisms, allergies and their clinical implications. |
| Organic Chemistry I & II | Involves studies related to the preparation and properites of organic compounds. Emphasis is placed on theoretical foundations of the subject material. |
Additional Required Courses
The following courses or their equivalents are taken at an approved School of Medical Technology as part of the Clinical Laboratory Science Program; however, the enclosed courses are not taught at Lincoln University. Clinical Program will provide information about projected course offerings for a semester/year.
CLINICAL MICROBIOLOGY - The theory and laboratory study of pathogenic bacteria, viruses, rickettsiae, fungi, and parasites; includes specimen handling, methods of isoloation, cultivation, diagnostic procedures, asepsis, environmental monitoring, medical significance, and quality control.
CLINICAL CHEMISTRY - Identification and quantification of specific chemical substances in blood and body fluids by various analytical techniques; clinical correlation with diagnosis and treatment of disease principles of instrumentiation; toxicolocy; and quality control.
CLINCIAL HEMATOLOGY - Theory of blodd cell formation, morphology of cellular constituents, hemostasis and coagulation testing. Courses also discuss techniques and intrumentation used to determin major hematological and clotting parameters and quality control procedures.
CLINICAL IMMUNOHEMATOLOGY - Involves the study of common blood group systems, principles and procedures for antigen-antibody detection, cross-matching, blood collection and preservation, processing, the evaluation of transfusion reaction and quality control procedures.
CLINICAL IMMUNOLOGY - Includes extensive exploration of the characteristics of antigen/antibody function and interaction, princoples and procedures of humoral and cellular immune response, the performance of serological procedures, clinical correlation of abnormalities and quality control procedures.
CLINICAL URINALYSIS - This course includes but is not limited to studies of renal physiology and function in healthy and disease states, subject material encompasses chemical and microscopic examiniation of urine, other excreta and body fluids in relation to disease processes along with quality control procedures.
TOPICS IN MEDICAL TECHNOLOGY/CLINICAL LABORATORY SCIENCE - Subject matter may include the following: hospital orientation, laboratory management. radioisotope techniques, quality control procedures, laboratory safety, special projects, special techniques and seminars on various aspects of the discipline deemed necessary by hospital personnel.
For the full list of required courses and course descriptions please refer to the appropriate section of the current Undergrad Bulletin.
Students receiving a B.S. degree in Clinical Laboratory Sciences will take the major field exit exam prior to graduation.  Students receiving a B.S. degree in Clinical Laboratory Science will be required to provide evidence of completion of a certified program.  Upon completion of the Clinical Laboratory Science degree programs at Lincoln University, students will have gained a basic understanding of computers and various software programs.  Students will have the opportunity to gain the necessary computer knowledge and skills in several courses that require the use of the computer.   A minimum of 40 upper division hours (those numbered 300 and above) is required for graduation.
Here is a listing of the regional clinical programs that Lincoln University has ongoing communications with across Missouri and Kansas. Your completion of the Clinical Laboratory Science degree depends on your acceptance into one of these programs. Please familiarize yourself with their application requirements and deadlines.
Institution

Cox Medical Center - Springfield, MO
School of Medical Technology
North Kansas City Hospital - Kansas City, MO
School of Clinical Laboratory Science
Saint Luke's Health Systems - Kansas City, MO
Clinical Laboratory Science Program
The University of Kansas - Lawrence, KS
School of Health Professionals
Mercy Hospital - Joplin, MO,
School of Medical Technology
St. John's Medical Center - Joplin, MO
Clinical Laboratory Sciences - Medical Technology
Wichita State University - Wichita, KS
Medical Laboratory Sciences
The following are general requirements for all students beginning an undergraduate program at Lincoln. For more information visit Undergraduate Admissions Requirements:
Diploma
---
Graduation from high-school, or having the equivalent of a high-school diploma; such as completing of the General Education Development (GED) examination.
Core Subjects
---
A minimum of a 2.0 GPA in core college preparatory classes (English, Math, Social Sciences and Science with a Lab)
Grade Point Average
---
A "C" average; however, in some cases a student with weak academic record may be considered eligible for graduation. To remain a student at Lincoln University, a student must meet scholastic requirements.
Standardized Test
---
Entering freshman should take the ACT and/or SAT test, the codes for Lincoln University of Missouri are: SAT: 6366 ACT: 3614
Degree Pathway
Leading to a Bachelor of Science in Clinical Laboratory Science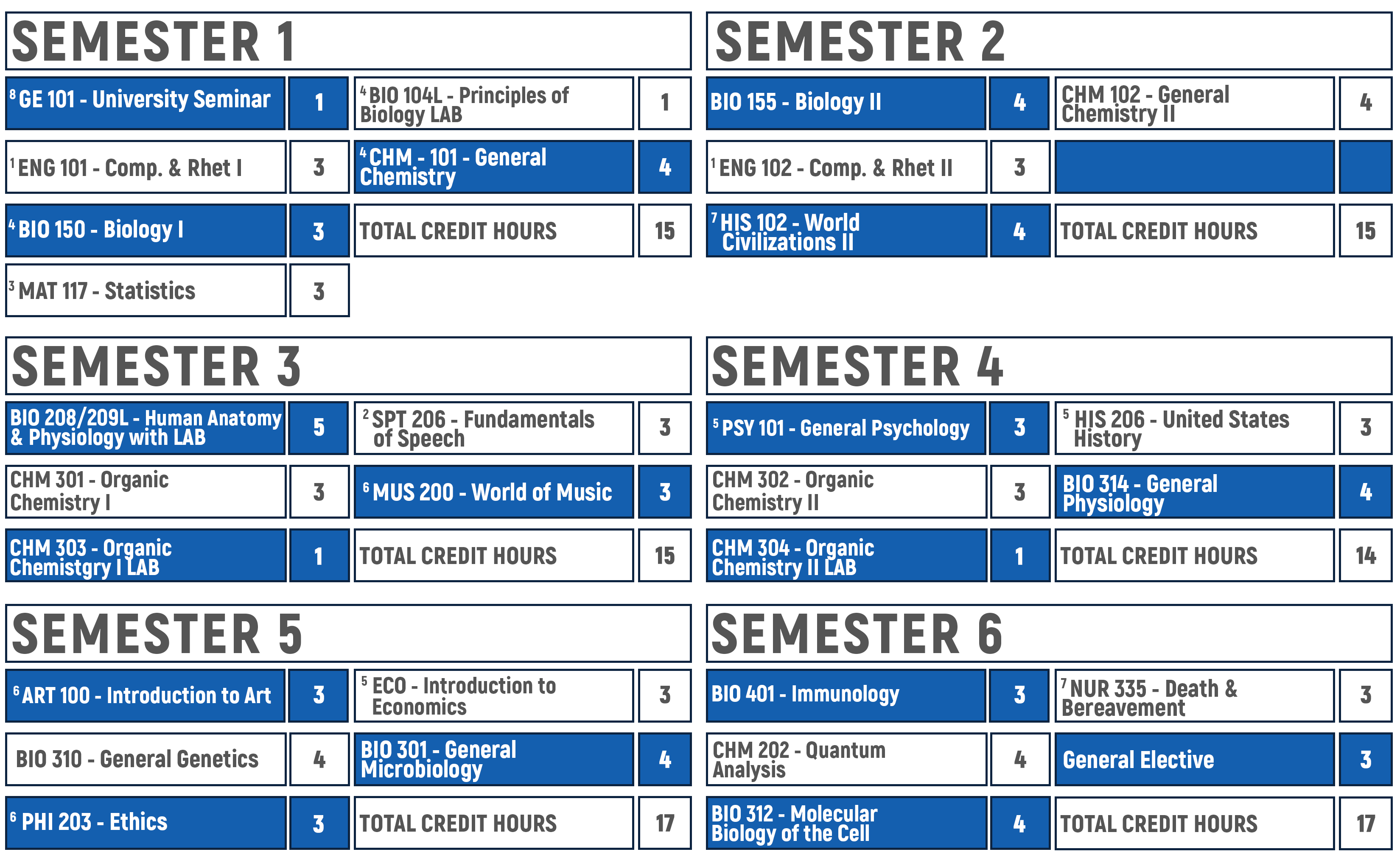 Semesters 7 and 8
Thirty hours from an approved School of Medical Technology or an accredited hospital program must be transferred to Lincoln University in order to complete the degree requirements.
Total Required Hours - 122
1 Written Communication, 2 Oral Communication, 3 Mathematical Sciences, 4 Natural Science, 5 Social & Behavioral Sciences, 6 Humanities & Fine Arts, 7 Institutional Requirement: International Cultural Diversity, 8 Institutional Requirement: General Education Skills. These courses are suggestions from the general education options and can be substituted and are interchangeable in the pathway.
Lincoln's academic programs are designed specifically to prepare students for a career in the real world. But it's more than just job preparation; it's preparing students to make a full impact in their profession through the unique combination learning of concepts and application of those concepts. Here are some of the potential professions for clinical laboratory science majors:
Hospital Diagnostic Laboratory
Basic Research
Biolaboratory Companies
Cosmetics Research Lab
Fertility Research Clinics
Forensic Research
Immunology
Biobanks Research