Integrated Pest Management Program (IPM) 
Integrated Pest Management Program (IPM) 
Vision
To deliver unbiased, research-based, sustainable and timely solutions to pest problems in vegetable and small fruit farms, thereby helping to maximize economic returns and environmental health.
Mission
The mission of the Integrated Pest Management Program (IPM) at Lincoln University Cooperative Extension (LUCE) is to
develop science-based pest management programs that are economically viable, environmentally sustainable and socially acceptable.
increase the effectiveness of pest management techniques.
train farmers on the ecological benefits of implementing IPM practices.
increase the level of adoption of IPM components.
protect human health and the environment by reducing the risks associated with pesticide use.
The LUCE IPM program aims at developing and promoting affordable, alternative, insect pest management strategies to combat insect pests of vegetable crops in Missouri. Emphasis is being made to provide underrepresented, low-income farmers with research-based information on effective and environment-friendly IPM tactics. Our main goal is that Missouri's farmers increase the level of awareness and adoption of IPM components leading to increased profits while decreasing inputs and pesticide use. Extension activities include one-on-one interactions, workshops, presentations, extension publications and on-farm demonstration trials.
Environmental responsibility is a very important aspect of our program. IPM is a comprehensive and environmentally friendly approach to solving pest problems that relies on a combination of commonsense preventive practices. Examples include the use of resistant crop varieties; cultural practices such as sanitation, crop rotations, and trap crops; and the creation of habitat for natural enemies and pollinators. Pest monitoring is a critical component of an IPM program. If needed, treatments are made using least-risk options to target the pest without negatively impacting beneficial insects and the environment.
An important goal of the LUCE IPM program is that the biologically based, effective and sustainable IPM technologies that we develop and promote can be transferred directly to farmers. We listen carefully to the concerns that the resource-limited, minority, vegetable farmers have about preventing and solving pest problems. We respond to their needs by delivering up-to-date research-based information. When information is not available, we conduct research and communicate our results to the growers so that they can implement the new recommendations.
SELECT PUBLICATIONS SINCE 2017:
Vanloon, M., Reidsma, P., descheemaeker, K., Van dijk, M., Adjei-Nsiah, S., Morley, T., Akotsen-Mensah, C., & van Ittersum, M. (2019). Can yield variability be explained? Integrated assessment of maize yield gaps across smallholders in Ghana. Field Crops Research. 236: 132-144. https://doi.org/10.1016/j.fcr.2019.03.022
Dingha, B., Sandler, L., Bhowmik, A., Akotsen-Mensah, C., Jackai, L., Gibson, K., & Turco, R. (2019). Industrial hemp knowledge and interest among North Carolina Organic Farmers. Sustainability. 11: 9, 2691. https://doi.org/10.10.3390/su11092691
Akotsen-Mensah, C., Kaser, J. M., Leskey, T. C., & Nielsen, A. L. (2018). Halyomorpha halys (Hemiptera: Pentatomidae) responses to traps baited with pheromonal stimuli in peach and apple orchards. Journal of Economic Entomology. doi/10.1093/jee/toy200/
Kaser, J. M., Akotsen-Mensah, C., Talamas, E. J., & Nielsen, A. L. (2018). First report of Trissolcus japonicus parasitizing Halyomorpha halys in North American agriculture. Rapid Communications. Florida Entomologist. 101(4):680-684. https://doi.org/10.1653/024.101.0406
Akotsen-Mensah, C., Ativor, I., Anderson, R. S., Osei-Safo, D., Afreh-Nuamah, K., Brentu, C. F., Asuming Boakye, A., & Avah, V. (2017). Pest management knowledge and practices of mango farmers in southeastern Ghana. Journal of Integrated Pest Management. 8 (1): 1–7 https://doi:10.1093/jipm/pmx008
Achiri, D. T., Akotsen-Mensah, C., & Afreh-Nuamah, K. (2017). Principal component analysis of some pesticide handling practices of small scale vegetable farmers in rural and urban districts in Ghana. Asian Research Journal of Agriculture. 4(3): 1-7.
Akotsen-Mensah, C., Balusu, R., Anikwe, J., & Fadamiro, H.Y. (2017). Evaluating potential trap crops for managing leaffooted (Hemiptera: Coreidae) and phytophagous stink bugs (Hemiptera: Pentatomidae) species in peaches. Journal of Agriculture and Forest Entomology. https://doi:10.1111/afe.12213
Related Links
https://agriculture.mo.gov/plants/ipm/
https://mdc.mo.gov/trees-plants/diseases-pests
https://ipm.missouri.edu/MEG/2018/6/spottedLanternFly/
Social media
https://www.facebook.com/LUCAEHS/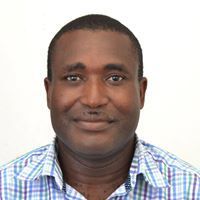 Clement Akotsen-Mensah (Ph.D.)
State IPM Specialist
Lincoln University Cooperative Extension and Research
900 Chestnut St., Allen Hall Room 214
Jefferson City, MO 65101
Office Phone: (573) 681-5634
Email: Akotsen-Mensahc@LincolnU.edu