Lincoln University School of Nursing RN - BSN Program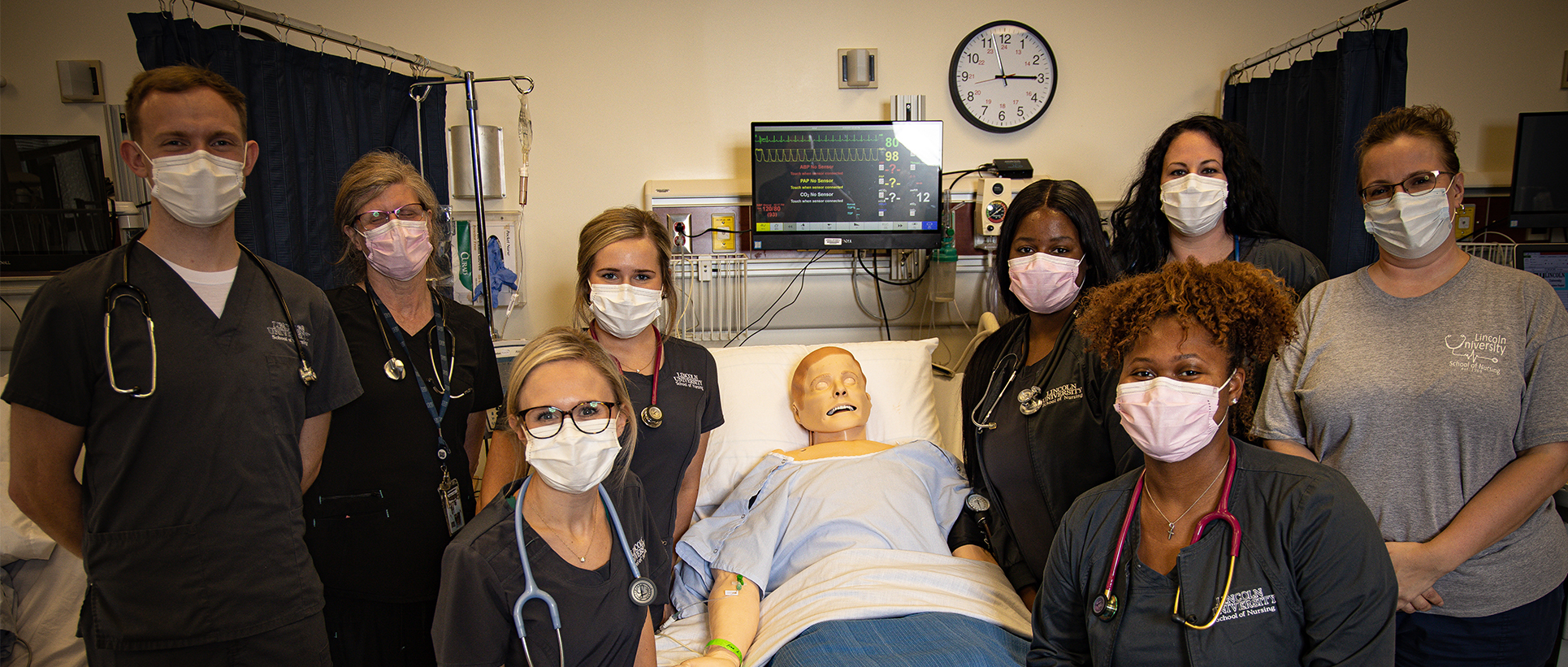 Are you already an RN? Gain stability in an evolving industry. The American Nurses Association is pushing for nurses to return to the classroom and continue their education, noting the need to stay current with new practices and technologies. Whether you are a recent graduate or a seasoned nurse, the Lincoln University School of Nursing understands that at any stage in your career continuing your education takes a great deal of commitment.
The RN-BSN Program is a hybrid program in nature, offering some general education courses online, as well, as on campus. Didactic BSN nursing courses are entirely online. Practicum courses are online and supervised by approved preceptors with oversight by BSN faculty. Students are required to participate in on campus activities, such as, projects or presentations. This program is designed for associate degree and diploma registered nurses who wish to further their education. This program was initiated in 1992 in response to request from the community and former associate degree graduates of Lincoln University. The RN-BSN program received initial National League of Nursing Accreditation (NLNAC) in 2004.
The Baccalaureate nursing program at Lincoln University- Missouri at the Lincoln University School of Nursing located in Jefferson City, Missouri is accredited by:
Accreditation Commission for Education in Nursing (ACEN)
3390 Peachtree Road NE, Suite 1400 
Atlanta, GA 30326
(404) 975-5000
The most recent accreditation decision made by the ACEN Board of Commissioners for the Baccalaureate nursing program is Continuing Accreditation.
The BSN Program in Nursing holds full approval by:
Missouri State Board of Nursing
3605 Missouri Boulevard, PO Box 656
Jefferson City, MO 65102-0656
(573) 751-0681
RN-BSN Admission Criteria
Requirements for admission to Lincoln University and the RN-BSN program are specified in the Lincoln University Undergraduate Bulletin. In order to be admitted the applicant must:
Be admitted to Lincoln University.
Have a current RN license in good standing in the state where the practicum will be completed
Complete the RN-BSN Application Form
Have at least 60 hours of college credit and be eligible for junior standing. Courses must include the following:
Nursing
Medical-surgical
Obstetrics
Pediatrics
Mental health                                                                25 credit hours
*Non-Nursing
English composition I and II                                          6 credit hours
Science: including anatomy & physiology,
microbiology, & chemistry                                              16 credit hours
Sociology                                                                        3 credit hours
Psychology                                                                     3 credit hours
Mathematics                                                                   3 credit hours
Other: including 3 credits in history/government            8 credit hours
*Students who have not completed the specified non-nursing courses listed above may be admitted if they have accumulated 64 hours of college credit.
 
Students must plan their program of study to include any general education courses required for a bachelor's degree that they have not had as a part of their previous education. Transfer credits from other colleges and universities will be evaluated on an individual basis for equivalency to current program requirements.
 
Transcripts from diploma programs are also evaluated on an individual basis. The School of Nursing can grant up to 34 hours of lower division nursing credits for nursing courses taken through a diploma program. Additional college credits may be awarded for the sciences, social sciences, and humanities after transcript evaluation.
 
Students are expected to plan their program of study in conjunction with a RN-BSN program option advisor.
RN-BSN Program Objectives
Upon completion of the program, the graduate will be able to:
Employ concepts from the arts and sciences to form the basis for clinical reasoning. (Essential I: Liberal Education for Baccalaureate Generalist Nursing Practice)
Apply leadership concepts, skills, and decision making in the provision of high quality nursing care, health care team coordination, and the oversight and accountability for care delivery in a variety of settings. (Essential II: Basic Organizational and Systems Leadership for Quality Care and Patient Safety)
Integrate evidence based practice (EBP) in planning, implementing, and evaluating outcomes of care. (Essential III: Scholarship for Evidence Based Practice)
Demonstrate skills in using client/patient care and information technologies, information systems, and communication devices that support safe nursing practice. (Essential IV: Information Management and Application of Patient Care Technology)
Demonstrate knowledge of healthcare policy, finance, and regulatory environments that influence healthcare trends.  (Essential V: Health Care Policy, Finance, and Regulatory Environments)
Apply effective communication techniques, including negotiation, collaboration, and conflict resolution to produce positive professional relationships. (Essential VI: Interprofessional Communication and Collaboration for Improving Patient Health Outcomes)
Use clinical prevention and population focused nursing to improve health.  (Essential VII: Clinical Prevention and Population Health)
Demonstrate core nursing values to achieve optimal health outcomes by applying the professional standards of moral, ethical, and legal conduct. (Essential VIII: Professionalism and Professional Values)
Demonstrate knowledge, skills, and attitudes necessary for practice as a member and leader of the interprofessional health care team. (Essential IX: Baccalaureate Generalist Nursing Practice) 
Graduation Rate / Program Completion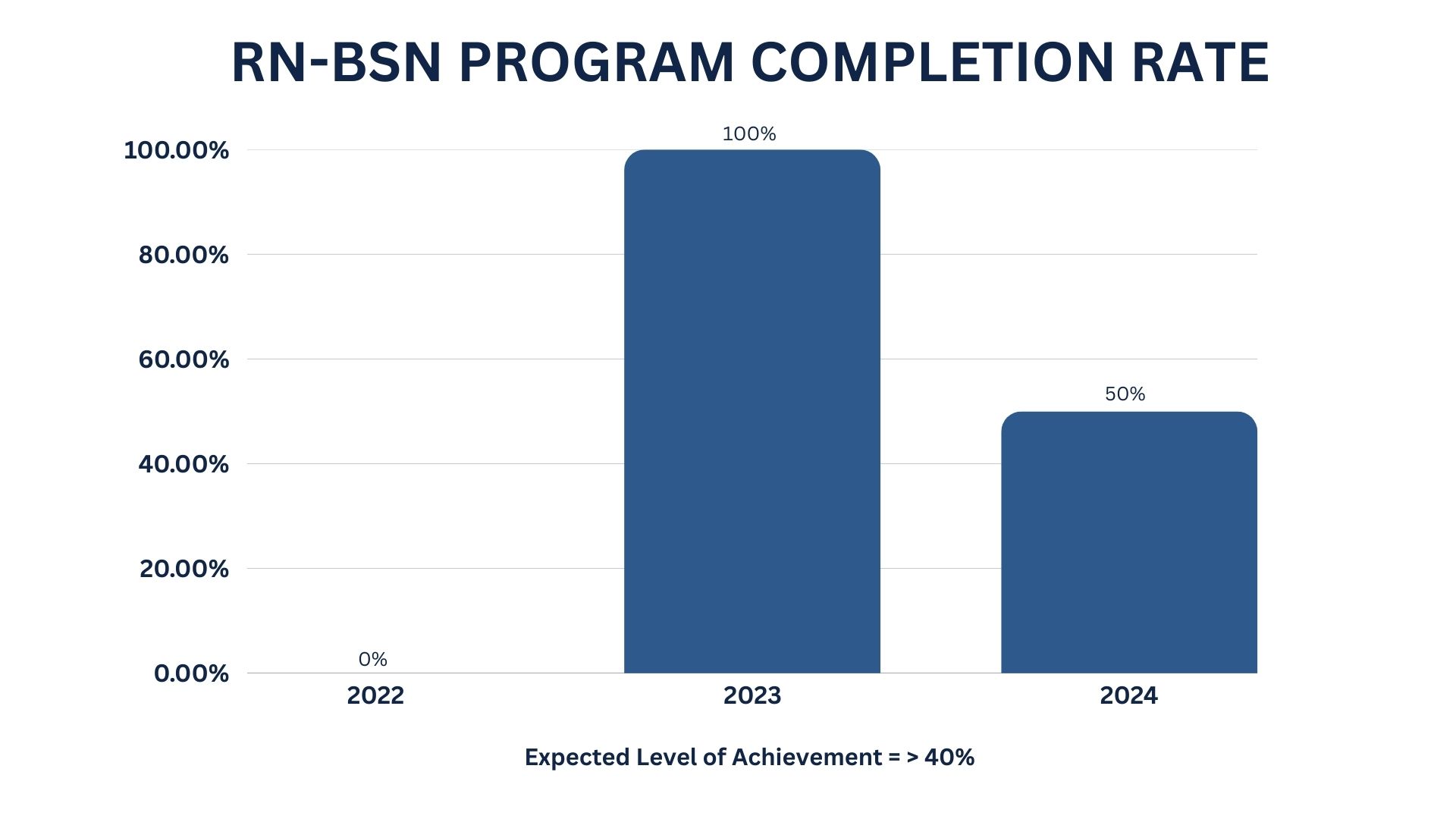 Job Placement Rate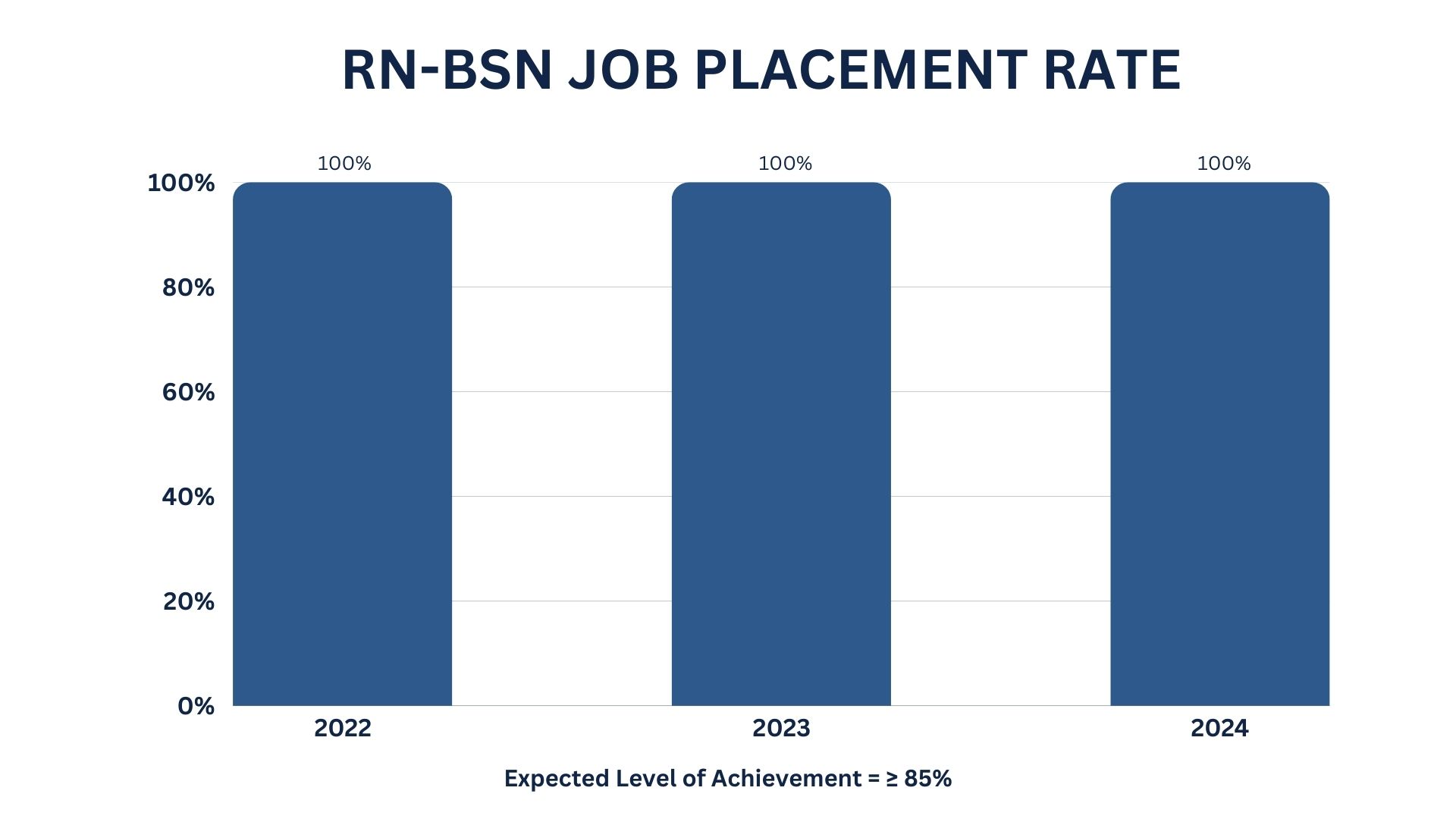 First Semester 
Title
Abbreviation
Descriptions
Prerequisite
Credit Hour
Conepts of Prof. Nursing
NUR 310
This course introduces the student to professional nursing practice, including the evolution of and theoretical basis for nursing. Special emphasis is placed on critical aspects of professional nursing practice and the future of health care. This course has 6 hours of theory/week per 8 week session.
Admission to the RN-BSN Program
3
Health Assessment I
NUR 320
This course emphasizes concepts and skills of comprehensive assessment applicable to the adult and child with specific health history skill development. This course has 4 hours of theory/week per 8 week session.
NUR 104
2
Health Assessment II
NUR 321
This course emphasizes concepts and skills of comprehensive physical exam assessment for the adult and child with specific attention to physical examination skill development. This course has 4 hours of theory/week per 8 week session.
NUR 320
2
Living with Chemistry
CHM 103
basic chemical principles course for non-majors, designed for general education and liberal studies students.
None
3
Elementary Statistics
MAT 117
Descriptive and inferential statistics including frequency distributions, measures of central tendency and variation, probability and sampling distributions, tests of hypothesis, confidence intervals, linear correlation and regression.
MAT 111
3
Fundamentals of Speech
SPT 206
study of interpersonal and public communication theory and practice. This diverse course is designed to develop knowledge and skills in the processes effective to all communication in diverse contexts.
ENG 101 or 151H
3
Total Hours
16 Hours
Second Semester 
Title
Abbreviation
Descriptions
Prerequisite
Credit Hour
Pathophysiology
NUR 350
This course studies altered physiologic processes which result in health problems across the lifespan and require physiologic adaptive mechanisms. Students utilize critical thinking skills in analysis of selected health problems and application of the nursing process to clinical situations.

This course has 6 hours of theory/week per 8 week session.
NUR 104
3
Intro to Nursing Research
NUR 360
This course introduces the principles of research theory and methodology. Develops skills in critiquing nursing research and its application to practice.

This course has 6 hours theory/week per 8 week session.
NUR 310
3
Dealth and Bereavement
NUR 335
This course stimulates critical-thinking, explore feelings, and heighten self-awareness regarding death and grieving in various cultures. Content is holistic and deals with the physiologic, psychological, multicultural, spiritual, artistic and demographic aspects of death and bereavement across the lifespan. Emphasis will be on national and international aspects of thanatology. This course has 6 hours of theory/week per 8 week session.
ENG 101 & ENG 102
3
American Cultural Diversity
S/A 200
This course focuses on multidisciplinary approaches to understanding cultural variations and constructs, social interaction and change. A conceptual framework designed to emphasize ethnicity, identity, enclaves and socialization processes in a complex multicultural society is included.
 
3
Total Hours
12 Hours
Third Semester 
Title
Abbreviation
Descriptions
Prerequisite
Credit Hour
Leadership/Management in Nursing
NUR 420
This course is the study of leadership and management principles with emphasis of organizational structures, economic and political trends, healthcare environments and workforce management. This course is designated writing intensive.

This course has 6 hours of theory per 8 week session.
NUR 360, 365
3
Prof. Nursing Practice/Practicum
NUR 430
This course is the application of professional nursing practice in the roles of the nurse with emphasis on leadership/management, professionalism, and evidence-based practice.

This course has 3 hours of theory and 6 hours of practicum per week.
 
5
Intro to Theatre
SPT 209
 
 
3
Health Care Ethics
PHI 303
 
 
3
Total Hours
14 Hours
Fourth Semester 
Title
Abbreviation
Descriptions
Prerequisite
Credit Hour
Legal & Ethical Issues in Prof Nsg
NUR 460
This course is a study of legal and ethical issues/events impacting professional nursing practice. Selected legal and ethical issues related to social, political and economic trends are discussed.

This course has 6 hours of theory/week per 8 week session.
NUR 360
3
Community Health Nursing/Prac
NUR 470
This course is the study and application of care for individuals, families, groups, communities, and populations. Emphasis is placed on health promotion and disease prevention.

This course has 3 hours theory and 6 hours practicum per week.
NUR 430
5

World Civilization I

World Civilization II

HIS 101 or HIS 102
 
 
3
Upper Division Elective
PED 224
 
 
1
Total Hours
14 Hours
| General Education Hours | 27 Hours |
| --- | --- |
| Nursing Hours | 32 Hours |
| Total Program Hours | 59 Hours |