YOUR safety in YOUR hands and it's FREE for you.  Download the app from the Apple or Play store. 
Register RAVE Guardian today: Rave Guardian
Then download the app from Apple or Google Play Store.
*When you select Lincoln University, you will be redirected to the portal.  From there, use your regular login information to be directed to the registration page.  Once you have completed the information page, please click on the "Opt In" tab to be sure you are signed up to receive alerts. 
Lincoln University provides an extra level of security to students, faculty and staff wherever they go. RAVE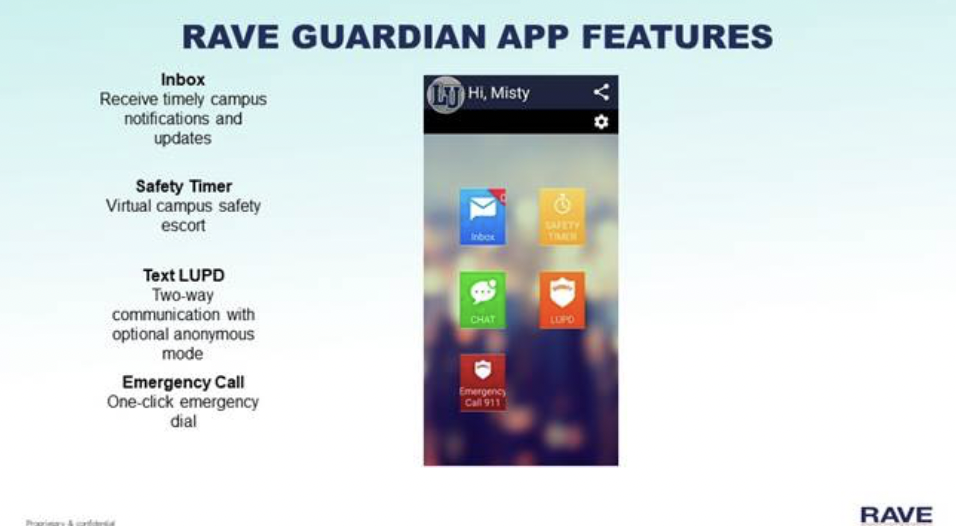 Guardian is a smartphone application in which users can receive campus alerts, travel safely with a virtual escort, call for help with the push of a button and send discreet tips to law enforcement.  
LU Alerts through RAVE provide information on weather-related closings and/or delays and campus safety messages.  You can stay up-to-date through the Lincoln University Blue Tiger portal and download the app directly to your mobile device.
Connect with the Lincoln University Police Department (LUPD) for a virtual escort as you travel around campus.  The SAFETY TIMER can use your phone to locate you and time your travel safely to your destination.  
ONE BUTTON CALL FOR HELP 
A push of a button will connect you to LUPD no matter whether you are on campus, back in your home city/state or traveling around the country.  If you are on the road, LUPD will connect you with law enforcement in your location to get you the help you need.
If a voice call is not a safe option for you, the CHAT feature will connect you to LUPD to discreetly communicate via text.  CHAT is also a great option to send anonymous tips regarding potentially dangerous situations.