USDA National Institute of Food and Agriculture Director Visits Lincoln University to Explore Innovation for Food Security and Community Prosperity
Contact
Office of Communications and Marketing
Young Hall
820 Chestnut Street
Jefferson City, MO 65101

Archives
Categories
Social Media
Jenny Schaben
|
November 1st, 2023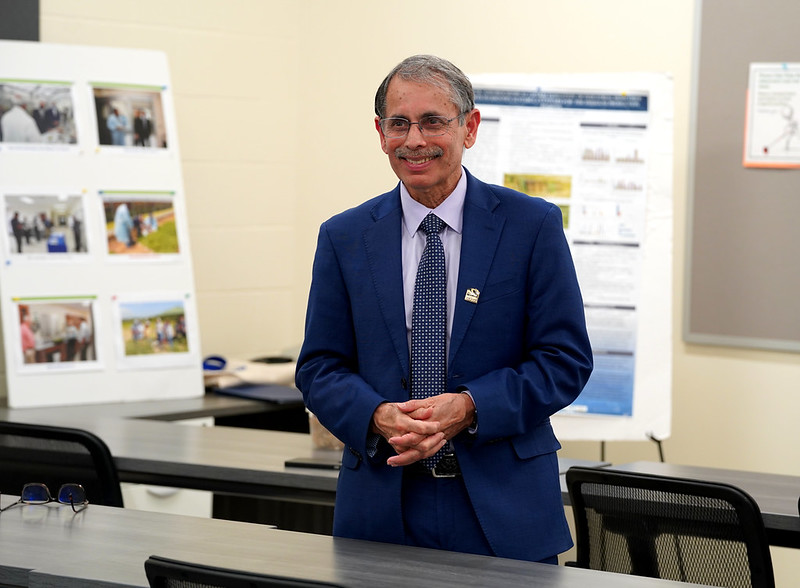 Lincoln University of Missouri (LU) scientists recently showcased their cutting-edge research and work to address food security and community prosperity for the USDA National Institute of Food and Agriculture (NIFA) Director Dr. Manjit Misra. Joined by NIFA Chief of Staff Dr. Michelle Samuel-Foo and Director of Communications Faith Peppers, Dr. Misra visited LU in Jefferson City on October 4, 2023. During the visit, NIFA representatives explored how research and projects within LU's College of Agriculture, Environmental and Human Sciences (CAEHS) promote the organization's vision and commitment to agricultural research, innovation, and community engagement.   
 
As an external funding agency of the USDA, the National Institute of Food and Agriculture invests nearly $2 billion annually in the United States. Numerous NIFA grants support LU College of Agriculture, Environmental and Human Sciences research, helping CAEHS fulfill its mission to improve the quality of life for diverse, limited-resource citizens in Missouri and the nation through food and agriculture research, outreach, and education.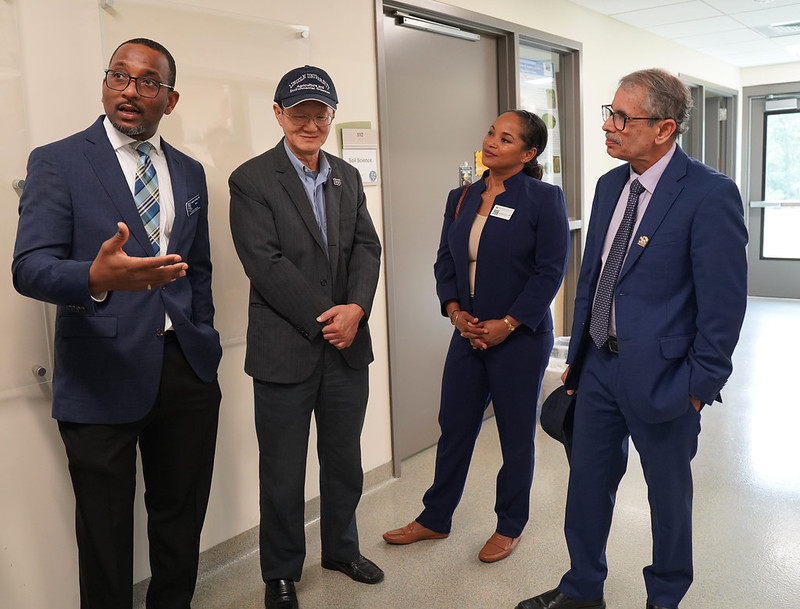 LU College of Agriculture, Environmental and Human Sciences Dean Dr. Douglas LaVergne, Cooperative Research Associate Director Dr. John Yang, NIFA Chief of Staff Dr. Michelle Samuel-Foo, and NIFA Director Dr. Manjit Misra discuss Dickinson Research Center's state-of-the-art technology that aids in new discoveries to solves challenges in agriculture and food safety.  
Dr. Misra emphasized the agency's duty to address hunger and malnutrition, citing that one in seven people worldwide suffers from food insecurity. This statistic underscores the significance of the work being carried out by LU's College of Agriculture, Environmental and Human Sciences. CAEHS aids in local food production, promotes nutrition education, provides expertise to farmers, and collaborates with various stakeholders to combat food insecurity. Dr. Misra observed the work being done at Lincoln University has a tangible effect. "See the impact that you all are making at Lincoln University. You are actually feeding and nourishing people who need help."    
Dr. Misra stressed NIFA's renewed focus on innovation, particularly for food and health. He highlighted the importance of promoting nutritious diets and how it can reduce life-altering diseases. "A slogan that we at NIFA are contemplating is: 'Let food be thy medicine.' If you eat good food, you don't need a lot of medicine. If you don't eat good food, you will need lots of medicine. So, let food be thy medicine," stated Dr. Misra.   
One of the CAEHS programs showcased during the NIFA Director's visit was on quinoa. Dr. Safiullah Pathan, LU Associate Professor of Crop Science, has been at the forefront of quinoa research for the past five years. His team has published a series of papers highlighting the benefits of quinoa greens, a lesser utilized but beneficial part of the quinoa plant that has the potential to resolve malnutrition problems and contribute to food and nutritional security. Dr. Pathan explained to the NIFA representatives that quinoa greens can be grown outside, in high tunnels, and greenhouses. He also reported that they have short growth durations. "In four weeks, it can be harvested. This way, a small farmer can grow this and sell it in the market."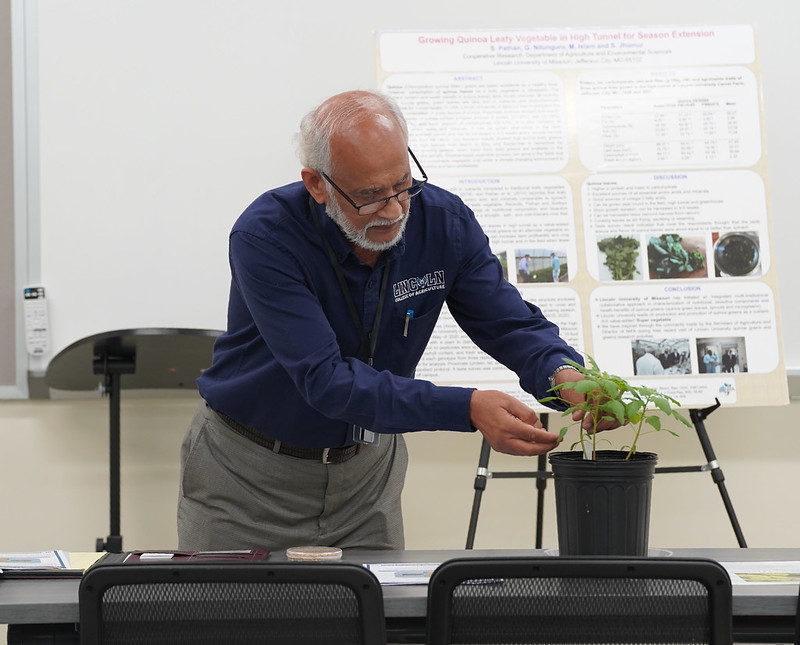 Dr. Safiullah Pathan discusses how quinoa greens (quinoa green leaves, sprouts, and microgreens) are rich in nutritional value, with health-promoting properties such as antimicrobial, anticancer, antidiabetic, antioxidant, and cardio-beneficial.  
Another program highlighted during the NIFA visit was the LU Hemp Institute, which utilizes a multifaceted approach to advance the industrial hemp sector. After Missouri Governor Parson signed the 2020 bill to legalize industrial hemp, Lincoln University has ventured into four distinct types of hemp production: fiber, grain, dual, and flower. This renewed interest in hemp holds the promise of an entirely new industry within Missouri. This aligns with NIFA's emphasis on the role of agriculture in promoting economic growth for rural communities. 
Collaboratively, the LU Hemp Institute works with public and private stakeholders to bolster and cultivate the hemp industry in Missouri, thereby contributing to national-level hemp industry initiatives. Furthermore, it provides hemp farmers with established standard operating procedures, administers a certified crop analysis facility, and hosts workshops tailored for prospective hemp growers, with a particular focus on assisting small and limited-resourced farmers. The program also extends its services to include economic analyses of crop production and the broader industrial market.  
Both presentations on quinoa and industrial hemp initiatives were given in one of the classrooms at LU's Charles E. Dickinson Research Center (DRC). NIFA representatives were given a tour of DRC, which also includes five greenhouses, ten research laboratories, and a student laboratory. The greenhouses provide a hands-on learning environment where students can cultivate and study various plant species. The Dickinson Research Center also functions as a pivotal hub for cutting-edge research, housing several accomplished researchers leading innovative projects in areas of soil science, pest management, plant disease prevention, foodborne pathogen detection technology, and a wide variety of other fields.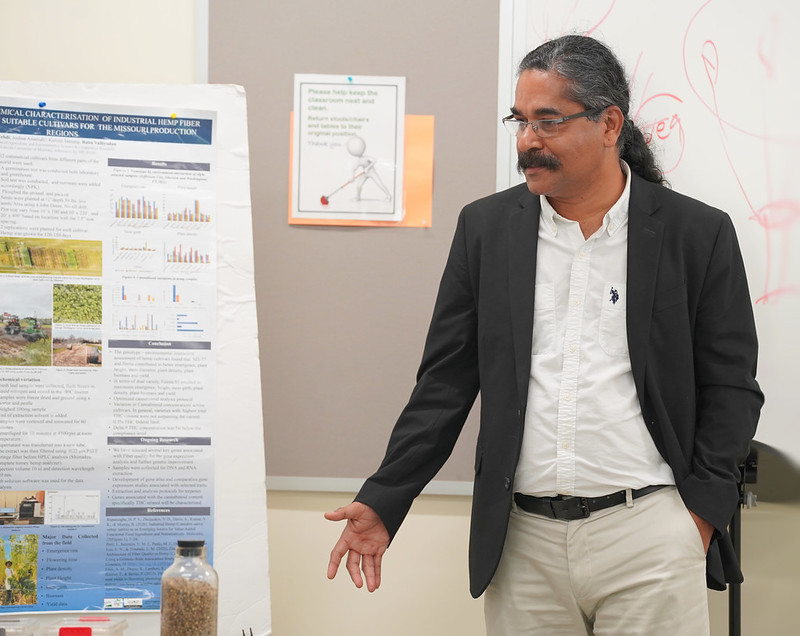 Dr. Babu Valliyodan converses with NIFA representatives on hemp farming, highlighting that Capacity-Building grants have enabled Lincoln University to educate farmers with limited exposure, which has increased hemp production throughout the state. 
After exploring the Dickinson Research Center, NIFA representatives toured LU's George Washington Carver Farm, which is preserved as a historical site and educational resource. One of the most exciting showcases NIFA representatives witnessed there was Lincoln University's Jesup Wagon 2.0, which is influenced by George Washington Carver's original version. In 1906, Carver introduced this mobile classroom and equipment station to assist others with agricultural knowledge and skills. "It was Carver's goal to educate sharecroppers on how to be more successful," stated LU Integrated Small Farm Outreach Program (ISFOP) Worker Mary Bolling. 
The Jesup Wagon continues to serve as a powerful tool for educating those who have limited access to resources and knowledge. This project recognizes that many small farmers face challenges in attending workshops or leaving their farms to seek education. By taking education to them, the Jesup Wagon 2.0 aims to empower farmers with the tools and knowledge they need to thrive. The wagon offers hands-on workshops for farmers, demonstrating practical tools, safety gear, and techniques, potentially resulting in immediate economic benefits as farmers learn to apply these insights to their operations.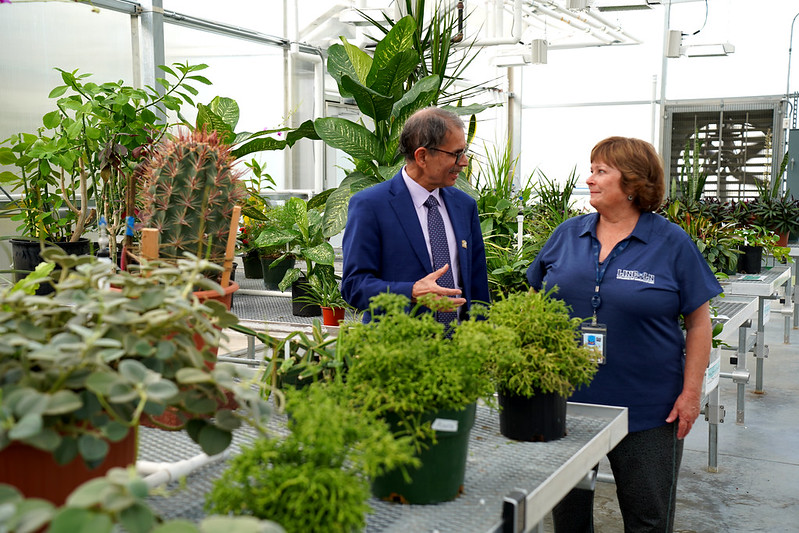 NIFA Director Dr. Manjit Misra and LU Greenhouse Assistant Debra Hanlin tour the various plants at Dickinson Research Center that are used for Lincoln University events and academic study.  
The USDA National Institute of Food and Agriculture (NIFA) Director Dr. Manjit Misra's journey to Lincoln University, along with NIFA Chief of Staff Michelle Samuel-Foo and Director of Communications Faith Peppers, was a momentous occasion that highlighted the vital collaboration between the institution and the agency. The substantial financial support provided through NIFA enables LU's College of Agriculture, Environmental and Human Sciences to fulfill its mission of improving the quality of life for diverse, limited-resourced citizens by addressing issues of food insecurity, nutrition education, and economic growth. The community, state, and nation look forward to witnessing this partnership's ongoing success in the years to come as it continues to foster health and prosperity in addition to its many other valuable contributions.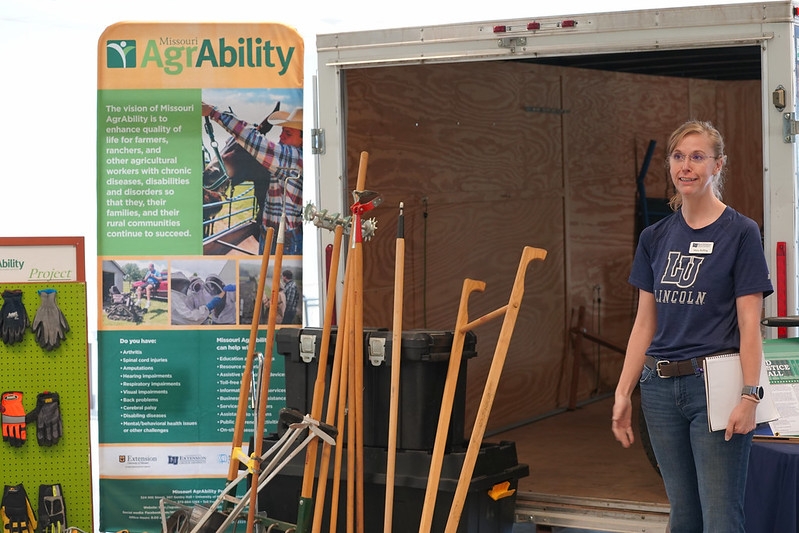 LU Innovative Small Farm Outreach Program (ISFOP) Worker Mary Bolling speaks on her experiences showcasing practical tools and techniques to farmers, helping them envision how they can apply these learnings to their own operations. 
Community University News Press Release