Lincoln University of Missouri's Expanding ROTC Program: Students Making a Difference and Shaping Their Futures
Contact
Office of Communications and Marketing
Young Hall
820 Chestnut Street
Jefferson City, MO 65101

Archives
Categories
Social Media
Abbey Tauchen
|
November 13th, 2023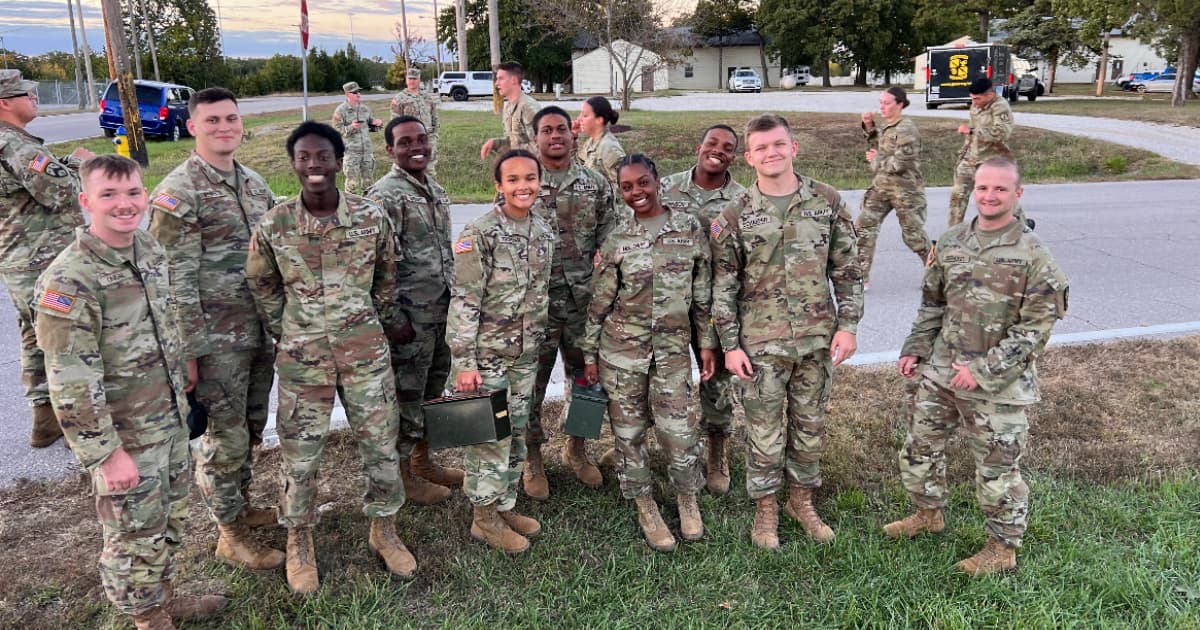 At Lincoln University of Missouri, the ROTC program thrives as a close-knit and resilient community. With a 14-person class that exemplifies the power of togetherness, these dedicated individuals are poised to make a significant impact. This year's class stands as the largest LU has seen in five years, a testament to their unity and determination. 
Join us as we celebrate the accomplishments of the 2023-2024 ROTC class and meet two proud Lincolnites who are not only shaping their own destinies but also positively transforming their communities through their unwavering commitment to ROTC. 
Charla Dean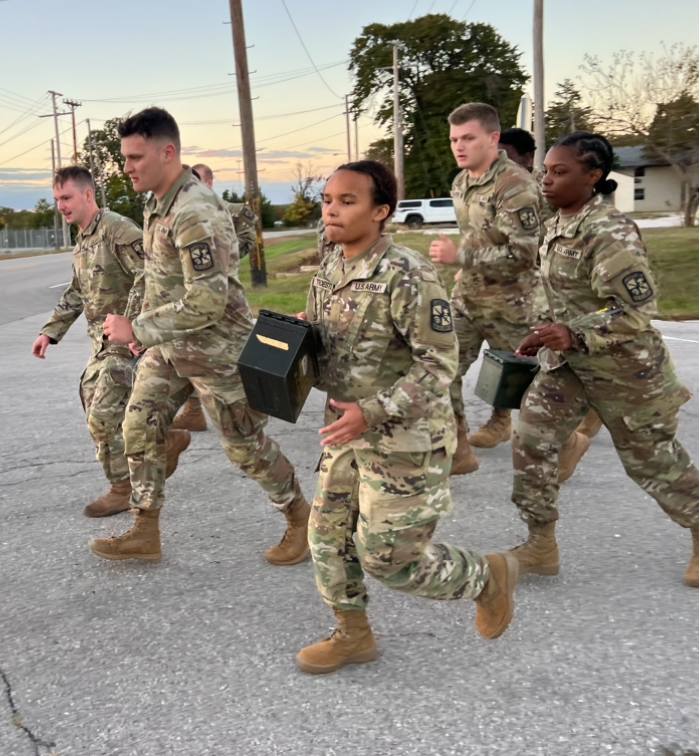 Charla Dean (middle) leads a group of ROTC cadets in a run.
Nursing major Charla Dean joined ROTC to better serve her country, gain valuable leadership skills and learn how to be the best nurse she can be. She chose Lincoln University to guide her through the college experience. 
"In colleges/universities, students are known as a number," Dean says. "Going to Lincoln, I am known by my name if I need help."
Attending LU and joining ROTC has had a positive impact on Dean's life by providing her with opportunities to develop leadership skills, build strong relationships with fellow cadets and engage in meaningful service for her country. 
"It has given me a sense of direction, and it has helped me become more disciplined and focused on my studies and other areas of my life," Dean says. "Being part of ROTC has opened doors to unique experiences, such as participating in leadership training exercises and attending military events. ROTC has enriched my college experience and prepared me for future challenges and opportunities."
Through ROTC, Dean hopes to achieve the goals of serving her country, developing strong leadership skills and making a positive impact on the lives of others. She aims to gain valuable experience that will benefit her career as a nurse. 
Dean says the sense of community and camaraderie among ROTC cadets is incredible. "We're like a tight-knit family, always supporting and motivating each other," she says. "We train together, face challenges together and celebrate each other's successes. It's a bond that goes beyond the classroom and creates lifelong friendships. It's truly a special community to be a part of."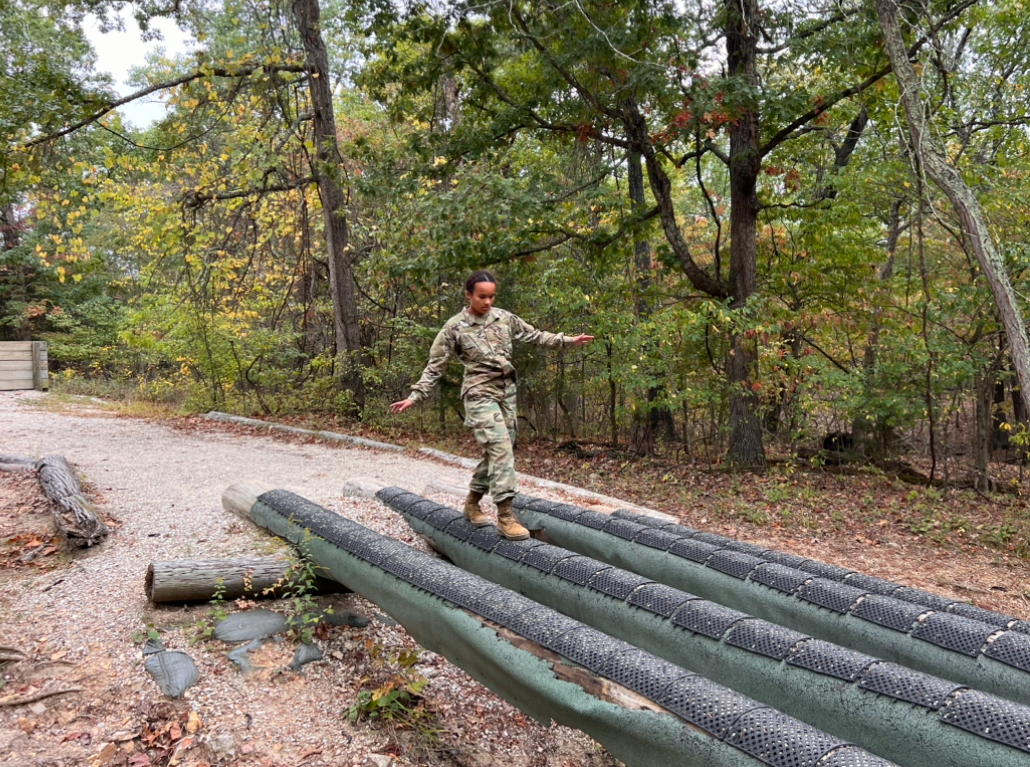 Dean crosses an obstacle course.
Post-graduation, Dean hopes to work as a trauma nurse and then attend medical school through the army to become a trauma surgeon. 
"Being a part of ROTC has had a tremendous impact on my personal growth and character," Dean says. "It has helped me become more disciplined, resilient and focused. ROTC has shaped me into a more confident, capable and well-rounded individual. I am excited to see where this journey takes me."
Nathan Allen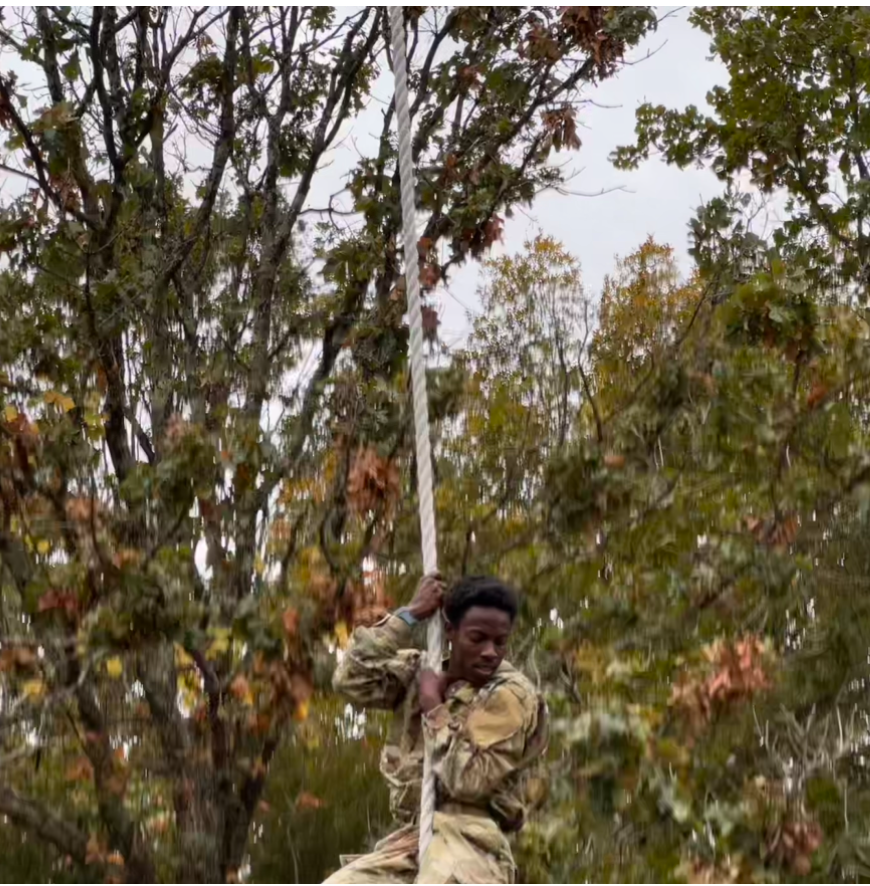 Nathan Allen climbs the rope.
Computer science major Nathan Allen says ROTC has influenced his understanding of teamwork, growth, character and leadership. 
"ROTC has helped me stay in shape, build a better mindset, trust others as family, and it has really helped me be more disciplined," Allen says. 
To balance the demands of ROTC and academics, Allen employs an early morning workout routine, which sets the tone for a productive day filled with classes and homework. 
He enjoys that the ROTC cadets are close-knit and welcoming. "We're a small group of hard workers that seem to be close because we're all suffering together, so it makes it easier to get the job done."
Through team building and leadership skills, Allen says he's learned to keep himself and others accountable as a team, so they can improve together.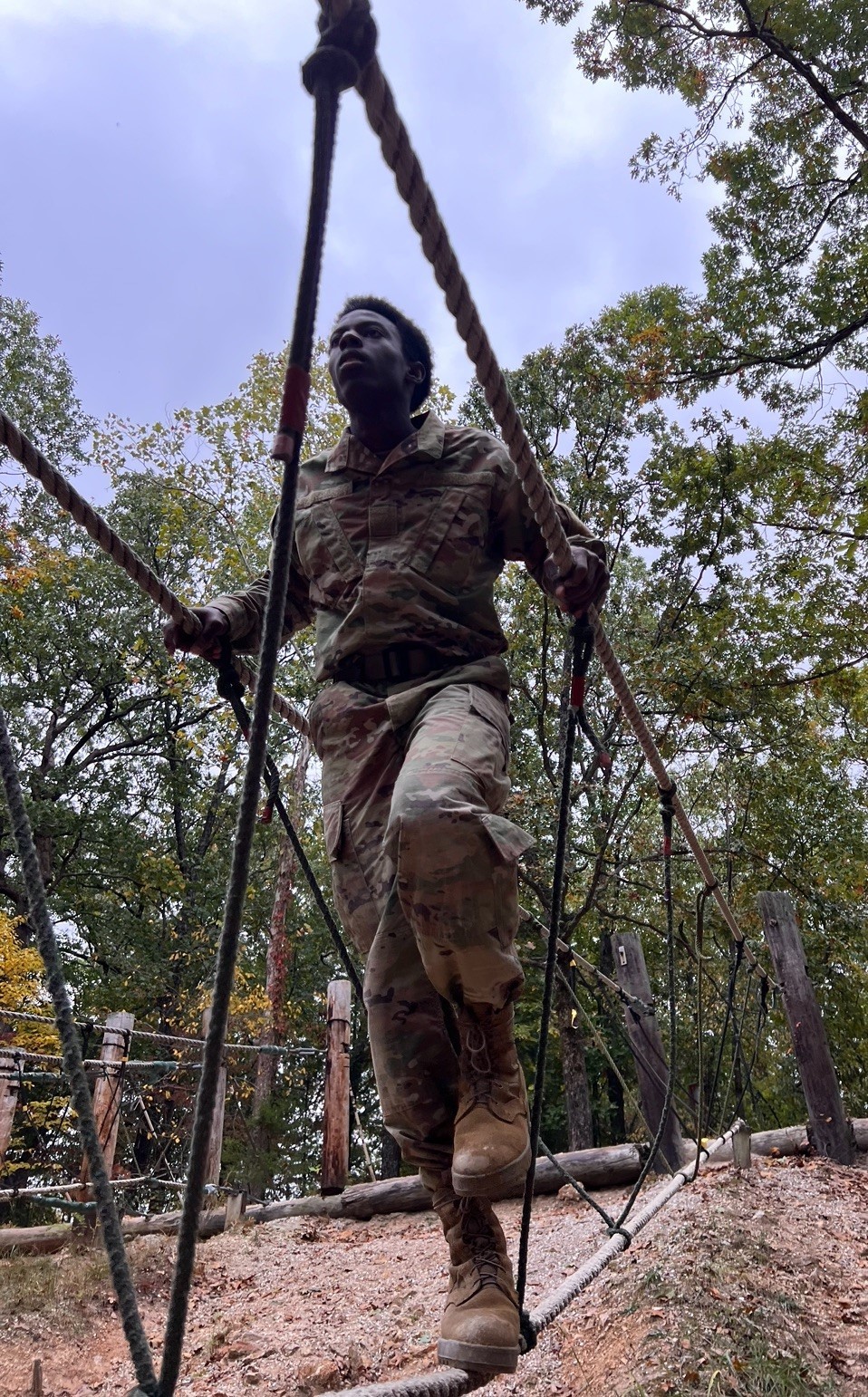 Allen crosses the rope course.
"It has influenced my growth and character because I am learning how to be more of a leader and a team player," Allen says. "It has really just helped me understand that every choice is like two sides of a coin, and it's always easier to choose as a team rather than alone."
Post-graduation, Allen plans to serve his time in the military and then work at General Motors with his mom to remain close to his family.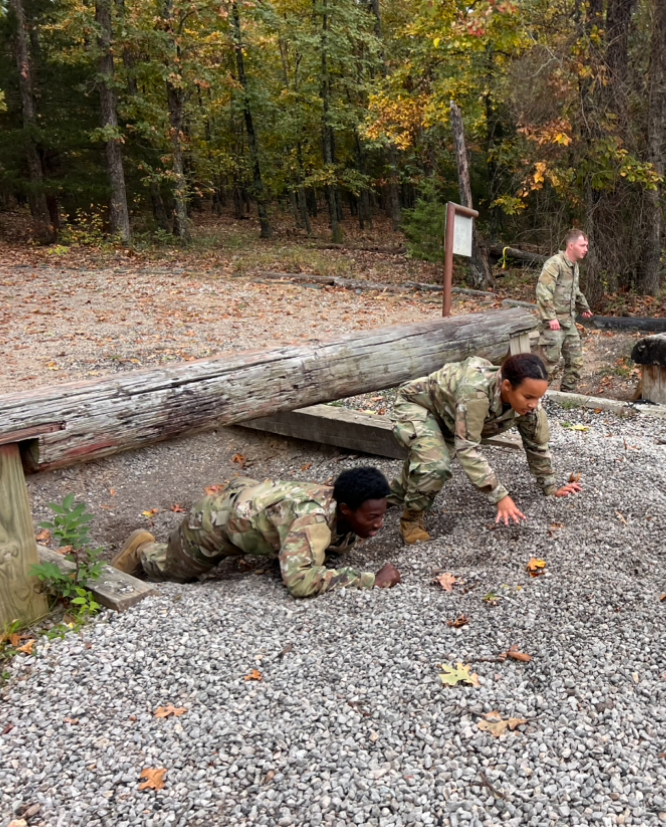 Allen and Dean take part in an ROTC obstacle course.