Missouri State Representative Emily Weber Unveils Politics, Policies and Real-World Challenges for Lincoln University Students
Contact
Office of Communications and Marketing
Young Hall
820 Chestnut Street
Jefferson City, MO 65101

Archives
Categories
Social Media
Stephanie Cobian
|
November 1st, 2023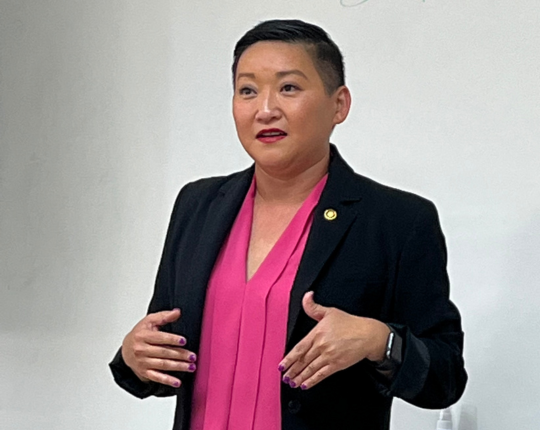 On October 11, 2023, the dynamic world of American politics came alive for political science students at Lincoln University as they welcomed Missouri State Representative Emily Weber as a distinguished guest lecturer in their PSC204 American State and Local Government course. Representative Weber, who represents the 24th District, offered valuable insights into the intricacies of politics, policymaking and the real-world challenges encountered in the field. Her experiences in public office contributed depth and practical relevance to the academic pursuits of the students, effectively bridging the gap between theory and practice.
Representative Weber's background in communications, marketing and graphic design led her on an unconventional path to politics. Originally from South Korea, she was adopted and raised in rural Kansas. Pursuing her undergraduate education in Kansas City, her involvement in activism related to causes she was passionate about eventually culminated in her decision to run for the office of state representative of the 24th District. In the 2020 election, Weber emerged victorious, securing 69% of the votes in a three-way campaign and becoming the first Asian American Pacific Islander Missouri State Legislator.
Despite her initial reservations and feeling inadequate, Representative Weber believes that her unique background has equipped her well for her role in politics. She pointed out, "I've lived paycheck to paycheck, did without health care, had to work multiple jobs to make ends meet. Being a woman and minority in the state of Missouri with all these different lived experiences has helped prepare me to be a good legislator in Jefferson City."
During her lecture, students gained insights into the inner workings of government, the impact of term limits and the dynamics of political power. Weber also unraveled the complexities of the legislative process and the reasons behind its lengthy duration. Factors such as politicians reaching term limits and the influx of new faces causing a shift in the balance of power have resulted in laws taking up to five or six years to pass.
Dr. Elizabeth Dorssom, a political science professor at Lincoln, invited Representative Weber to address her class. Providing students an opportunity to connect their knowledge with practical insights shared by Representative Weber is an integral part of their education for Dr. Dorssom. She stated, "While students can learn a lot from reading the textbook, listening to lectures and participating in class activities, it is more beneficial to meet someone who is working as a state legislator so that they can apply what they've learned in class to the information they learned from Representative Weber."
Weber also shared personal stories of her journey as a minority woman in Congress, including experiences of being underestimated in the workplace and confronting cultural barriers. As one of only three Asian Americans in the Missouri General Assembly, she remains optimistic about the prospects of gaining more diverse representation in government.
Believing that such perspectives greatly contribute to informed decision-making on various issues, Weber emphasized the importance of diverse leadership, stating, "That is truly what government needs more—stories of personal life experiences. When we're talking about certain issues, it will help another representative understand and grasp what is happening to others what may never happen to them."
Academics University News