Finca Fest 2023: A Celebration of Sustainable Urban Farming and Community
Contact
Office of Communications and Marketing
Young Hall
820 Chestnut Street
Jefferson City, MO 65101

Archives
Categories
Social Media
Jenny Schaben
|
November 9th, 2023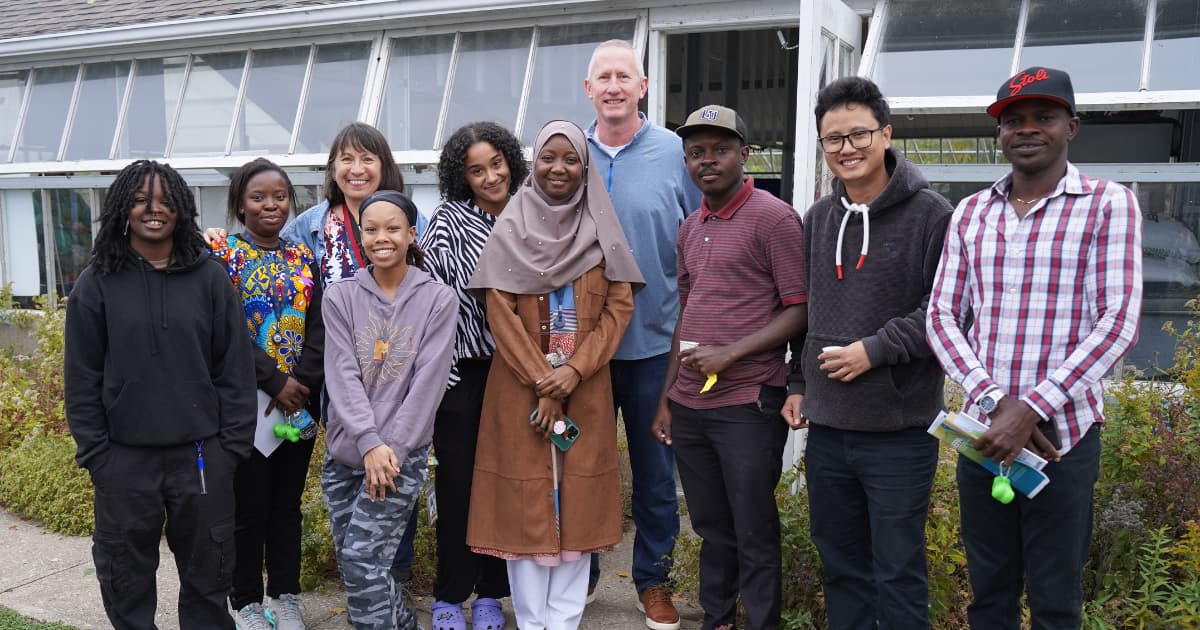 The Lincoln University Cooperative Extension (LUCE) Specialty Crops Program hosted Finca Fest—a celebration of nature, sustainable urban farming, fall harvest, and community—on October 27, 2023, at the Lincoln University of Missouri (LU) Finca EcoFarm. Over 140 participants from the community and Mid-Missouri area were able to tour the Finca EcoFarm and learn about the Specialty Crops Program (SCP), which specializes in native plants. Other festivities included educational workshops, food samplings, cooking demonstrations, pumpkin carvings, and Cooperative Extension and Research exhibits.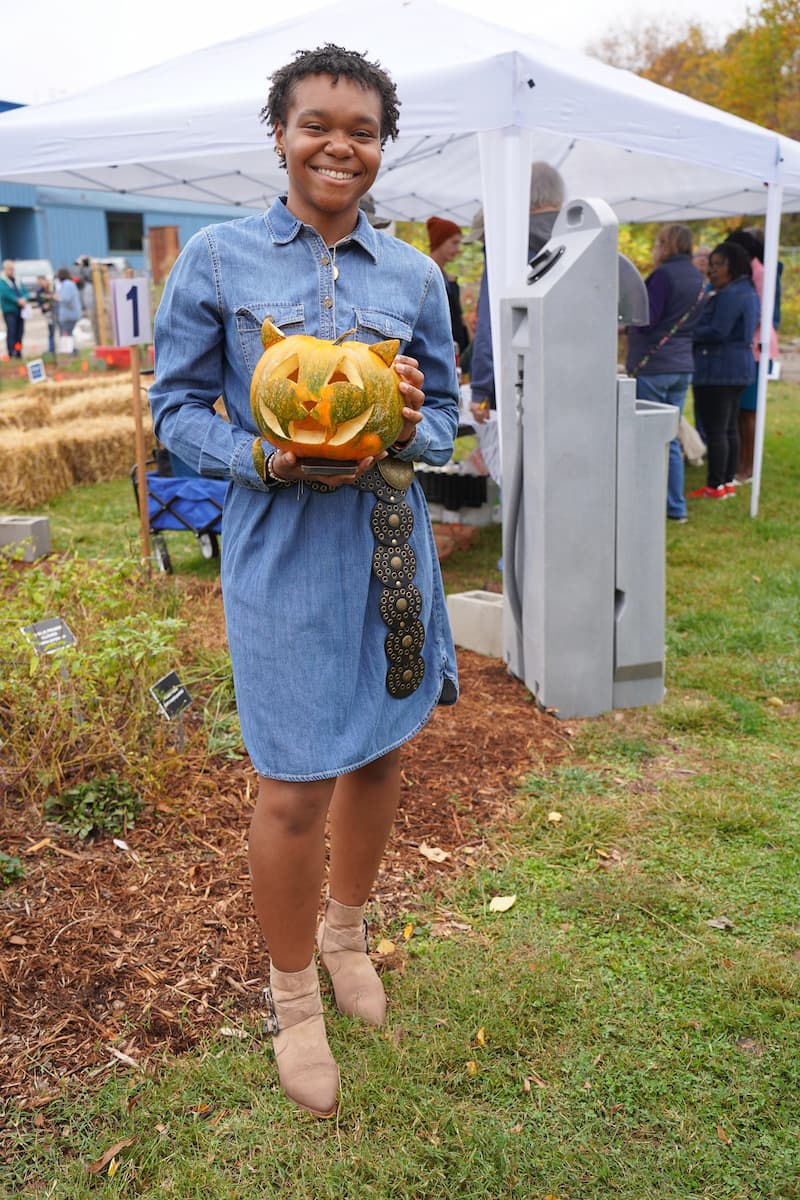 A pumpkin carving station was available. Here, SCP student worker Chyler Hughes poses with her jack-o'lantern. 
Held at the heart of the city, the SCP's Finca EcoFarm is a testament to the potential of sustainable urban farming and the nurturing of native plants, which naturally thrive in their specific region, having adapted over time to local conditions. Dr. Nadia Navarrete-Tindall, SCP extension state specialist and coordinator who pioneered the initiative, shared that the name finca derives from Latin America, where it signifies a small farm. Furthermore, she revealed that finca is an acronym for "Families Integrating Nature, Conservation, and Agriculture." This name was created for the project she initiated in 2014 with a NIFA capacity-building grant, which encompassed the creation of the Finca EcoFarm to establish demonstration areas featuring native plants.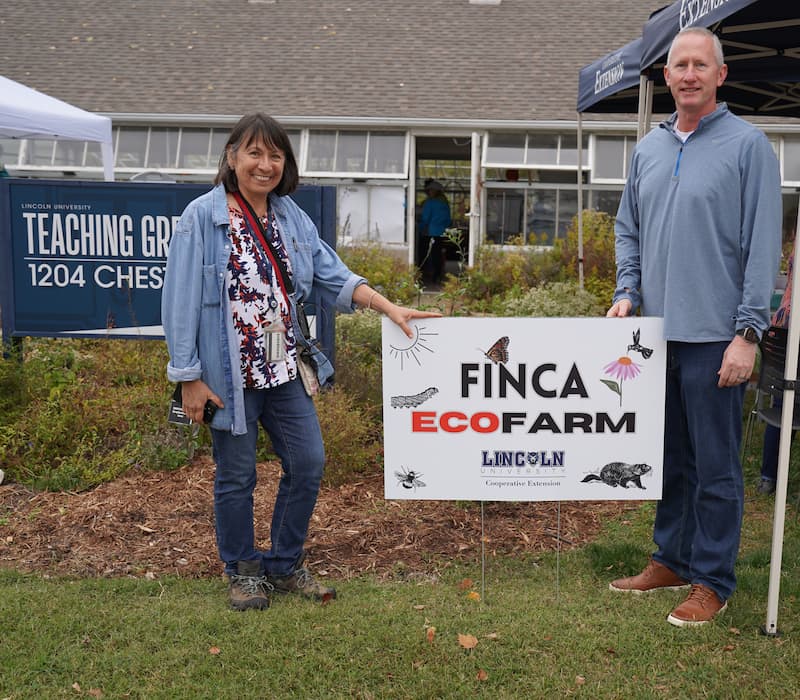 Dr. Nadia Navarrete-Tindall and President Dr. John Moseley take a photo together to celebrate the success of the Specialty Crops Program and the Finca EcoFarm at Lincoln University.
Participants learned that the Finca EcoFarm boasts over 50 species of native plants that are grown for human consumption and have the potential to generate income for small farmers and producers, aligning with the Specialty Crops Program's main objectives. To teach the community about the potential of using native edibles as a part of their own meals, the SCP presented their Dining Wild exhibit at Finca Fest. Dining Wild consists of a variety of food samples prepared with native edibles to celebrate the rich biodiversity that nature has to offer. Specialty Crops Program groundskeeper, Joshua Lawrence, reported, "Dining Wild consists of foods that you may have regularly but the ingredients are replaced with native edibles. The goal is to not only have delectable snacks and meals but also to educate and inspire people to explore the potential of native edibles in their own culinary endeavors."
Some sample foods included golden glow quiche, dittany and wild leek butter spread on artisan bread with sunflower seeds, wild plum cobbler bars, and persimmon, mountain mint, and spicebush cookies. Refreshments included plumade and mountain mint tea. Sarah Eber, coordinator of the LUCE Human Nutrition and Health Program, served pumpkin soup and persimmon pudding while teaching participants about plant-based eating. Dr. Tumen Wuliji, LU professor and researcher for animal science, provided winter melon lean pork soup that his students served. Additionally, Finca Fest held an artisan market with hairy mountain mint for tea and wild plum jams and jellies for sale. The wild plums were all grown at the Finca EcoFarm, with over one thousand pounds produced from 10 trees this year.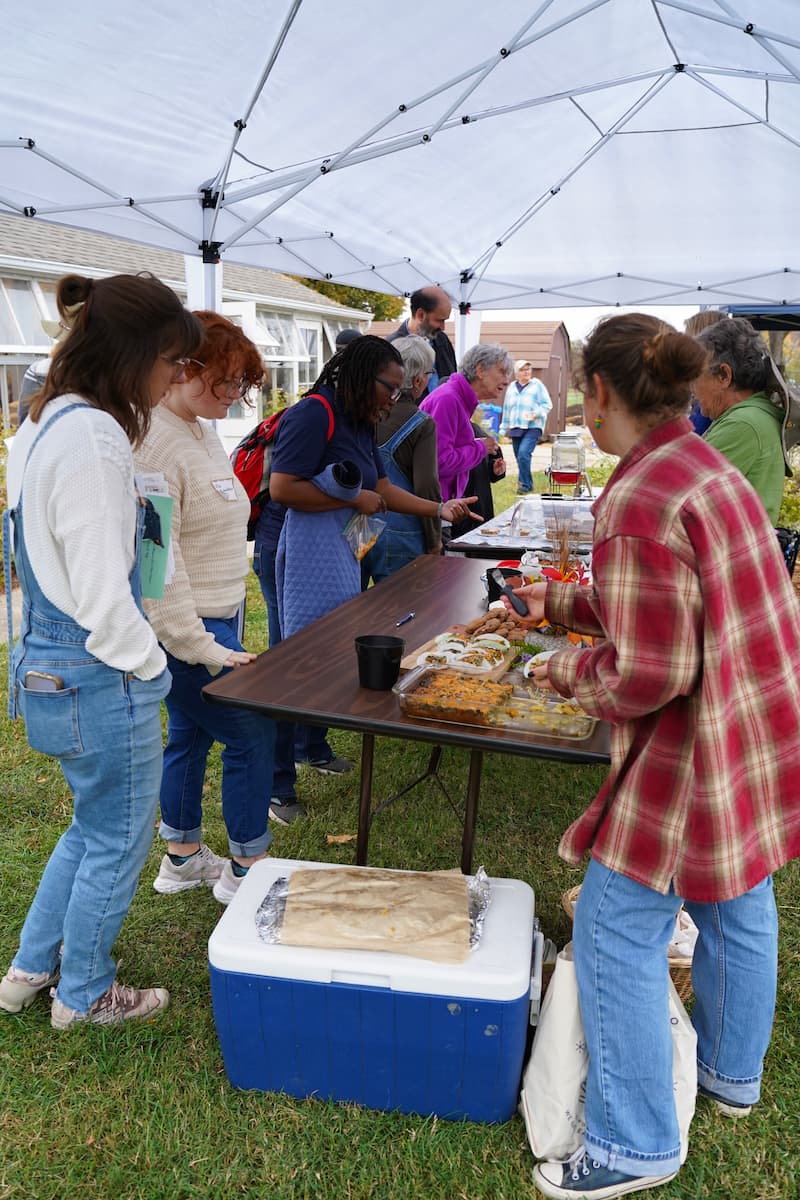 Attendees sample a variety of foods from the Dining Wild exhibit. 
Participants had the opportunity to explore a diverse array of native plants during their tour of the Finca EcoFarm. The tour was comprised of several distinct stops, each highlighting a unique aspect of native plants and sustainable agriculture. These stops included a prairie garden with native annual flowers, an international community garden promoting cultural diversity, and a canopy of fruit trees with paw paws and fig varieties. There is a small orchard with wild plums, persimmons, spicebush, elderberry thicket, and paw paws under the shade of native sycamore trees. Along the tour, there were raised beds of native edibles, a rain garden for wetland plants, and an area for shade-loving natives like ostrich ferns, golden glow, and wild leeks. Additionally, the Finca EcoFarm supports six species of milkweed vital for monarch butterfly caterpillar survival and an area for pollinators to provide habitat and beauty. There is also an unheated high tunnel as well as a greenhouse that serves as an educational hub for workshops, plant propagation, and demonstrations. 
Attendees delved deeper into the significance of native plants. The Specialty Crops Program strives to enhance biodiversity, promote sustainable agriculture, and uplift the livelihoods of low-income and underserved communities through the revival of historically and culturally important edible plants. This emphasis on native plants as potential crops is rooted in their adaptability to local climate, rapid growth, and resilience in nutrient-poor soil, contributing to income generation and food security. Additionally, Dr. Navarrete-Tindall stated, "Native plants are important not only for their uses for human consumption but also in the floral industry, seed and nursery production, and conservation practices that protect the soil from erosion and help mitigate pollutants. Native plants also provide habitat for wildlife and pollinators. Native pollinators such as bees, butterflies, wasps, beetles, and flies can guarantee production of vegetables and fruits, as well as commodity crops like soybeans."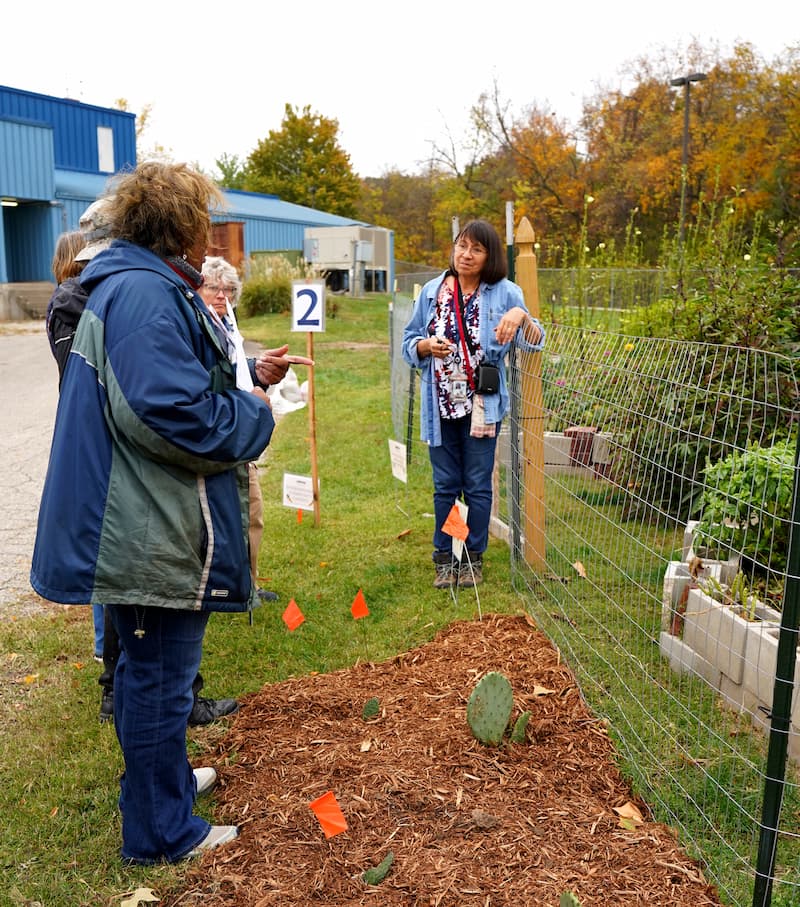 Dr. Nadia Navarrete-Tindall speaks to attendees on the importance of native plants and how to identify certain species.
At Finca Fest, other Lincoln University Cooperative Extension booths were displayed as a way to promote its programs and network with the community. The LUCE Small Ruminants Program booth was presented by Dr. Mohan Acharya, extension state specialist, who spoke on improving sheep and goat production, cost reduction, value-added product development, and more. Meanwhile, Dr. Homero Salinas, extension state specialist for the Small Ruminants Program, and Gabriel Salinas-Luna of the LUCE Agriculture Economics and Marketing Program (AEMP) served meat samples of goat, lamb, and beef to gauge preferences and encourage local meat businesses, aligning with both programs' goals of supporting small farmers and promoting locally sourced products. Dr. Eleazor Gonzalez, AEMP extension state specialist, presented posters on some of these initiatives. 
The Innovative Small Farmers' Outreach Program (ISFOP) was represented by Margo Jakobi, ISFOP farm outreach worker, who spoke to visitors on the many resources and assistance available to underserved and small farmers through the program. Jakobi also assists with the management of LUCE's Farmers Market, and she advertised for the upcoming Winter Market, giving preorder details to attendees. At Finca Fest, Dr. Jim Wetzel, associate professor of the Aquaculture Program, presented cooking demonstrations of crayfish while discussing the advantages of promoting smaller crayfish for sustainable and organic methods.  Additionally, Dr. Tatijana Fisher, extension state specialist, spoke to visitors about the Poultry Program, answering questions from small farmers and potential poultry beginners.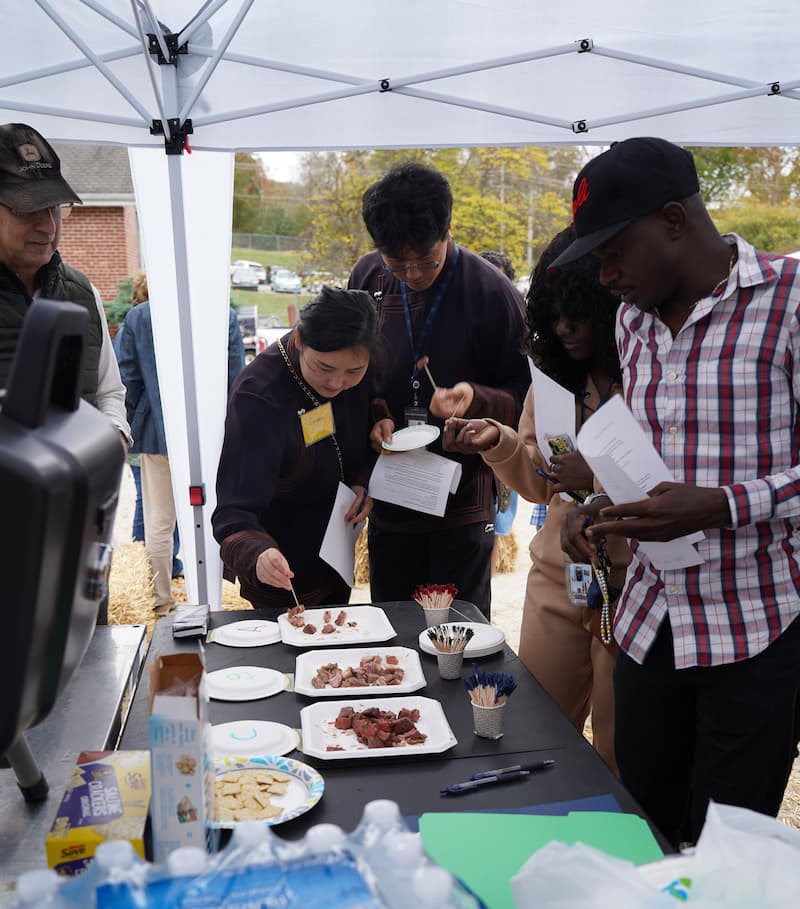 Participants enjoy sampling beef, goat and lamb and take a sample survey afterward to rate taste, appearance, aroma, and texture.
Lincoln University Cooperative Research (LUCR) had displays about analytical chemistry and forest farming. Dr. Qingbo (Roger) Yang, assistant professor of analytical chemistry, spoke about his research for a collaborative study called "Organic vs. Conventional—A Quantitative Nutrition/Contaminants Profiling Case Study on Elderberries." Raelin Kronenberg, agroforestry research specialist for the Forestry and Natural Resource Management Program, taught visitors about forest farming, which involves purposely managing a forested area to promote the cultivation of understory specialty crops that can be used for food, health, landscaping, and crafts. Kronenberg spoke about such plants as American ginseng, goldenseal, black cohosh, bloodroot, and turmeric.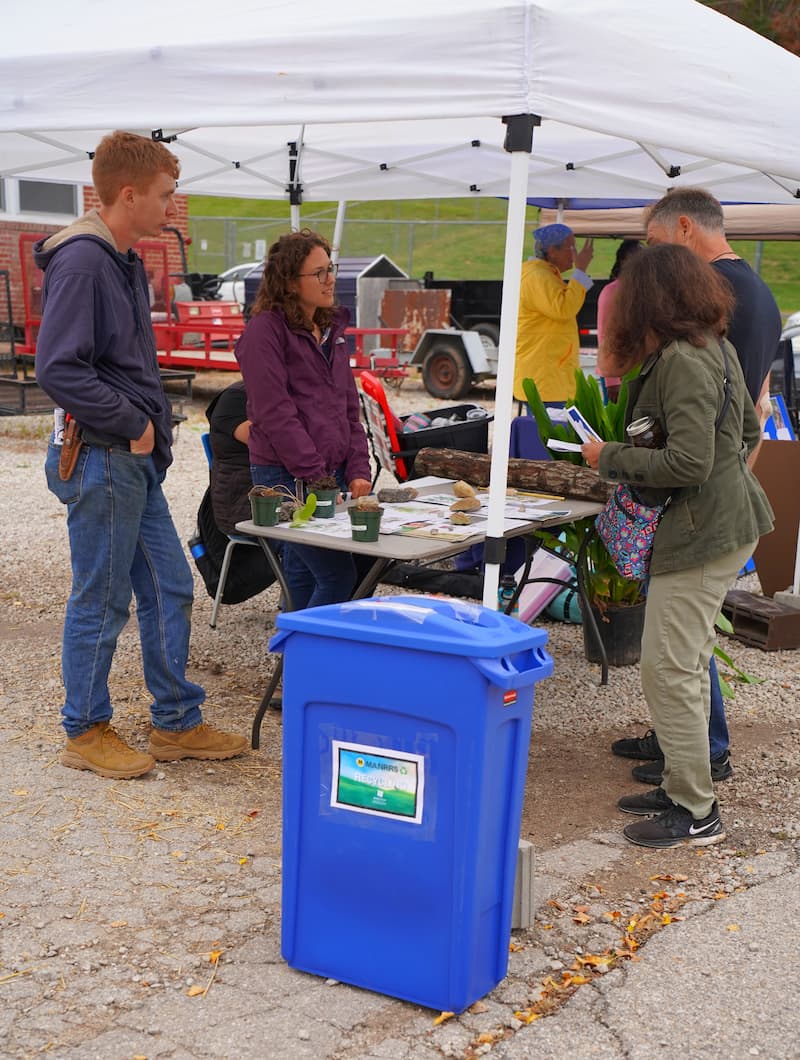 Raelin Kronenberg of the Forestry and Natural Resource Management Program speaks to visitors on forest farming and understory specialty crops.
Community member and owner of DD's Busy Bees, Dallas Moss, handed out samples of his local honey to Finca Fest participants. Moss has been making honey for 19 years and reported that he will be partnering with the Specialty Crops Program to build a platform for beekeeping at the Finca EcoFarm. Other local establishments set up booths to present information on their program. The Missouri Department of Conservation's booth gave information on making various types of vinegars, which included options like starting from scratch, using fruit scraps, and infusing vinegars with different flavors. Participants also learned methods for preserving vinegar for long-term storage and the process of cold infusions for quicker results. U.S. Environmental Protection Agency (EPA) members spoke on career opportunities, notably its Pathway Intern Program for students seeking summer work and future full-time positions. They also showcased environmental initiatives such as promoting safe pesticide usage and pollinator protection.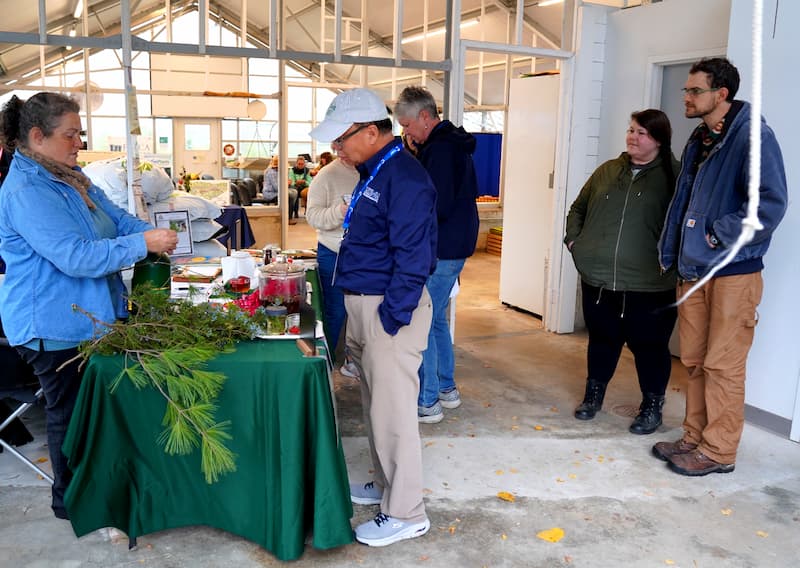 Visitors learn about the various and creative ways to make infused vinegars from the MO Department of Conservation.
Additionally, the Missouri Prairie Foundation (MPF) was an important partner in helping promote Finca Fest broadly. Erika Van Vranken, MPF coordinator, offered information to visitors and provided educational handouts. The Missouri Prairie Foundation's mission is to protect and restore prairie and other native grassland communities through land acquisition, management, education, and research and to promote the use of native plants through its Grow Native! program. The Specialty Crops Program is a member of Grow Native! where Dr. Navarrete-Tindall serves as an advisor.
Finca Fest highlighted the Specialty Crops Program's central role in advocating for the cultivation of native plants and supporting sustainable agriculture. By nurturing the Finca EcoFarm and demonstrating the potential of native edibles, the SCP contributes to greater food security, environmental sustainability, and community engagement. This event exemplified the program's commitment to improving the lives of underserved communities, fostering biodiversity, and promoting a greener and healthier world. The Specialty Crops Program is composed of Dr. Nadia Navarrete-Tindall, Wilma (Sue) Bartelette, Joshua Lawrence, Brittney Eaton, student-worker Chyler Hughes, and Tina Wurth who is housed in Kansas City, MO. For more information on the Specialty Crops Program, please contact Dr. Navarrete-Tindall at navarrete-tindalln@lincolnu.edu or 573-681-5060.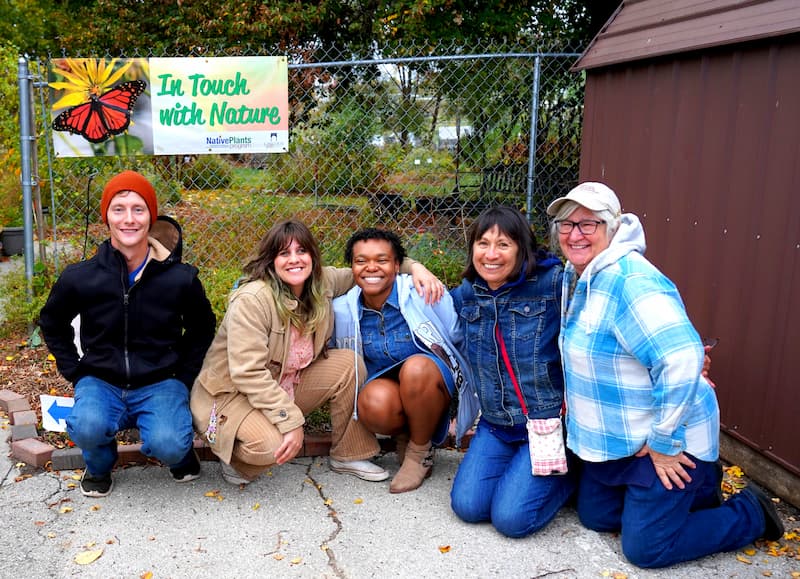 The Specialty Crops Program takes a group photo at Finca Fest (Joshua Lawrence (left), Brittany Eaton, Chyler Hughes, Dr. Nadia Navarrete-Tindall, and Sue Bartelette (right))
Cooperative Extension Community