The Art of Healthy Living: Managing Chronic Conditions with Lincoln University Cooperative Extension
Contact
Office of Communications and Marketing
Young Hall
820 Chestnut Street
Jefferson City, MO 65101

Archives
Categories
Social Media
Jenny Schaben
|
November 6th, 2023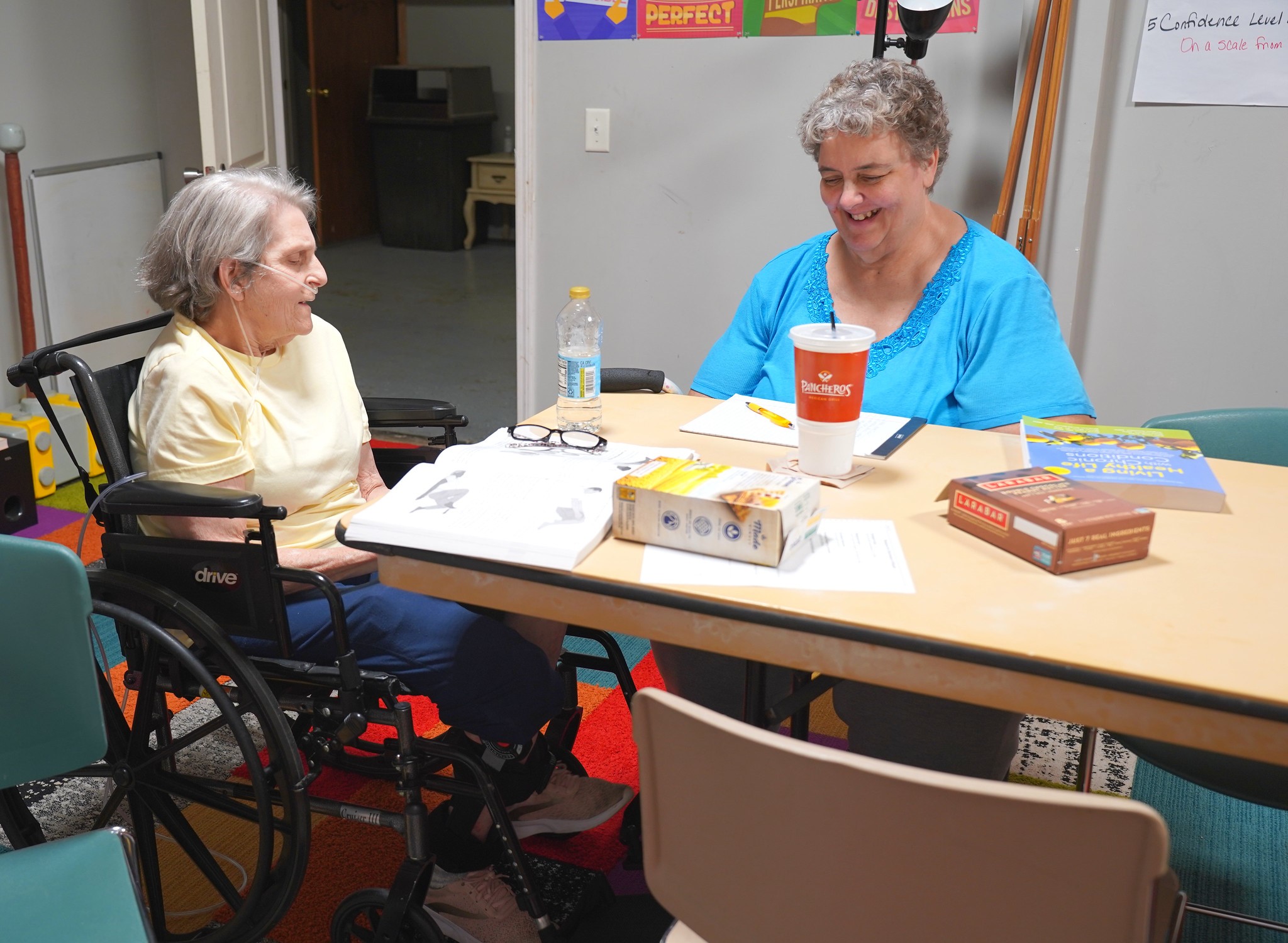 The Lincoln University Cooperative Extension (LUCE) Human Nutrition and Health program believes that true well-being extends beyond eating healthy and encompasses every facet of life, especially for those coping with chronic diseases. Long-term ailments can significantly impact an individual's quality of life, often demanding ongoing management and care. To support those living with chronic disease, the LUCE Human Nutrition and Health program held its workshop, The Art of Healthy Living, weekly from August 21 to October 2 at Building Community Bridges, a non-profit organization, in Jefferson City, Missouri.   
This workshop conducts the Chronic Disease Self-Management Program (CDSMP), which began as an evidence-based program developed by Stanford University in California. The Chronic Disease Self-Management Program was originally designed in the early 1990s and aimed at those with any chronic condition. LUCE Human Nutrition and Health Coordinator Sarah Eber reported that CDSMP was formed on the fundamental premise that most chronic illnesses, despite their differences, have commonalities in their management.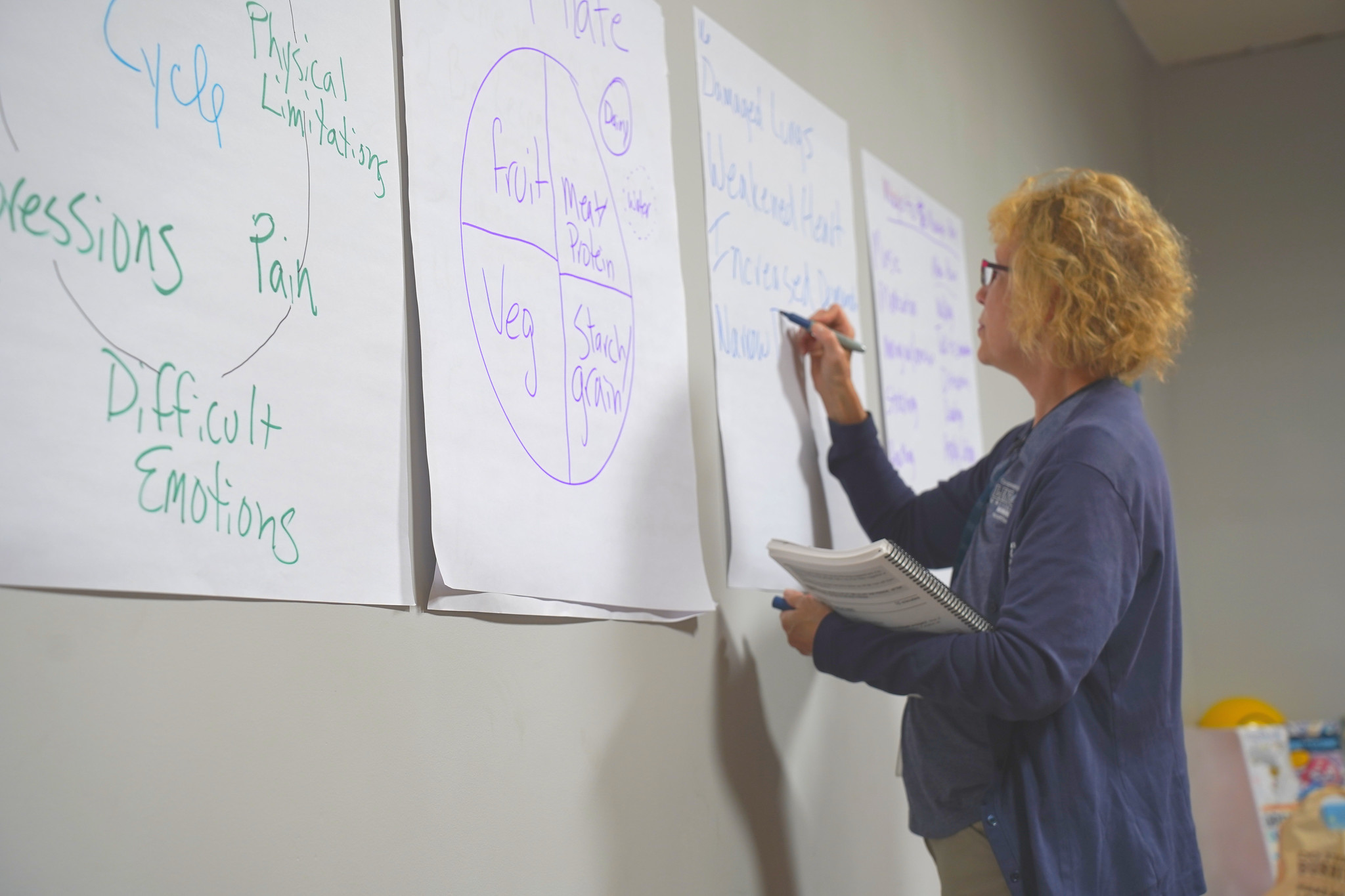 LUCE Human Health and Nutrition Coordinator Sarah Eber and attendees brainstorm solutions to issues dealing with chronic diseases.
"Instead of creating separate programs for different diseases, Stanford chose to focus on overarching concepts that could benefit everyone. Whether it's managing diabetes, chronic obstructive pulmonary disease (COPD), arthritis, or other chronic conditions, the core principles remain the same," stated Eber, who is also a registered nutritionist and public health professional. Historically, results show that this universal approach simplifies training and enhances effectiveness.   
"The objective is not to give medical advice but to discuss general steps for being healthy that apply to everyone," said Eber. Wellness can mean better sleep, stress reduction, clearer communication, improved problem-solving skills, extended physical activity, and enhanced goal-setting abilities with positive results. During The Art of Healthy Living Workshop, participants exercised these skills in a non-judgmental, supportive environment, which is an essential part of the Chronic Disease Self-Management Program.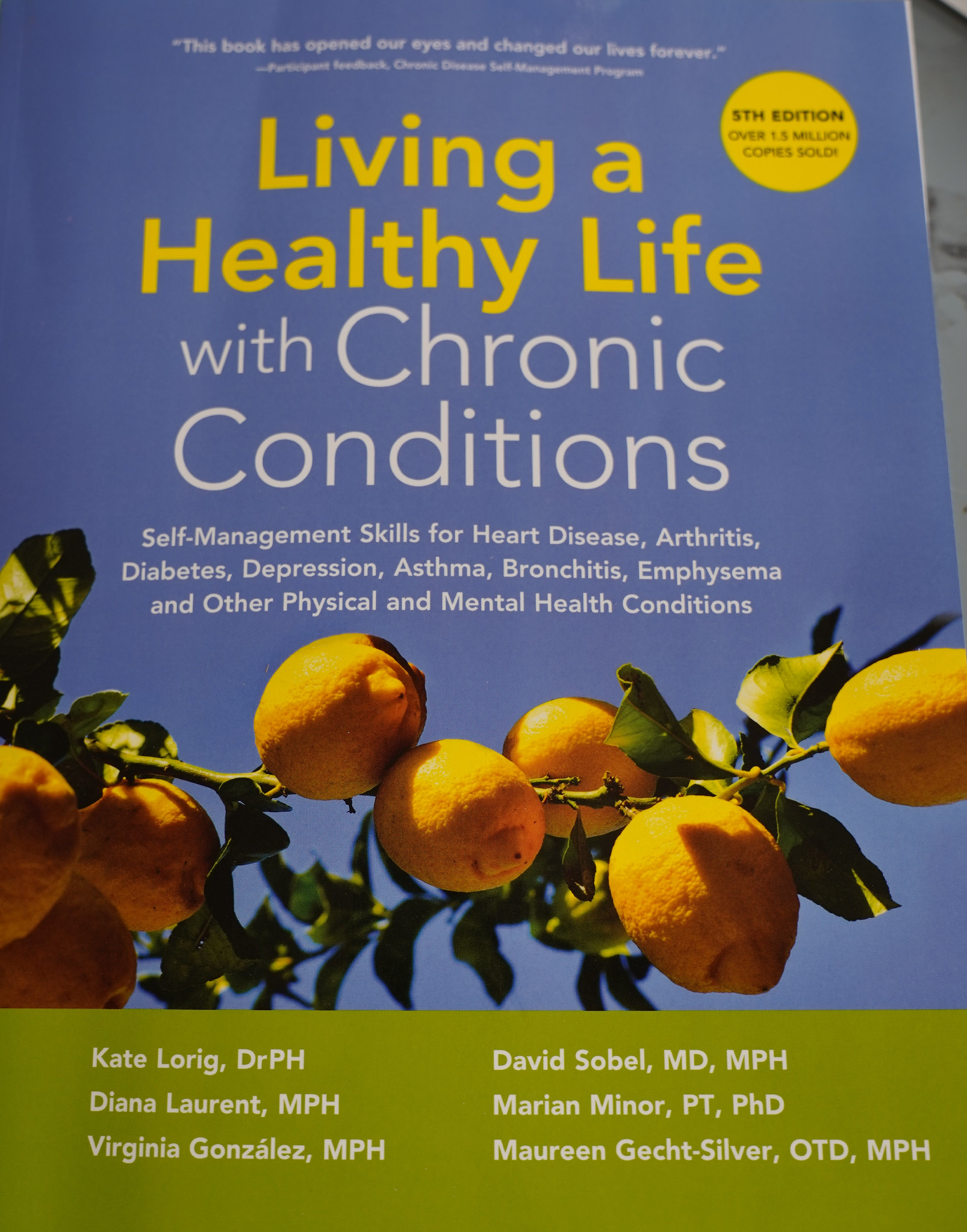 Workshop material and information are provided by Stanford University researchers in the book, "Living a Healthy Life with Chronic Conditions."
The program is designed to meet for two-and-a-half hours each week over a six-week duration. CDSMP follows a thoroughly crafted curriculum with objectives, materials, and recommended activities for each session. Participants are encouraged to complete readings and homework assignments from the assigned text, "Living a Healthy Life with Chronic Conditions," written by revered Stanford University researchers. The curriculum covers self-management fundamentals, resource identification, condition comprehension, symptom and emotion management, physical activity, safety measures, nutrition, effective communication, and future planning. 
Eber explained, "Every session is clearly outlined. For instance, the first session was designed for participants to describe their role in the care of their chronic disease, identify a set of problems that are common among various chronic illnesses, name at least two parts of the self-management toolbox, describe at least one new way to manage fatigue and three ways to improve quality of sleep, practice stress relief tactics, and make a self-management behavior plan."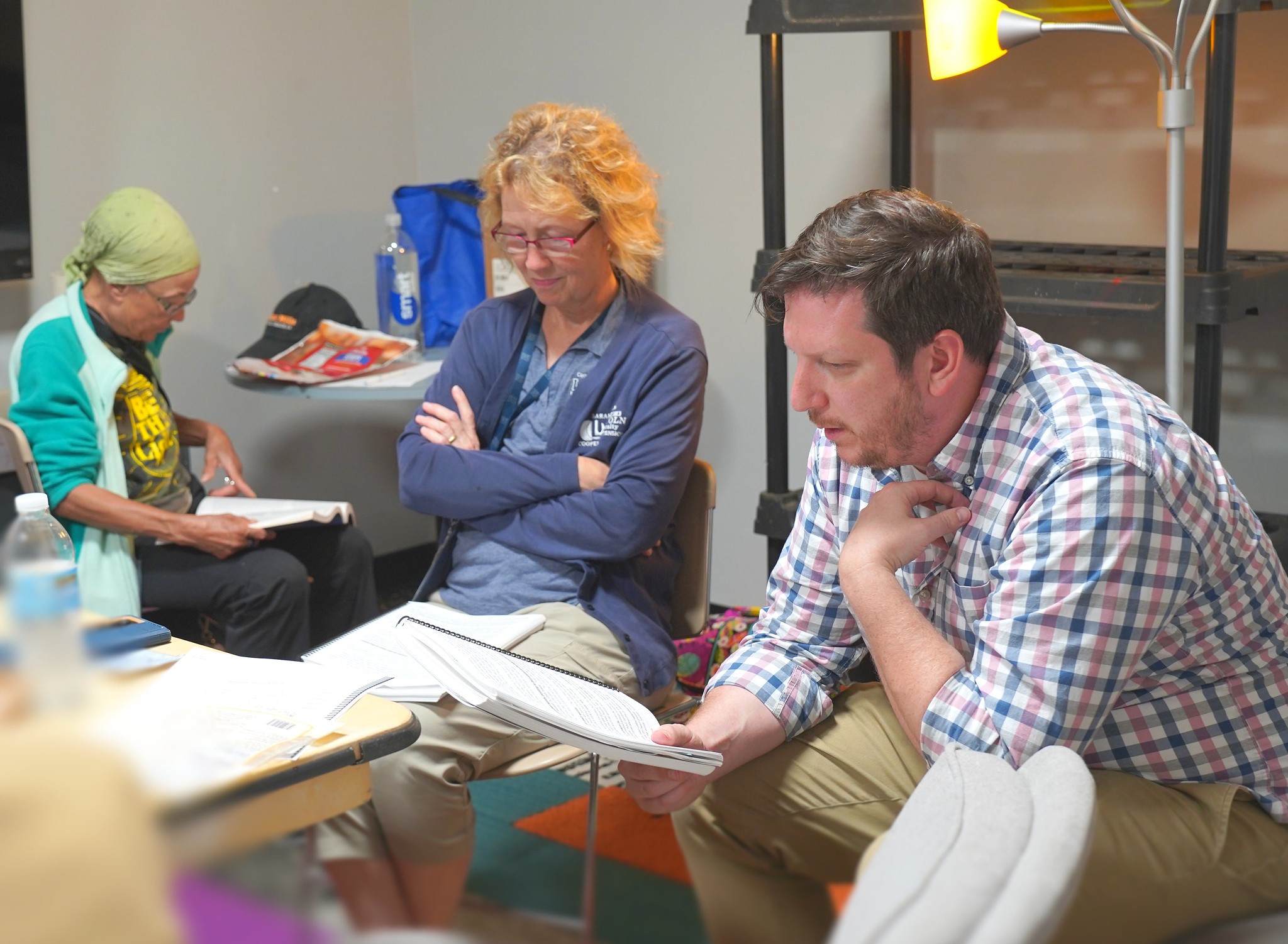 LUCE Human Health and Nutrition Coordinator Sarah Eber and LUCE Commercial Kitchen Manager Joshua Dunne read examples of problem-solving solutions.
Lincoln University Cooperative Extension Human Nutrition and Health (LUCEN) Coordinator Sarah Eber coaches the material with Joshua Dunne, who has transitioned in his position at Lincoln University from LUCEN Nutrition Program Assistant to Cooperative Extension Commercial Kitchen Manager. Mecca Dixon also aided in this workshop as the new LUCEN Nutrition Program Assistant. Both Eber and Dunne are CDSMP certified and dedicated to reducing food insecurity, improving nutrition and health behaviors, and minimizing the disparity of chronic conditions in limited resource and minority populations in Missouri. 
Eber reported, "The process or way the Chronic Disease Self-Management Program is conducted is more important than the subject matter itself; it is one of the biggest contributors to participant success. The job is not to teach attendants but to coach, guiding them to what strategy works best for them. You deliver facts, ask questions, and foster discussion."  
Participants are encouraged to share their challenges, successes, and action plans for the week. This collective problem-solving approach promotes engagement and collaboration. Eber stated, "As an educator, when you're working with groups who have chronic conditions or illnesses, you learn to coach, or you're not effective. You can present facts, but, ultimately, actionable solutions come from people living the same life as you."  
Another key aspect of the program is the emphasis on SMART goals (Specific, Measurable, Attainable, Realistic, and Time-bound). Participants set goals based on their individual needs and are encouraged to achieve them. This empowerment through goal setting not only builds confidence but also reinforces the idea that individuals can take charge of their own health. 
The Chronic Disease Self-Management Program's holistic approach to health management has the potential to transform lives. This program provides participants with the tools to take charge of their health and make informed decisions, becoming a driving force for positive change in the lives of those dealing with chronic conditions. Through the art of healthy living, the path to better well-being becomes illuminated, guided by principles of self-management, support, and shared experiences. In the pursuit of a healthier and more fulfilling life, this program is not just a beacon of hope but a tangible source of empowerment for all. 
Community Cooperative Extension