U.S. Ambassador David Young Inspires LU Students in Foreign Service Careers
Contact
Office of Communications and Marketing
Young Hall
820 Chestnut Street
Jefferson City, MO 65101

Archives
Categories
Social Media
Stephanie Cobian
|
November 9th, 2023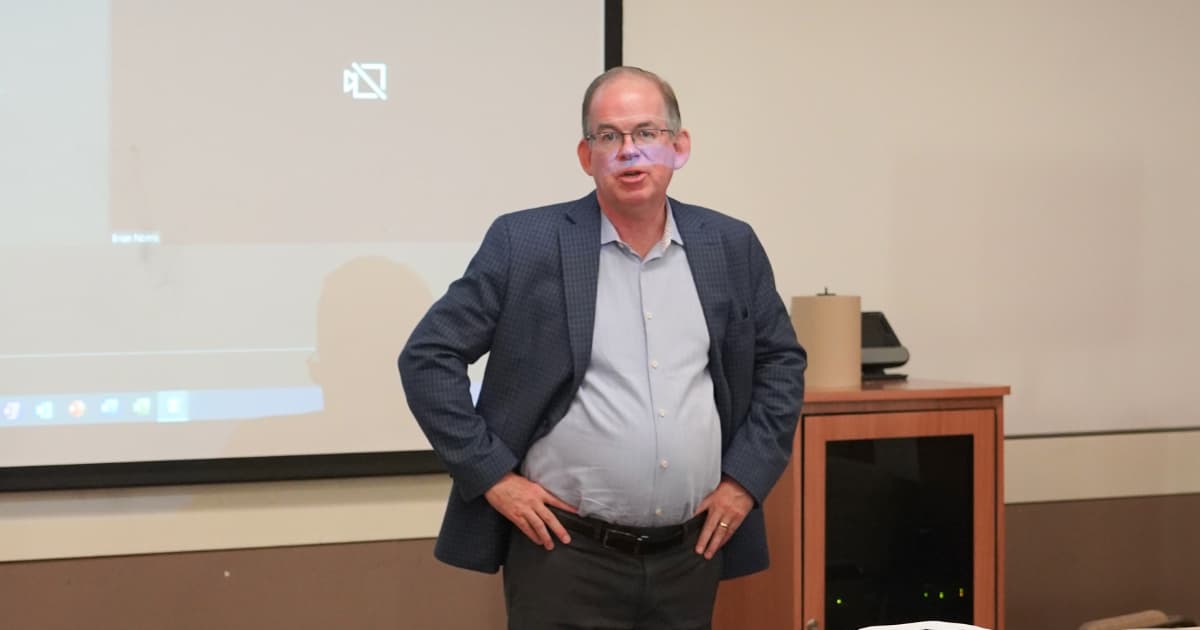 United States Ambassador David Young visited the Lincoln University of Missouri (LU) campus on November 7, where he engaged with students, staff, and President John Moseley to discuss the world of foreign service careers. Ambassador Young, currently serving as the Ambassador to the Republic of Malawi, shared experiences from his extensive 34-year career in the U.S. Foreign Service, offering valuable insights on diplomacy, leadership and international service.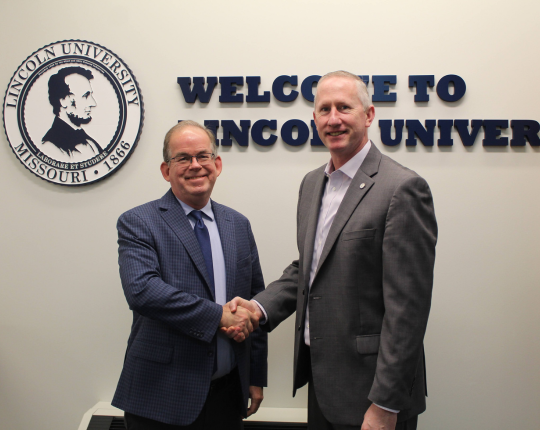 Ambassador Young and President John Moseley.
Over the past decade, Ambassador Young has led embassies in Zambia, Nigeria, South Africa and Malawi, focusing on policy issues related to education, public health, and economic growth. His work has involved collaborations with multiple U.S. government agencies, including the U.S. Agency for International Development (USAID), the Center for Disease Control, the Department of Defense and the Peace Corps. Prior to that, he held positions such as Deputy Director of the Office of the U.S. Special Envoy for Sudan and South Sudan, Executive Assistant to the Under Secretary of State for Civilian Security, Democracy and Human Rights, a Pearson Fellow in the House of Representatives and a Public Affairs Officer at Embassy Guatemala. His diverse assignments have taken him to Vietnam, Burma, Panama, and various departmental desks.
Throughout his career, Ambassador Young has been dedicated to advancing diplomacy, democracy, human rights, racial reconciliation, and interfaith dialogue in various nations. He attributes the key to being an effective leader to his core guiding philosophy: "Promote justice and mercy and be humble," told Lincoln University students. "I've learned that if you are respectful and actively listening—really hearing about their reality—that's powerful. If you don't do that, you will miscommunicate. It's foundational to ethics and human rights."
Ambassador Young highlighted the diverse career paths available within the foreign service, encompassing roles in the military, the State Department, USAID, and other agencies. He stressed the significance of pursuing causes with passion, such as ending hunger and child marriage and combating human trafficking.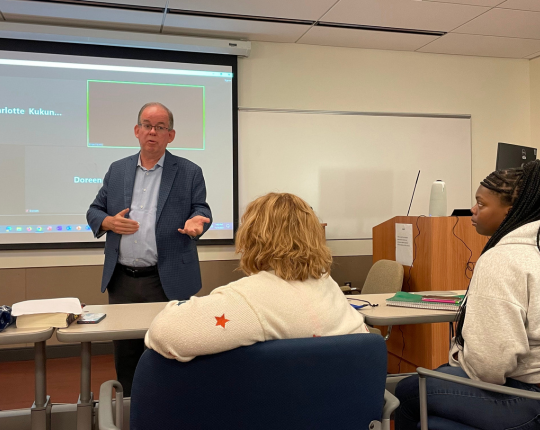 Ambassador Young talked about his personal path to being an ambassador and about US/Malawi relations. LU students look on, and friends from the University of Kansas African Studies Center joined the talk virtually.
Sarah Veldhuizen Stealy, a Foreign Service Officer and Diplomat in Residence, also spoke during the presentation, discussing the opportunities for internships, fellowships and scholarships within the State Department. She emphasized that the department hires from various backgrounds and encouraged students to explore the diverse career options available, from communications jobs to law enforcement, architecture and more.
As a proponent of public service, Ambassador Young stressed the importance of servant leadership and unity in overcoming division and polarization. He cited examples of collaboration with special forces, humanitarian aid workers, human rights officers and intelligence personnel as a unified front in Nigeria, illustrating the substantial impact achievable through collective efforts. 
Additionally, another attribute of influential leaders he emphasized was the concept of humility. In Malawi, he actively engages with the locals, earning him the title "Mr. Street Food" for cooking with street vendors on the street and eating their local foods. This demonstrated the ability to connect with people on a human level and engage with others in humility.
Concluding his presentation, Ambassador Young highlighted that individuals pursuing careers in public service have the capacity to make a positive impact on a global scale. He left the audience with this closing thought, "Wherever you are, in the race of life, be respectful, humble, a servant, and care about justice and diversity, brotherhood and sisterhood. If you do that, it all comes together."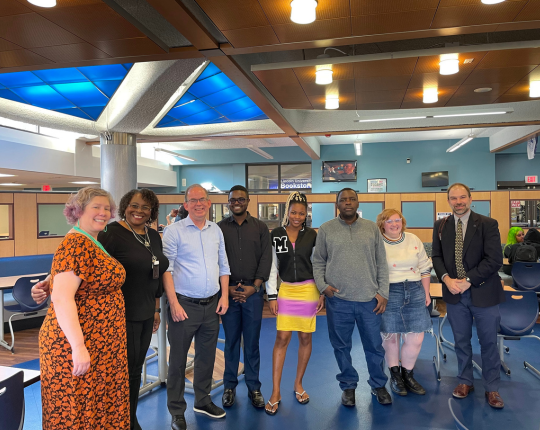 Ambassador Young, Malawi students and political science student and professor pose for a picture.