Protecting Assets through Estate Planning Spotlighted at Lincoln University and Missouri Department of Health's 25th Missouri Institute on Minority Aging (MIMA)
Contact
Office of Communications and Marketing
Young Hall
820 Chestnut Street
Jefferson City, MO 65101

Archives
Categories
Social Media
Stephanie Cobian
|
September 20th, 2023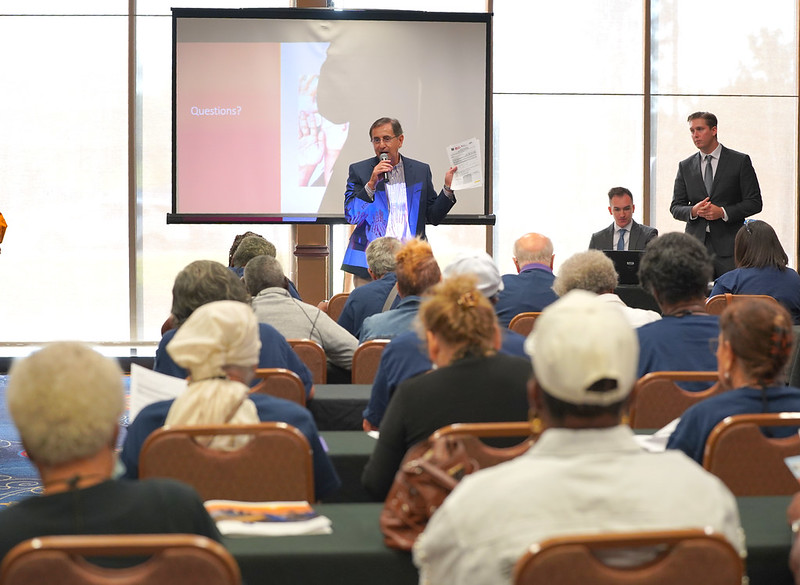 LUCE Small Ruminant Specialist Dr. Homero Salinas invited attorneys Connor P. Kelley and Lance F. Johnson to a panel discussing estate planning at the 25th Missouri Institute on Minority Aging (MIMA). The event was hosted by Lincoln University Cooperative Extension (LUCE), Paula J. Carter Center on Minority Health and Aging (PJCCMHA), and the Missouri Department of Health and Senior Services Office of Minority Health. On Tuesday, August 29, nearly 120 minority senior citizens learned strategies to ensure the preferred distribution of assets and the well-being of loved ones after a death.
"Learning about estate planning and heirs' property is crucial to ensure a smooth transition of assets, minimize legal complications, and protect family wealth," remarked Dr. Salinas. "It empowers individuals to make informed decisions, safeguard their legacy, and provide financial security for future generations."
Dr. Salinas leads the LUCE Small Ruminant program, aimed at educating small minority and limited-resource farmers in Missouri. Integrating estate planning and heirs' property education into the program aligns with its goal of reducing risk management challenges. This equips participants with the knowledge to secure their assets, ensuring the continuous success of their small ruminant enterprises while bolstering overall resilience and sustainability in the small ruminant industry.
During the presentation, attorney Connor Kelley shared various real-world scenarios from his experience as an estate planning attorney to illustrate the consequences of inadequate planning and documentation before incapacity or death. Without proper planning, survivors of the deceased will have to go to probate. This court-supervised process of settling a decedent's estate and distributing their property to heirs can take anywhere from a few months to several years and can include court fees, attorney fees and any overhead for the real estate property.
To avoid this time-consuming and financially burdensome process, attorney Lance F. Johnson highlighted key components of estate planning including wills, trusts, beneficiary designations and powers of attorney, emphasizing the importance of developing a comprehensive plan to help transfer your assets to the people or organizations of your choice upon death.
Understanding that estate planning can significantly enhance financial well-being and preserve generational wealth, Dr. Salinas pointed out, "This knowledge empowers individuals and farmers to secure their financial future, minimize family disputes, and create a legacy for succeeding generations."
Beginning in November 2023 and extending through March 2024, Dr. Salinas will offer comprehensive estate planning workshops on Lincoln University's campus and its four impact centers across the state. The workshops are supported through grant funding from the U.S. Department of Agriculture's Farm Service Agency, Socially Disadvantaged Farmers and Ranchers Policy Research Center at Alcorn State University, and the Southern Rural Development Center.
To explore safeguarding your family's financial future, please contact Homero Salinas at
salinas-gonzalezh@lincolnu.edu
or register at
https://bit.ly/3OETqNB
Community University News Press Release Cooperative Extension