LU Students Selected to Present Research at the 80th Annual Midwest Political Science Association Conference 2023
Contact
Office of Communications and Marketing
Young Hall
820 Chestnut Street
Jefferson City, MO 65101

Archives
Categories
Social Media
Stephanie Cobian
|
May 16th, 2023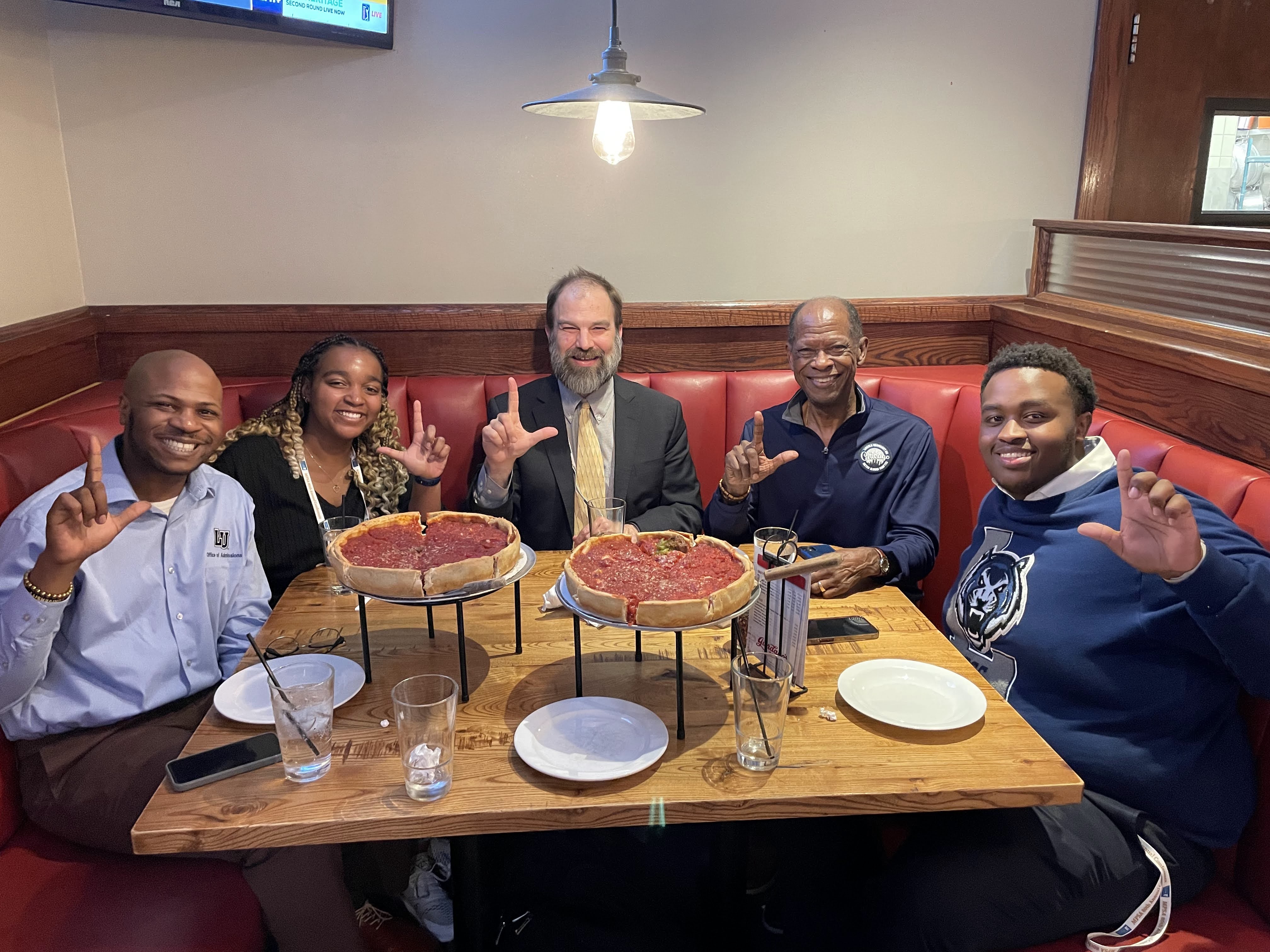 Lincoln University students Nia Walker and Alexandre Mugisha presented their independent research at the 80th Annual Midwest Political Science Association (MPSA) Conference held in Chicago, Illinois, from April 13 to 16, 2023. The MPSA Annual Conference is a highly anticipated event in the political science community, drawing together prominent scholars, researchers and decision-makers to exchange information and address the latest information in the discipline.
"Participating in the conference is an important opportunity for students to learn where they fit in a broader institutional environment," commented Associate Professor of Political Science Dr. Brian Norris, who guided both students in their research. "I think that the students come away appreciating the quality of intellect that one finds in forums such as MPSA and knowing that they can compete."
The conference was an eventful four days that historically boasts over 5,000 attendees from every state in the U.S. and over 100 countries worldwide, representing more than 90 political interest areas. Competitive scholars from Harvard, Berkley, Stanford, international universities and beyond come to share their research and prepare for tough questions and open discussions. Participants took part in a variety of activities, including panel discussions, roundtables, lightning talks and working groups, providing diverse perspectives from different fields. The conference also offered networking opportunities and professional development sessions tailored to help students further their research, collaborate internationally and explore multidisciplinary approaches to political science.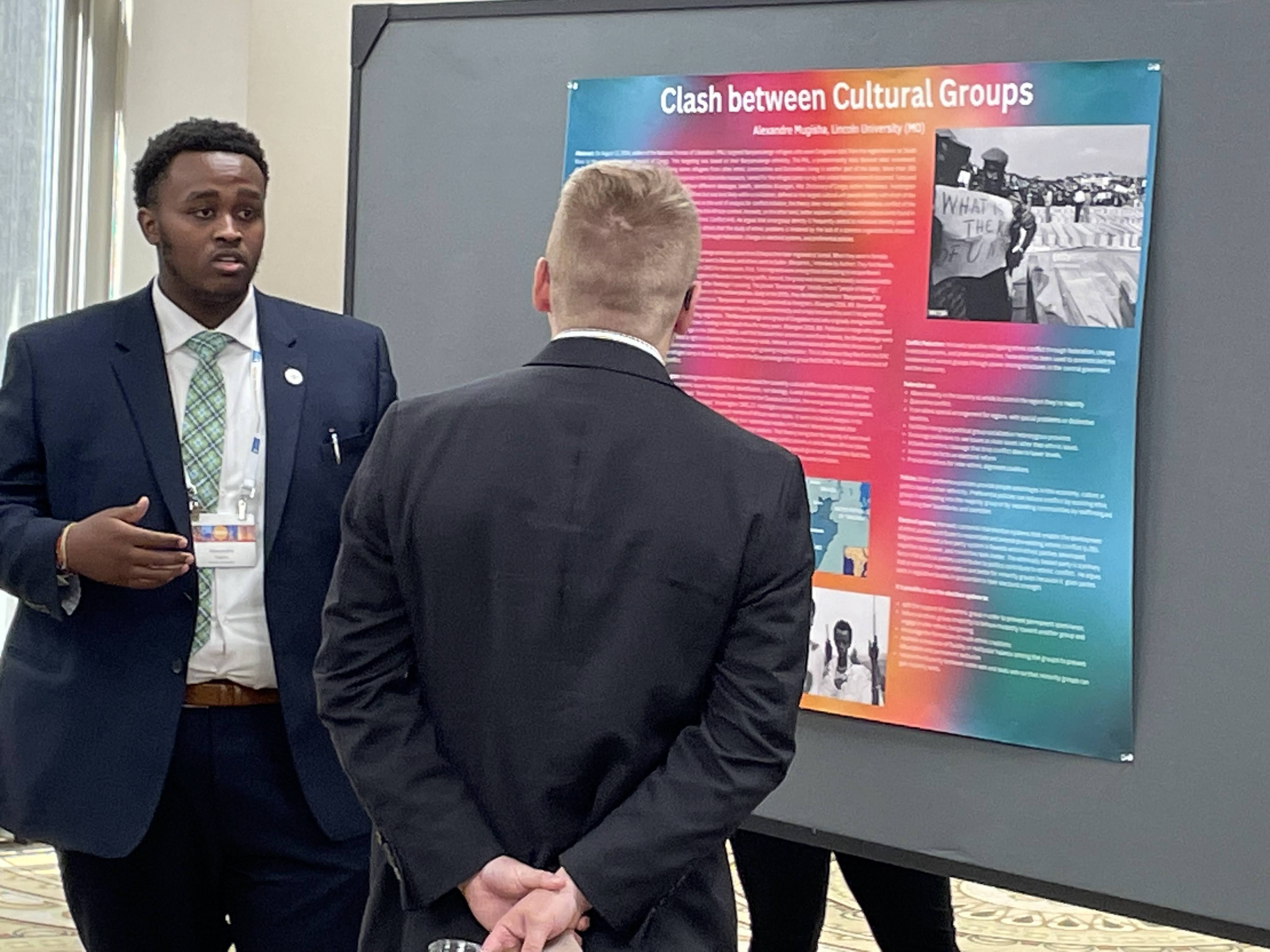 Sharing insights and ideas — Senior Alexandre Mugisha presents his research at the MPSA Conference.
Alexandre Mugisha, a senior majoring in political science with a minor in business administration, offered his research on the Tutsi and Hutu cultural conflict in Gatumba, Burundi, the eastern Democratic Republic of Congo. Mugisha's analytical approach included authoritative accounts of the region along with data from his personal experience, leading him to present solutions to mitigate the conflict. His proposals included changes in electoral forms, federalism, proportional representation and ethnic policies that allow minority groups access to scholarships and opportunities to encourage engagement.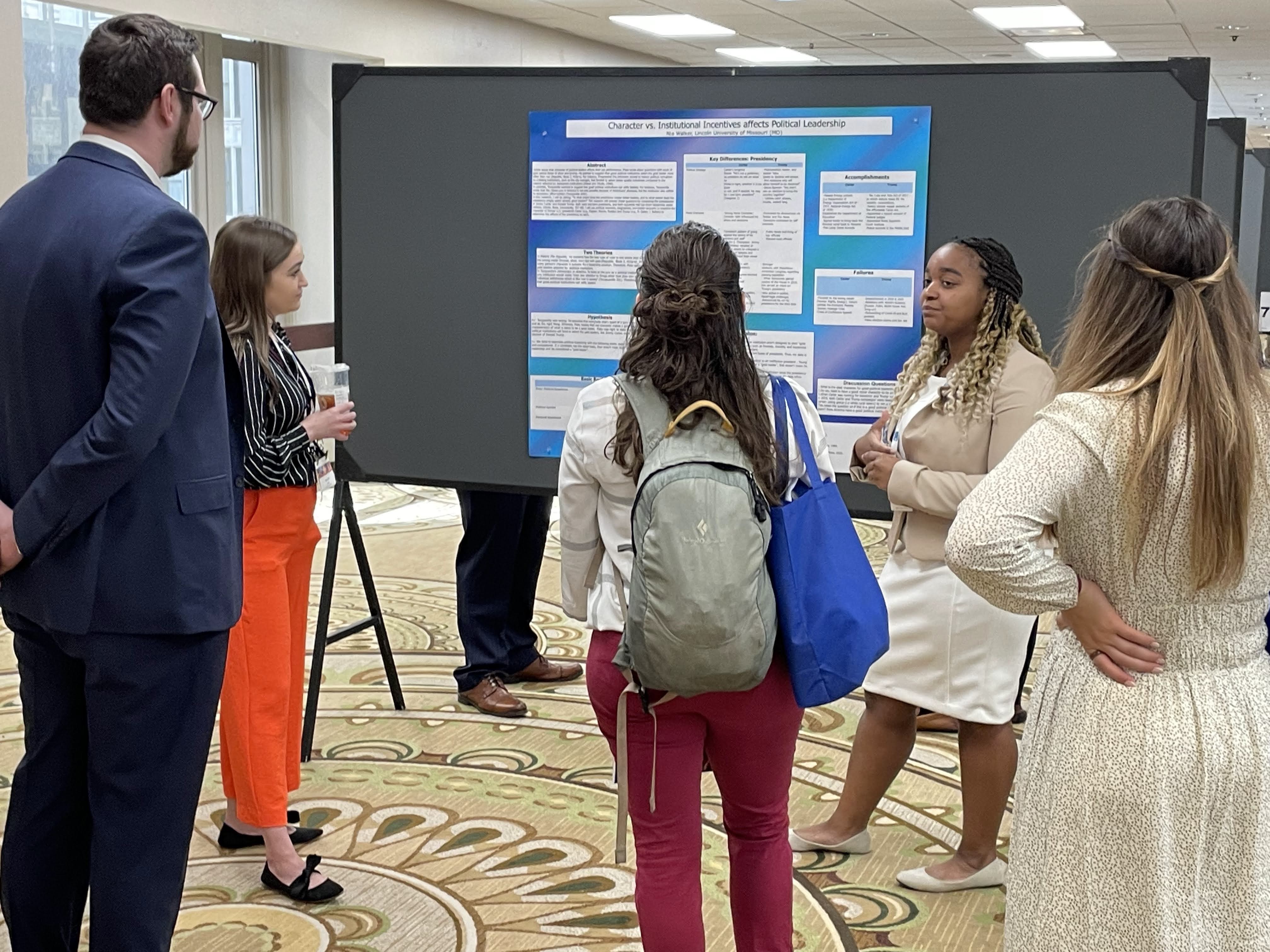 LU student Nia Walker shares her thought-provoking presentation at the MPSA Conference.
Nia Walker, a sophomore, compared the presidencies of Jimmy Carter and Donald Trump, exploring to what extent political institutions select leaders of good moral character or how the office edifies leaders once they are elected. From her research, Walker concluded that political institutions are not designed to elect good leaders since ethics and political experience are not requirements to run for the office of president.
Walker was keen to take part in the conference to not only hone her public speaking skills but also showcase her research, which she feels deeply passionate about. As a political science major, she aspires to work in government or become an attorney after graduating. She found the experience of engaging with fellow undergraduates in meaningful discussions about critical issues around the country and globally to be highly illuminating.
"I've learned to be more open-minded," she commented on listening to other speakers on diverse topics. "It made me consider issues from a different perspective."
Other highlights included attending a captivating presentation by Dr. Norris, who shared his research findings on rural local governments in Colombia and Mozambique, which he conducted on a Fulbright award. Dr. Norris shared valuable insights from his interviews with mayors of rural towns and other local leaders, including hospital directors, chiefs of police and leaders of local commercial and non-profit organizations. The information shared was particularly relevant to Dr. Norris' class on State and Local Government, which delves into topics on the roles and responsibilities of mayors, city councils and city managers in governing their communities.
Mugisha and Walker also had the opportunity to meet with LU Chicago alumni chapter leader Lionel Harris and the LU Chicago-based recruiter Davion Thomas.
Participation in the MPSA Conference was a competitive process, and students were selected first by Lincoln University's political science department based on academic standing and attendance at the 2022 PMSA. Afterward, Mugisha and Walker submitted their abstracts for approval and were ultimately selected to present at the conference. The students had been researching and preparing for their presentations since November 2022 and received funding from Title III and Honors Program funds to attend the conference through Dr. Norris' efforts.
The MPSA is a leading international academic association with members in the United States and nearly 60 other countries, dedicated to advancing scholarship in all areas of political science. The association publishes one of the premier journals in the field, the American Journal of Political Science, and hosts attendees at its annual conference every spring – the largest political science conference in the country, approximately 1,100 sessions with 5,000 papers and 7,000 authors/speakers.
After graduation in December 2023, Mugisha will continue his research in hopes of returning home someday to Burundi. Inspired by the experience to grow as a scholar and further his academic and professional career, the senior shared, "It was great to see people from all different backgrounds from all over the world come together and gather, give respectful criticism...being in an environment like that makes you want to do more."
For more information about the MPSA Conference, please contact Brian Norris at norrisb@lincolnu.edu.
View photos from the trip at https://photos.app.goo.gl/pkofBBBqPximPjxA9.
Academics Admissions Students Press Release University News