Unleashing Creativity: Lincoln University Writers Thrive at Sigma Tau Delta International Convention
Contact
Office of Communications and Marketing
Young Hall
820 Chestnut Street
Jefferson City, MO 65101

Archives
Categories
Social Media
Jenny Schaben
|
May 16th, 2023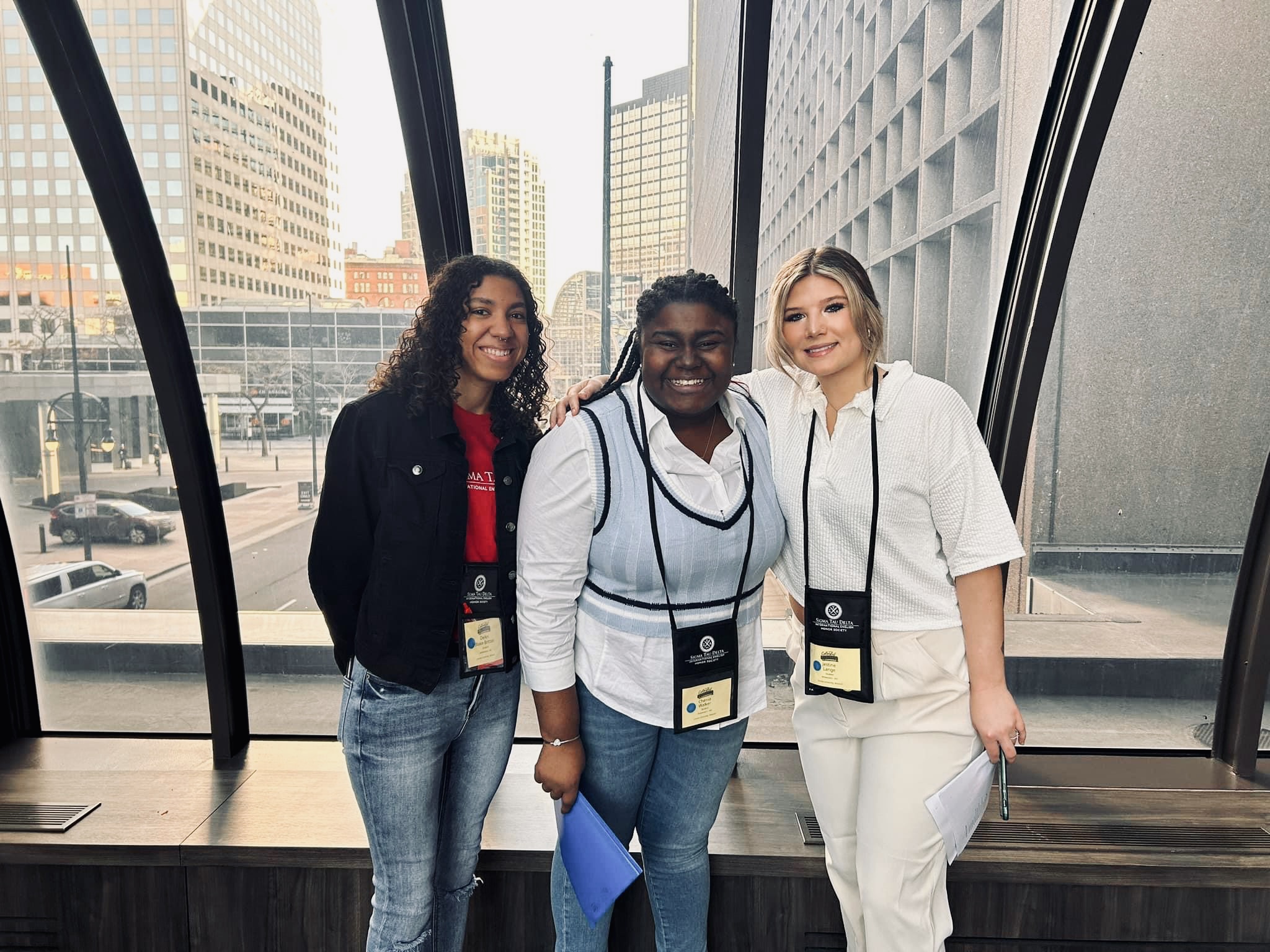 Lincoln University (LU) creative writing students traveled to Denver, Colorado, this spring to participate in the Sigma Tau Delta International English Honors Society annual convention. Students read their written works to respected audiences, discussed literature, met established authors, and made new friends from around the globe. 
According to Sigma Tau Delta, this unique event allows "hundreds of members and chapter advisors from around the United States and beyond to gather in one locale, share experiences, and expertise, be recognized for their achievements and participate in the official proceedings of the society. The convention also provides opportunities to discover new ideas in English and English-related disciplines while interacting with speakers, presenters, and texts that members might not otherwise encounter."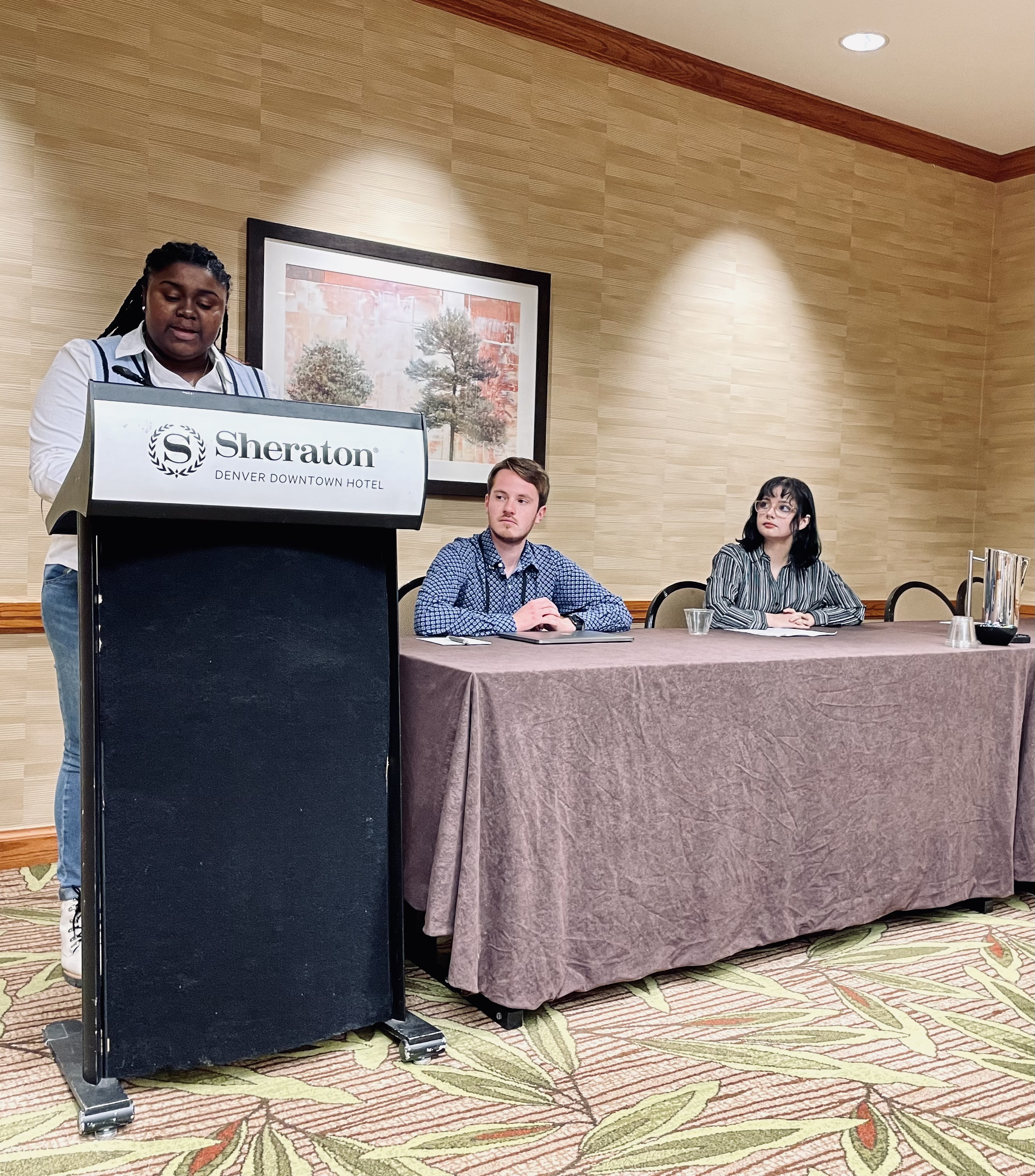 Junior Chenia Walker reads from her critical essay on Langston Hughes' poetic stylings and his poetry's connections to the Blues genre.
This international convention is held at a different location within the United States once a year. Students are invited based on good academic standing and application acceptance. Inquiring students submit their written work(s) for this competitive opportunity every fall, and those chosen to attend present their text. Categories include but are not limited to original critical essays, creative nonfiction, poetry collections, and original prose (short stories, flash fiction, drama, or screenplays).
This year, LU Omega Pi chapter members DeAni Blake-Britton (junior), Jestine Lange (junior), Chenia Walker (junior), and Jaida Gray (senior) were accepted to take part in the four-day convention from March 29 to April 1. Blake-Britton, Gray, and Lange presented poetry portfolios. All three students major in English with an emphasis in creative writing. Walker, majoring in psychology with a minor in creative writing, read from her critical essay on Langston Hughes' poetic stylings and his poetry's connections to the Blues genre.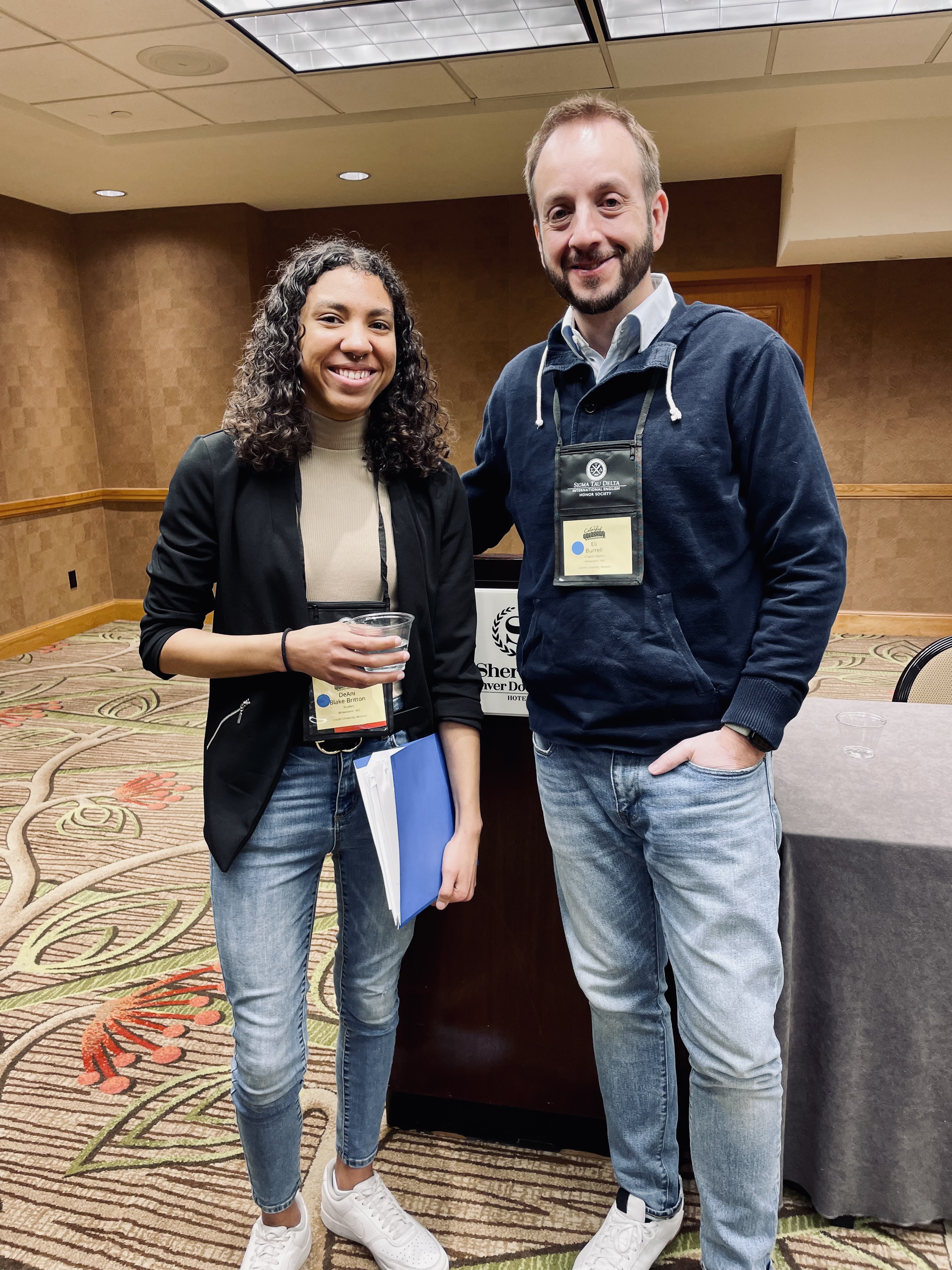 LU Omega Pi Chapter President DeAni Blake-Britton (Junior) stands for a photo with Elijah Burrell, Chapter Advisor.
When asked what it was like to present and read her work at the conference, LU Omega Pi Chapter President DeAni Blake-Britton commented, "It was absolutely amazing being surrounded by like-minded people. Something about being in that environment circulated an air of passion, creativity, and inspiration. I was nervous presenting my work, but after a certain point during my presentation, I felt confident that I belonged there and that what I was saying was meant to be heard."
Blake-Britton also reported that attending and participating in the conference significantly impacted her life — "It made me feel accomplished as a writer and inspired me to continue working hard and writing. It also made me more open to new experiences and meeting new people."
Lincoln University has been a part of Sigma Tau Delta since 1998 through its LU Omega Pi Chapter, established on campus by former English Professor Dr. Linda Wyman. In 2012, Mr. Elijah Burrell joined Lincoln University faculty and became the Omega Pi Faculty Chapter Advisor, a title he still holds. Burrell has inducted 50 students as new members into the Omega Pi Chapter since 2012. 
"Presenting work at an international convention as an undergraduate student is a prestigious accomplishment. Lincoln University students have been well-prepared and fared well in the judging process for the past several years. Numerous students have had the opportunity to present (sometimes during multiple years and conferences) and—in the past five years—at least one LU English major placed first in his creative writing category," Burrell commented. 
Burrell has accompanied several students to past conventions. Students have presented in cities like St. Louis, Minneapolis, Louisville, and Albuquerque. In 2019, Kieron Walquist won first place at the convention for his original creative work. In 2018, Burrell traveled to the convention in Cincinnati to receive an award for effective years of service as a faculty sponsor/advisor to the honor society. 
For more information on this event or the creative writing program, please contact Elijah Burrell at burrelle@lincolnu.edu. 
Students English University News Admissions Academics