Blue Tiger Bio: Blaine Bredeman
Contact
Office of Communications and Marketing
Young Hall
820 Chestnut Street
Jefferson City, MO 65101

Archives
Categories
Social Media
Stephanie Cobian
|
May 1st, 2023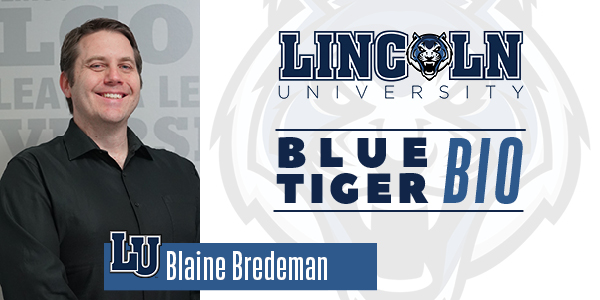 Blaine Bredeman, Lincoln University's registrar, has been instrumental in bringing the university's recordkeeping system into the 21st century. Bredeman has over 14 years of experience in higher education, and his expertise in both public relations and information systems has allowed him to navigate into new roles where his knowledge has been critical in understanding database systems and user systems.
Coming on board, Bredeman said, "I really wanted to get us moving completely out of a paper-based system and into electronic recordkeeping."
Bredeman's role as registrar is to ensure that all records are accurate, accessible, safe and reliable. He focuses on getting students graduated, working alongside admissions officers to ensure that students are on track to fulfilling their degree requirements. Since joining Lincoln University, Bredemann has digitized paper records and reduced the amount of physical storage space required. This has made it easier to search and access records, enabling departments or organizations to share records more efficiently.
Additionally, he has implemented software that allows for degree audits, making the process more efficient, accurate, transparent and accessible for both students and academic advisors. He assures that the software is not intended to replace advisors, rather it makes their job easier, faster and more reliable. The software serves as a tool for advisors to access and for students to use to ensure they are on track to graduating successfully.
Bredeman describes his role here as knowing all the rules in the rulebook, following them and helping students best navigate their paths. "I'm just trying to help guide students . . . so that they don't feel so lost."
Bredeman has improved the transfer of information between faculty advisors and administration, making strides with how quickly advisors get information on new incoming students. He has also helped incoming transfer students streamline the enrollment process and save them time and money by using a database of acceptable transfer credits from other schools.
He and his dedicated, hard-working staff are responsible for managing academic records, ensuring that academic policies and procedures are followed, maintaining accurate records of student enrollment, grades and academic progress. They also manage student transcripts, guaranteeing student records are kept confidential and that academic policies such as graduation requirements and degree programs are followed by students and faculty members.
Continuing to make Lincoln a successful place is what drives Bredeman, who "loves working with people committed to making the best place it can be for students that study here and employees that work here."
His ultimate goal is to digitize all of the university's records, but he acknowledges that this is a long-term process that requires modernization and streamlining in all areas of record keeping.
"Sometimes it's difficult to make progress forward when you're still trying to maintain the old and current processes," said Bredeman. "But hopefully, when you sit back and look at the big picture, we'll see progress in the long run, even if it might not feel like week-to-week semester to semester…and when you look at long-term goals, we do see improvement."
Modernizing and streamlining the university's record-keeping system have been crucial under Bredeman's expertise and leadership as registrar. His commitment to digitizing student record keeping and improving efficiency and accessibility has not only benefited the university but has also helped students achieve their academic goals.
Faculty/Staff University News