Lincoln University Students Blaze a Trail as First Class of Intelligence Community Center for Academic Excellence Scholars
Contact
Office of Communications and Marketing
Young Hall
820 Chestnut Street
Jefferson City, MO 65101

Archives
Categories
Social Media
Stephanie Cobian
|
April 6th, 2023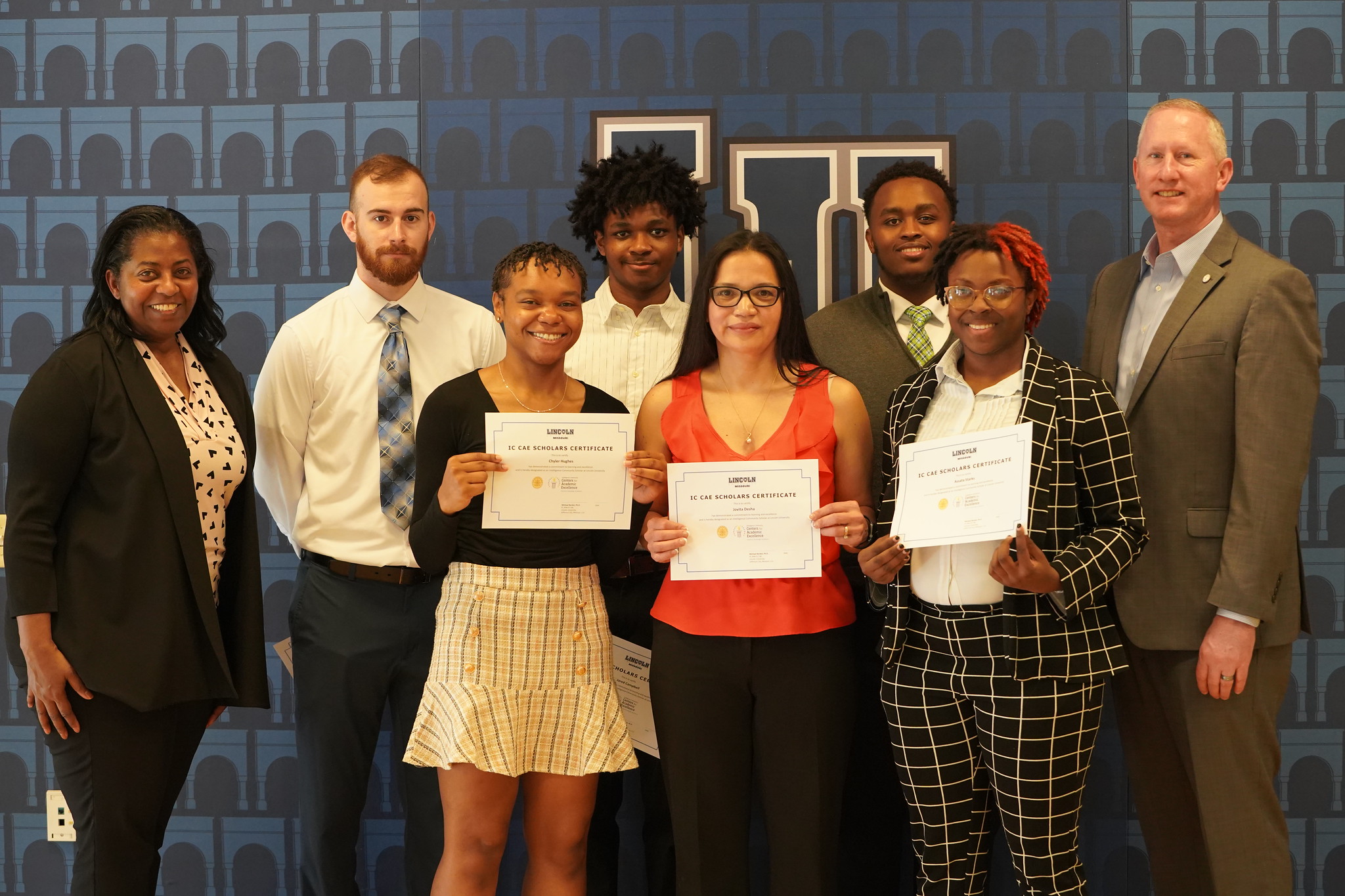 Six Lincoln University of Missouri (LU) students have been recognized by the Midwest Consortium – Intelligence Community Center for Academic Excellence (MW-IC CAE) for their achievements as IC CAE Scholars at a pinning ceremony. Alexandre Mugisha, Jovita 'Iris' Desha, Assata Starks, Blake Oakley, Chyler Hughes and Jared Campbell received their pins for their acceptance into the program and their development of specific skills and experiences associated with work in the Intelligence Community on Friday, March 31.
Lincoln University President Dr. John B. Moseley commended the scholars for their achievement stating, "We are honored to be part of this first class of Lincoln students to earn this designation. I applaud you [students]. This is a tremendous opportunity for you that opens doors you may not realize yet as a result of your participation in this program."
Jennifer McCann, Deputy Chief of Emerging Talent Group within the Intelligence Community Human Capital, delivered the keynote address and expressed she was inspired by the scholars and their interest in dedication to public service. She shared that the program provides a wealth of opportunities beyond post-secondary graduation and prepares students with the skills necessary in the intelligence and national security fields.
"There is no single academic discipline in IC," said McCann. "Intelligence agencies run the gamut of skills."
Lincoln's IC CAE Scholars come from a range of majors, including political science, psychology, history, agricultural and environmental sciences, and biology. As part of the program, scholars learned about intelligence and STEM curricula, worked collaboratively to create rich, engaged learning and teaching experiences, and built vital IC partnerships.
Chyler Hughes, a junior majoring in agricultural and environmental sciences, represented Lincoln University at the recent 2023 MW-IC CAE Colloquium on Social Media Intelligence and National Security held at St. Louis University.
"I'm hoping to gain more career opportunities, and definitely have already seen so many different avenues available," stated Hughes who now is interested in becoming an FBI analyst. 
Alexandre Mugisha and Blake Oakley have been selected to represent Lincoln University at the 2023 IC-CAE Summer Session in Madrid, Spain to develop their approaches to understanding global interactions of culture. Assata Starks and Jovita 'Iris' Desha will participate at the IC CAE Summer Symposium in Washington, D.C. Starks aims to someday work in background checks for government agencies, while Desha aspires to work in Latin America utilizing her Spanish-speaking skills.
The MW-IC CAE is led by Joe Lyons, Ph.D., director of the Security and Strategic Intelligence program at St. Louis University, with Lincoln University and Harris-Stowe State Univerity as partners. Lincoln University joined a cross-institutional community of educators committed to facilitating collaborative relationships and training the next generation of intelligence officers through the MW-IC CAE, which is part of a $2.5 million grant from the Office of the Director of National Intelligence. The consortium aims to develop a diverse workforce of qualified intelligence professionals with a background in strategic intelligence and STEM to carry out America's long-term national security initiatives.
In his closing remarks, Dr. Darius Watson, LU's executive director of academic initiatives, expressed his pride for the first class of IC CAE Scholars of Lincoln University and issued a call to action urging them to help guide others towards similar opportunities. "Set the stage for those that are going to follow behind you. We ask that you reach out and play the role of mentor and counselor and let others know what they can expect and what opportunities lie ahead."
For more information on the MW-IC CAE, please contact Dr. Darius Watson at WatsonD@lincolnu.edu.
University News Press Release Students