Team Player: Mercy Gonzalez on Protecting, Serving and Inspiring the Blue Tiger Community
Contact
Office of Communications and Marketing
Young Hall
820 Chestnut Street
Jefferson City, MO 65101

Archives
Categories
Social Media
Abbey Tauchen
|
February 22nd, 2023

Drive to make a difference is a powerful motivator, and for Mercy Marie Gonzalez, it's driving her to be the kind of law enforcement officer who serves, protects, and instills confidence that law enforcement is here to help, not harm.
For Gonzalez — a Lincoln University of Missouri senior, member of the Blue Tiger Women's Basketball team, and one of the newest members of the Lincoln University Police Department (LUPD) — the word "team" means a lot. Born and raised in Miami, Florida, she grew up wary of law enforcement officers, but today, she exemplifies what it means to be the member of a team who is taking care of and protecting the community — and she credits the teams of people around her at Lincoln with helping her succeed.
With 2-hour basketball practices each day, 5 p.m. to 3 a.m. LUPD shifts and an abundance of classes, Gonzalez juggles it all.
"It's definitely not easy being a student athlete while working for LUPD and being a dog mom," Gonzalez says.
But with persistence, drive — and support from her coach, teammates, Lincoln University Law Enforcement Training Academy (LULETA) and LUPD mentors and her 3-year-old Doberman, Mamba — Gonzalez is achieving all of her Lincoln University goals.
"Officer Mercy Gonzalez is highly motivated, managing time restraints for LULETA, being enrolled in classes and being on the Lincoln University basketball team," says Lieutenant Caleb Groner, Gonzalez's supervisor.
Gonzalez began her LU journey in the fall of 2021. She is majoring in criminal justice with an emphasis in law enforcement and will graduate in May 2023. Gonzalez graduated from LULETA in December 2022. She was one of the top recruits of her class and is bilingual, speaking both English and Spanish. Gonzalez was hired December 1 by the Lincoln University Police Department.
Gonzalez has been playing basketball since sixth grade and started her college career as a basketball player for Eastern State Florida College. Gonzalez was inspired to come to Lincoln by the-now head coach of the LU women's basketball team, Coach Andrea "Drea" Mize.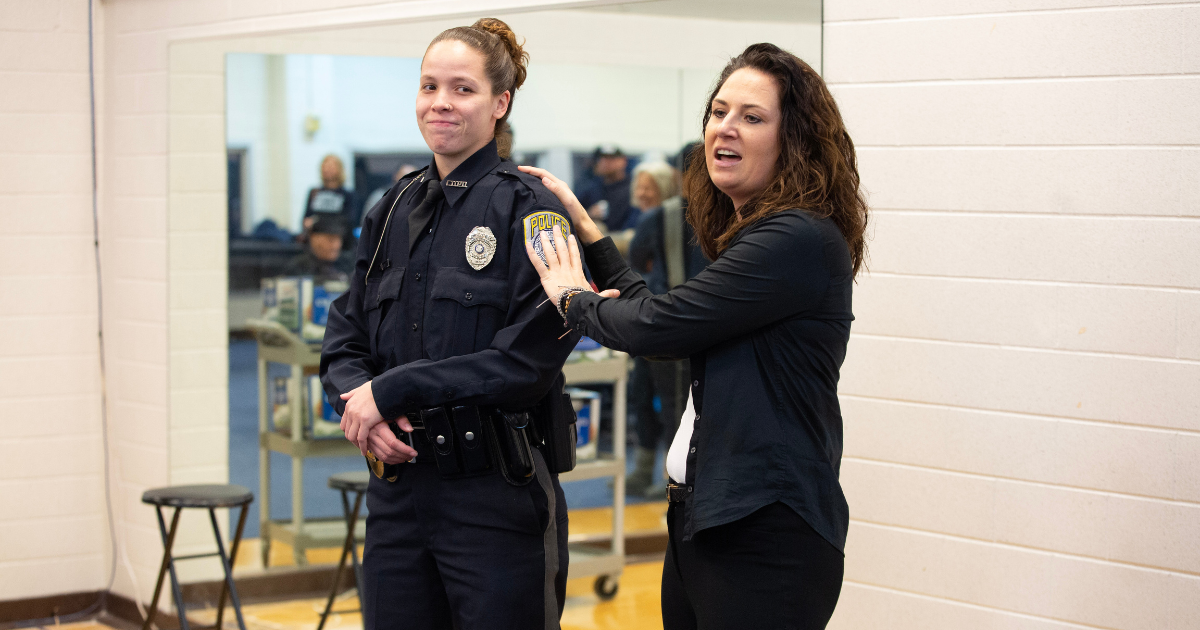 While at Eastern State Florida College, Gonzalez played Coach Mize's then-team Central Florida College. Eastern State Florida College women's basketball head coach MJ Baker is close friends with Lincoln's Coach Mize. The two coaches gave Gonzalez advice on where she should pursue the last two years of her collegiate career — and the conversation led her to her future at Lincoln, LULETA and LUPD.
Growing up, Gonzalez was often wary of law enforcement officers.
"It took me some time to realize that what they were doing was to keep me and my family safe," she says.
Gonzalez has cousins and friends in law enforcement who proved to her an officer's intent on doing what's right and keeping others safe.
"Part of me wants kids to not be scared of seeing law enforcement officers, but to feel safe and know that we are there for them" she says. "The other part of me wants to try to make a difference and show my community that not all cops are bad. Just because you had a bad experience with one officer doesn't mean you should treat the rest of the officers down the line the same way."
Gonzalez says LULETA was a great experience, yet mentally and physically challenging. She had classes Monday through Friday 5 p.m. to 11 p.m. and Saturdays and Sundays 8 a.m. to 7 p.m. during the semester-long program.
"It was definitely an experience I would never trade," Gonzalez says. "The professors who come in and teach us are truly there to teach us and show us how to do things the right way."
Long nights at LULETA were rough for Gonzalez, especially as a student athlete. She'd rush from practice to class, often wondering how she'd stay awake through lectures. But she had support from LULETA and her basketball teammates and eventually graduated at the top of her LULETA class.
"We are proud to have her as a team member for our agency and believe she represents herself, our agency and Lincoln University to its highest potential," Lieutenant Groner says. "Officer Gonzalez has been seen as a role model by others as they progress their way into law enforcement."
Gonzalez recently started her 12-week field training period with Officer Tyrese Davis and Sergeant Courtney Nokes. Gonzalez says the training period is going well.
"My main responsibility as an officer is to make sure the students here at Lincoln University understand that my team and I are here to keep them safe and that we are here for them — they're not alone," she says. "If they need someone to talk to, they can stop us in the halls or wherever it may be and just talk to us, because at the end of the day, we are all human."
Gonzalez will soon be assigned to the patrol unit of the police department with the title of "Police Officer 1." She will ensure the security of LU's ground, farm and resources, working to make sure the university is a safe environment for students, faculty and staff to learn and live. She will soon be assisting with criminal investigations and community policing efforts.
"We are proud of Officer Gonzalez and expect phenomenal things to come from her impressive background as an added resource for the Lincoln University Police Department," Lieutenant Groner says.
University News Students Athletics