Lincoln University of Missouri Nursing Students to be honored at Dec. 16 Pinning Ceremony
Contact
Office of Communications and Marketing
Young Hall
820 Chestnut Street
Jefferson City, MO 65101

Archives
Categories
Social Media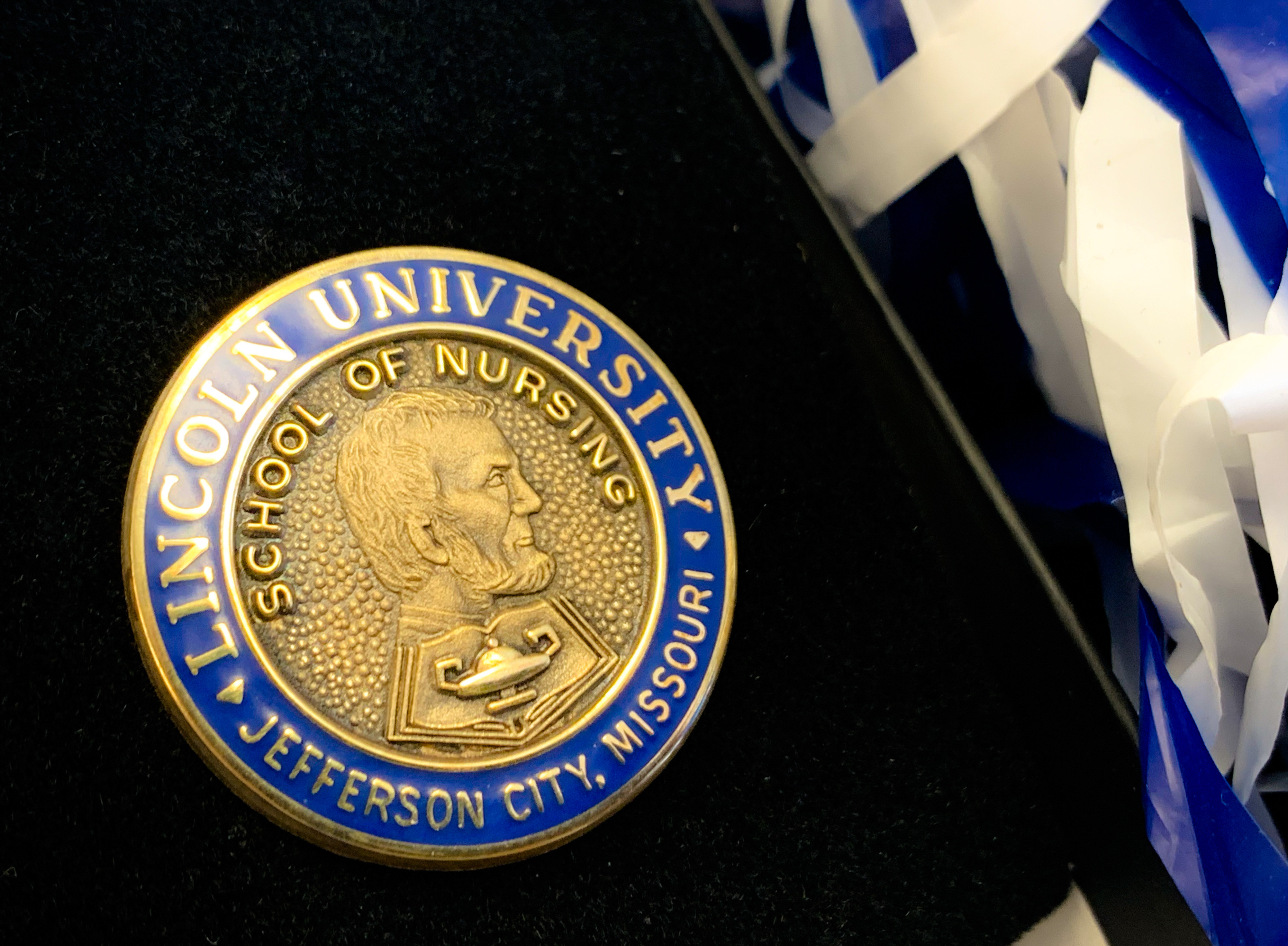 On Friday, Dec. 16, 2022, at 7 p.m., the Lincoln University of Missouri School of Nursing will recognize 10 new Bachelor of Science in Nursing (BSN) graduates during a pinning ceremony. A time-honored tradition, Lincoln University School of Nursing Pinning Ceremony is an initiation of individuals into the profession of nursing. The ceremony will be held in Mitchell Auditorium, Richardson Fine Arts Center, 710 E Dunklin St., Jefferson City, MO 65101, on Lincoln's campus and livestreamed via Lincoln's Facebook page.
"A pinning ceremony differs from graduation because graduation signifies completion, an educational program's end. Pinning, however, marks the beginning of a nurse's career," said Dr. Jennifer McCord, School of Nursing Department Head. "Lincoln University nursing students have 100 percent job placement rates, and we are proud to celebrate their accomplishments with this ceremony as they launch their healthcare careers."
According to McCord, every school of nursing has a unique pin, and once students receive their Lincoln University School of Nursing pin, they are forever identified as Lincoln graduates.
The following BSN graduates will receive their pins at the Dec. 16 ceremony:
Ellen Gallaher
Jasmine Himmelberg
Alissa Hurst
Alexis Kliethermes
Makenna Morgan
Margaret Morris
Kaitlyn Schaben
Hannah Slusser
Claire Smith
Alexa Struemph
Nursing pinning ceremonies date back to the 1860s, the tradition stemming from when Florence Nightingale presented a medal of excellence to her brightest graduates. By 1916, the practice of pinning new graduates had become standard throughout the U.S.
The pin of the Lincoln University School of Nursing was originally designed for the department's first graduates in 1969. The gold pin is composed of two concentric circles. The center of the inner circle contains a profile of Abraham Lincoln encircled by the words "School of Nursing." The lower quarter of the inner circle contains a lamp which is superimposed upon an opened book. The outer circle of the pin contains "Lincoln University, Jefferson City, Missouri" and is printed in gold letters on a blue background.
In addition to acknowledging the person after whom Lincoln University was named, the pin also symbolizes the value of knowledge and vision in a steadfast approach to the future.
Gold represents a valued resource, and blue is one of the Lincoln University colors. The opened book represents nursing's continuing quest for knowledge; the lamp symbolizes Florence Nightingale, the founder of professional and modern nursing.
Each is expected to wear the unique Lincoln University pin as a part of his or her uniform — as a constant reminder of the high levels of achievement and commitment required for nursing practice.
The Lincoln University School of Nursing offers a BSN degree and an online registered nurse (RN) to BSN degree. In addition, the school offers a part-time Associate of Applied Science (AAS) in Nursing degree at Fort Leonard Wood, with evening courses and weekend clinical options for local, active-duty military personnel and their dependents.
Lincoln's AAS and BSN program options are accredited by the Accreditation Commission for Education in Nursing (ACEN) and are approved by the Missouri State Board of Nursing.
The Lincoln University School of Nursing is known for providing professional advising and significant academic resources to help their nursing students succeed, plus small class sizes taught by dedicated faculty, clinical opportunities and hands-on training, acute and critical care training, affordable tuition, competitive scholarships and more.
For more information, visit lincolnu.edu/school-of-nursing.
Students Press Release University News