Lincoln University of Missouri Celebrates Fall Convocation 2022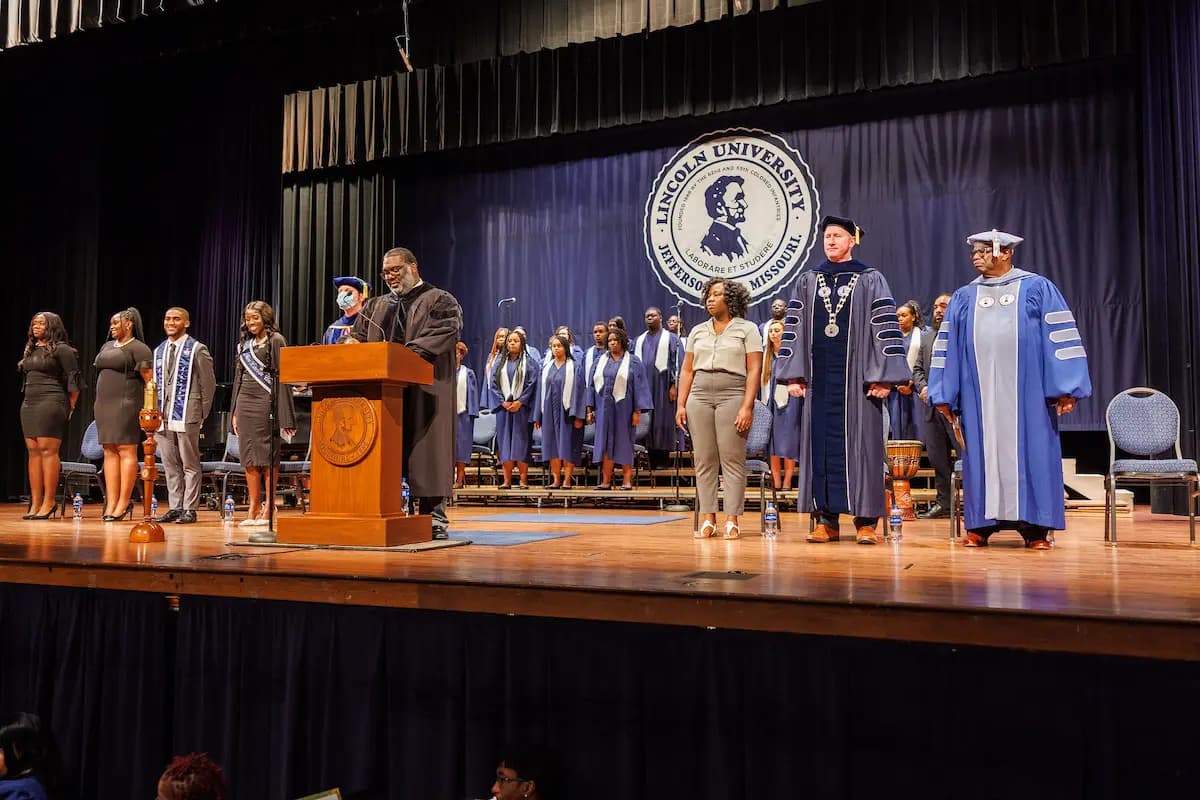 Lincoln University of Missouri celebrated fall convocation for the 2022-23 academic year on September 8 at Richardson Fine Arts Center. Fall convocation is a formal ceremony that marks the beginning of each academic year at Lincoln University. Dr. Michael Self Sr., the Provost/Vice President for Academic Affairs, presided over the fall 2022 event.
"Welcome to the opening convocation for the 2022-23 academic year," said Dr. Self. "This type of ceremonial nature is what I was really looking for in my desire to come back to HBCU."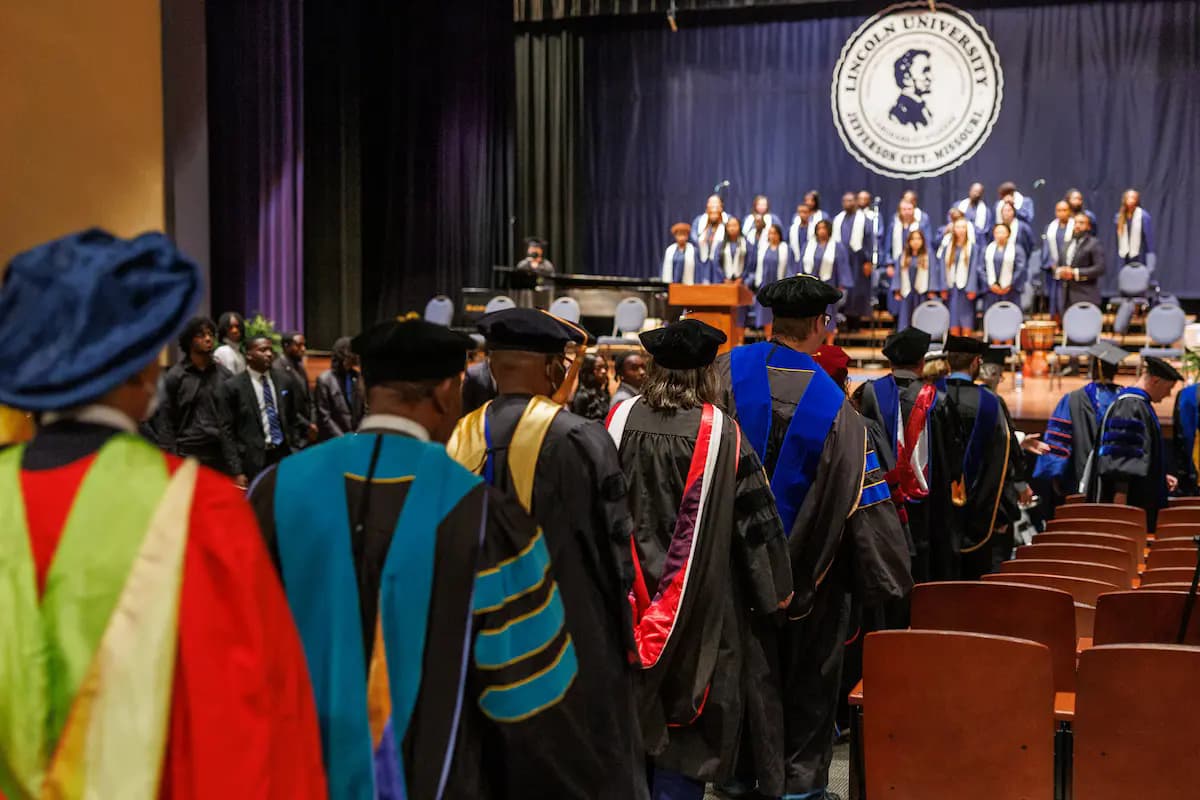 The posting of colors was presented by the ROTC Color Guard, and the national anthem was played by the Lincoln University band, under the direction of Dr. Michael Johnson.
The audience received greetings from Dr. John B. Moseley, Lincoln University president; Victor B. Pasley, president of the Board of Curators; Tyree Stovall, Mister Lincoln University; and BaBari Naabien, Miss Lincoln University. Each speaker gave well-wishes for a successful school year. 
President of the Student Government Association, Falon Ensley, presented the student charge, and under the direction of Mrs. Michelle Gamblin-Green, the Lincoln University choir performed "Bonse Aba," arranged by Victor Johnson. Ms. Michaela Crenshaw, chair of the Campus Activities Board, introduced the convocation speaker, Ms. Precious Hardy, a Lincoln alumna.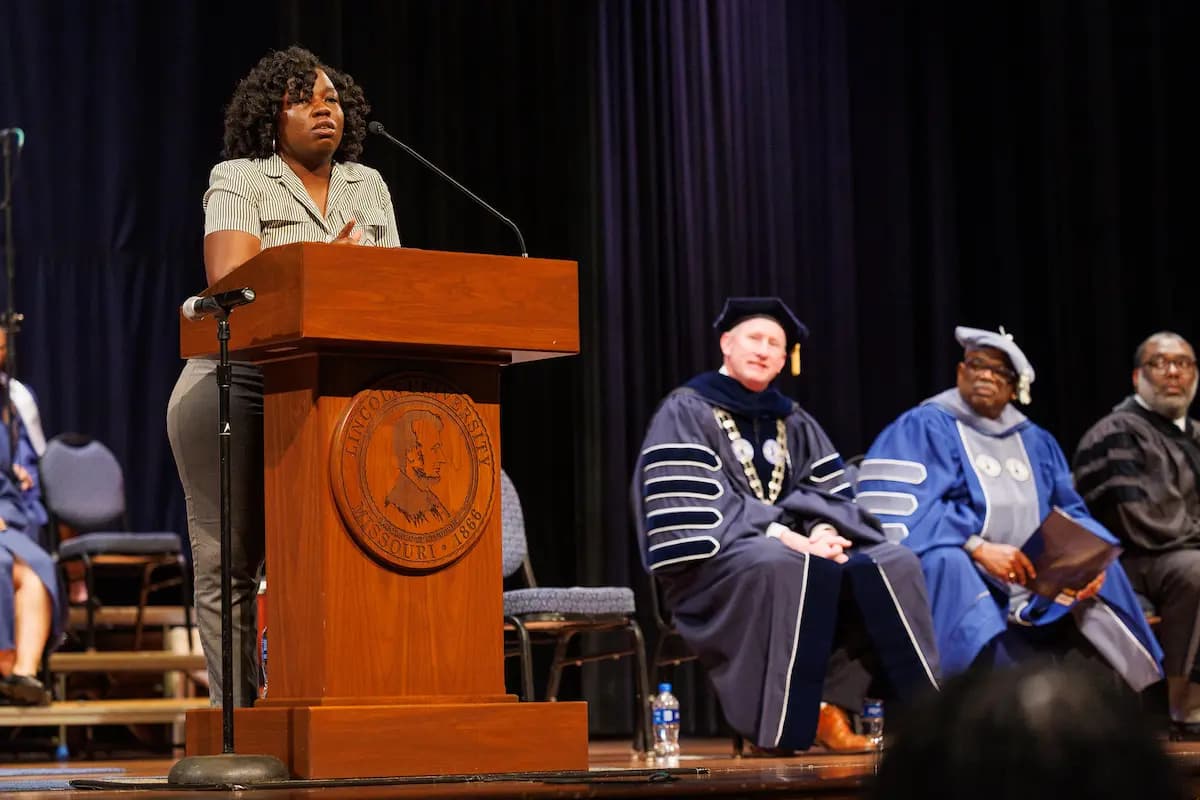 Hardy is a Ph.D. candidate in educational psychology at the University of Missouri. She graduated from Lincoln University in 2015 with a Bachelor of Science in psychology, and she earned a master's degree in educational psychology from the University of Missouri. Hardy is a Gus T. Ridgel Fellow, and her research interests are in ethnic and socioeconomic achievement gaps in education with a special emphasis in reading and math gaps.
"As a graduate of Lincoln University, this is a full-circle moment for me to be able to come back here and speak," Hardy said.
Throughout her speech, Hardy led students through three key lessons she learned during her time at Lincoln University. Lesson one: envision the person you want to be and act accordingly. Lesson two: be selective about your team. Lesson three: don't fear failure — fear regret.
"Who are you? What do you value? How far will you go in life? What will you accomplish?"
Hardy said. "Your college years can help shape you into the person you've always envisioned being — or not. The decision is determined by you, and your decisions determine your outcome. So, you want to practice excellence every single day. Be excellent at your craft because excellence is unforgettable." 
Hardy recounted her own academic journey and the ways that Lincoln University helped guide her to future successes.
"You shouldn't be the same person you were last year," Hardy said. "You shouldn't even be the same person you were at the start of the semester. Success doesn't come from anything stagnant, and why would it? Experiences and knowledge change you."
To close the ceremony, the ROTC Color Guard retired the colors, and the Lincoln University band and choir led the crowd in the alma mater, "Lincoln O Lincoln," arranged by Benjamin F. Allen.
"To our students, I wish you great success this year," said Dr. Moseley. "I wish you all well as we begin this school year, and I look forward to traveling this journey with you."