Blue Tiger Bio: Leslie Cross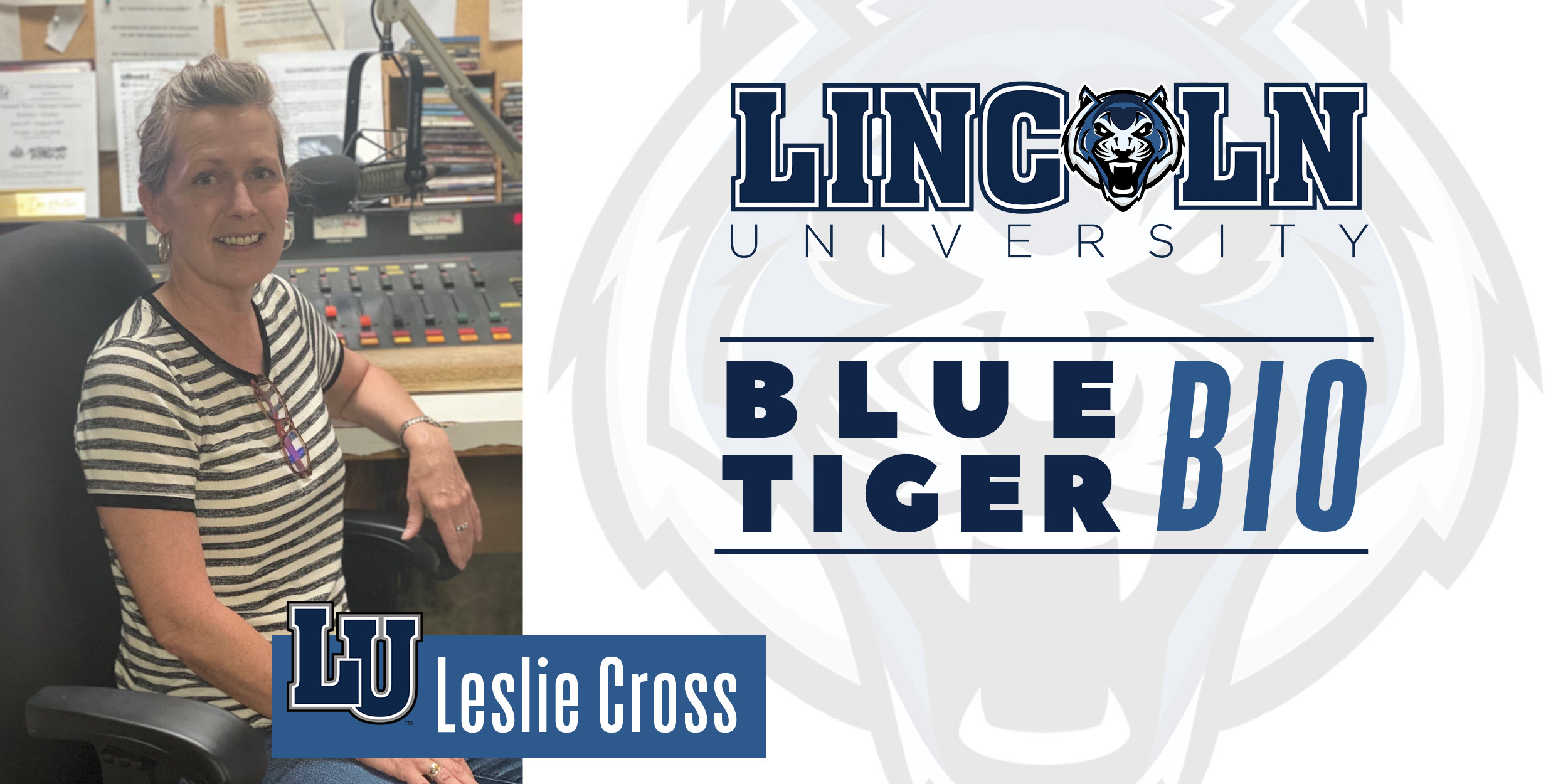 When Leslie Cross, a native of Mokane, Missouri, heard that KJLU in Jefferson City was hiring, she jumped at the chance to return to her home state.
"I was living in Michigan and teaching at Central Michigan University, and my dad was beginning to get ill, and I wanted to move back here because I'm originally from this area," Cross says. "I looked, and I saw that KJLU at Lincoln was starting a news department, and they were looking for a news director. So I applied for the job from Michigan, and I got it, and I've been here for the last 25 years."
Although Cross started her professional career elsewhere, Lincoln University had always been near and dear to her heart, starting as a young child.
"My mom got both her bachelor's and her master's degrees in education from Lincoln, so I'd been on Lincoln's campus probably since the time I was 5," Cross says. "Many years ago, my third-grade teacher, who was working on her master's degree from Lincoln, had a group of us put on a special St. Patrick's Day program as part of a grade for one of her education classes. I helped give a presentation teaching future teachers everything they needed to know about St. Patrick's Day."
Cross also volunteered at KJLU back when its call sign was KLUM, so returning to Jefferson City as the station's news director was a homecoming.
"I always laugh and say, this many years later, every building has a certain smell, and I still get that whoosh, that smell, every time I come into the KJLU building, and it makes me nostalgic every day when I get to work," Cross says.
Cross says her interest in journalism, particularly radio, also began at a young age.
"A family member made national news, and I saw how horribly that was handled," Cross says. "I just knew that journalism didn't have to be that way — you don't have to camp out on people's doorsteps and put a microphone to their face.
"There's a moral side to journalism, and that's something I've always reminded my students," continues Cross, who also serves as an adjunct faculty member in the Lincoln University Department of Journalism. "We have a moral obligation to get the news out there, but we need to do it in a compassionate way. We need to never lose sight that, at the end of every news story, there is a human with family members."
Before returning to mid-Missouri, Cross worked at various types of stations, beginning with commercial radio. When she started thinking about raising a family, Cross became more interested in public radio, due to the greater flexibility that it allowed. Her various experiences have allowed her to pass on her wisdom and knowledge to future journalists at Lincoln while also teaching them the best way to ethically report on stories.
Beyond teaching and preparing news reports for KJLU, Cross has also worked with students on large-scale journalism stories. One of those projects is now preserved in a museum.
"I was the executive producer for a five-part series on the Tuskegee Airmen," Cross says. "We learned a lot about the civil defense program at Lincoln and searched and contacted airmen from all across the United States, some of whom had actually spent time in Jefferson City, learning the early stages of aviation.
"That whole generation, we're losing them," Cross continues. "If we don't talk to them and get their stories, it's gone forever. That series is now housed in the Museum of Missouri Military History in Jefferson City."
Although Cross has enjoyed professional success as a member of the Lincoln University community, she says her greatest joy has come from the relationships she's built with students and co-workers.
"At KJLU, we're really like a family," Cross says. "The kids who come through that program, who come through this station, they get more than training. We've become their pseudo-parents; we've assisted financially where needed; we take them grocery shopping if they don't have wheels. It truly is a nurturing, wonderful environment for these kids to learn in, and I love my co-workers."