Blue Tiger Bio: Betty Villalobos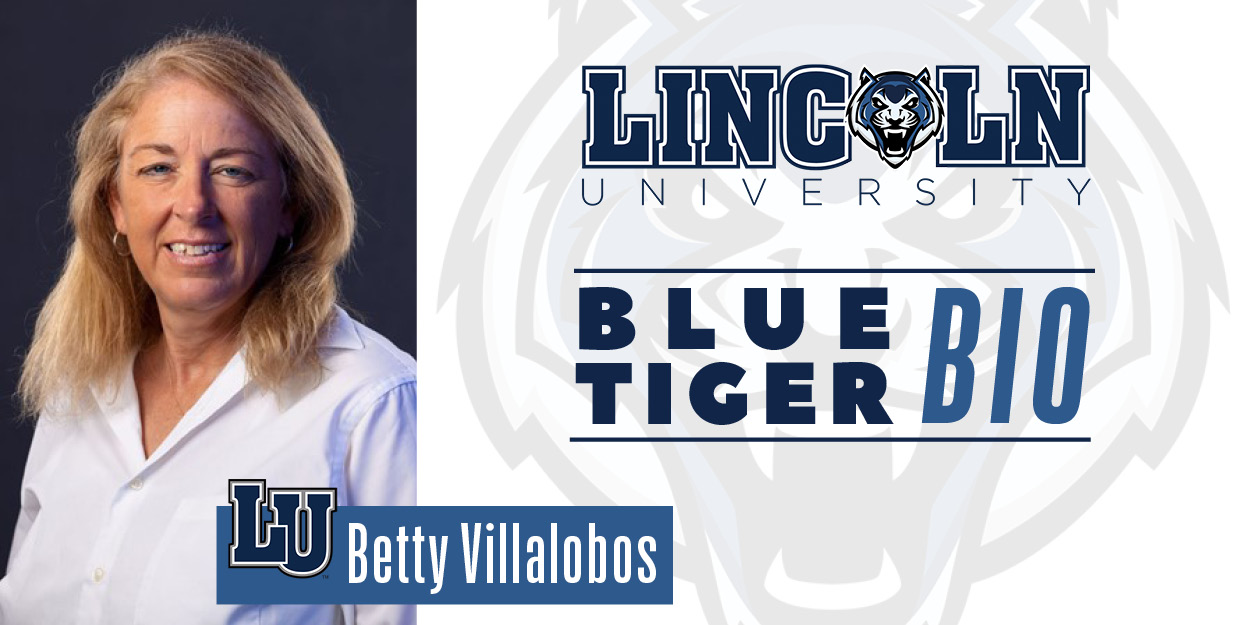 Softball coach. Concession coordinator. Compliance official. Athletic director.
Betty Villalobos, a 1996 graduate of Lincoln University and the current senior women's administrator and assistant athletic director for compliance at LU, has worn many hats in her years as a Blue Tiger. Villalobos got her start with the athletic department as a softball player, but that was not her original goal.
"I didn't actually come here to play softball," Villalobos says. "I came here just to go to school. I was working a full-time job and was able to attend Lincoln locally and work around my schedule."
Villalobos, who graduated with a bachelor's degree in education, took some classes in the physical education department and thought it might be interesting to be a manager for one of LU's athletic programs. Villalobos played summer league softball growing up, so that sport seemed like a natural fit.
"I went in and talked to the softball coach, and ultimately, while I was just out there working as a manager, she asked me if I wanted to play," Villalobos says. "One of my favorite memories as a player, we were at Central Missouri, and, at that time, their fence was too far away, so they had a temporary fence up. I was running for a ball in the outfield, and I actually stumbled over the fence and caught the ball for the out! Nobody even told me the fence was there!"
After her playing career ended due to an injury, Villalobos became a student assistant and continued to work with the team. After graduation, Villalobos remained with the program as a volunteer coach but soon moved into a larger role.
"I got my certification in high school history, and I actually had planned to go teach," Villalobos says. "The opportunity then came up where (the previous head coach) resigned, and Ron Coleman, the AD at the time, came and asked me if I would be interested in the position. With Lincoln being my alma mater, it was dear to my heart, so I took the chance."
Villalobos was named the head softball coach and concession coordinator, her first full-time position at the university. As the head coach, she went on to set LU's single-season victory records in 2000 and 2001. More importantly, her program followed every NCAA regulation, which again caught the attention of Lincoln's administration. As a result, in 2003, she was elevated to the position of compliance coordinator and helped Lincoln's other programs ensure that they, too, were run the correct way.
"It was interesting because I learned a whole lot, not coming from the compliance side originally," Villalobos says. "[Also] it was a good choice for me to settle down and see my kids participate in stuff because I wasn't seeing a whole lot when I was coaching."
The NCAA famously has a long and very detailed rule book, and it's difficult for any coach to have every guideline memorized, which makes good compliance directors like Villalobos invaluable for any athletic department. There are countless unique situations that arise each year, though, and despite her vast knowledge of the regulations, Villalobos acknowledges there are still times when she needs to consult the rules to make sure everything is being done correctly.
"Something appears [in a program], and you get taken off guard because you don't see any other coaches in the country at this level doing that," Villalobos says. "It comes down to making sure everyone is fully educated. Don't assume that everybody knows everything because they don't."
For six years, Villalobos was Lincoln's athletic director, where she oversaw numerous improvements to Lincoln's campus, including the construction of a state-of-the-art weight room and the advent of live streaming of LU sporting events. During her years as a Blue Tiger, Villalobos has plenty of fond memories and proud accomplishments.
"I enjoy watching our track teams come back from nationals as national champions," Villalobos says. "The fanfare that we get for that is special. The proudest thing, I guess, was being the athletic director and seeing things change, seeing the improvements to our gym. I was on the original planning committee for The LINC in which we partnered with the City of Jefferson. Renovations to the (football) stadium, that kind of thing. Knowing that I put a footprint somewhere on [campus], it touches the heart, that you made a difference, hopefully for generations to come."
While the decision to enter the realm of college athletics was not one Villalobos was expecting to make when she initially enrolled at Lincoln, she says that, for her, it was the right call.
"I've always felt Lincoln is very much a family organization," Villalobos says. "Within the department we care for each other, and I'm not sure other schools have that like we do. I think it was a good decision."