Lincoln University Professor Delves into Fulbright Award Research
Lincoln University
|
August 10th, 2022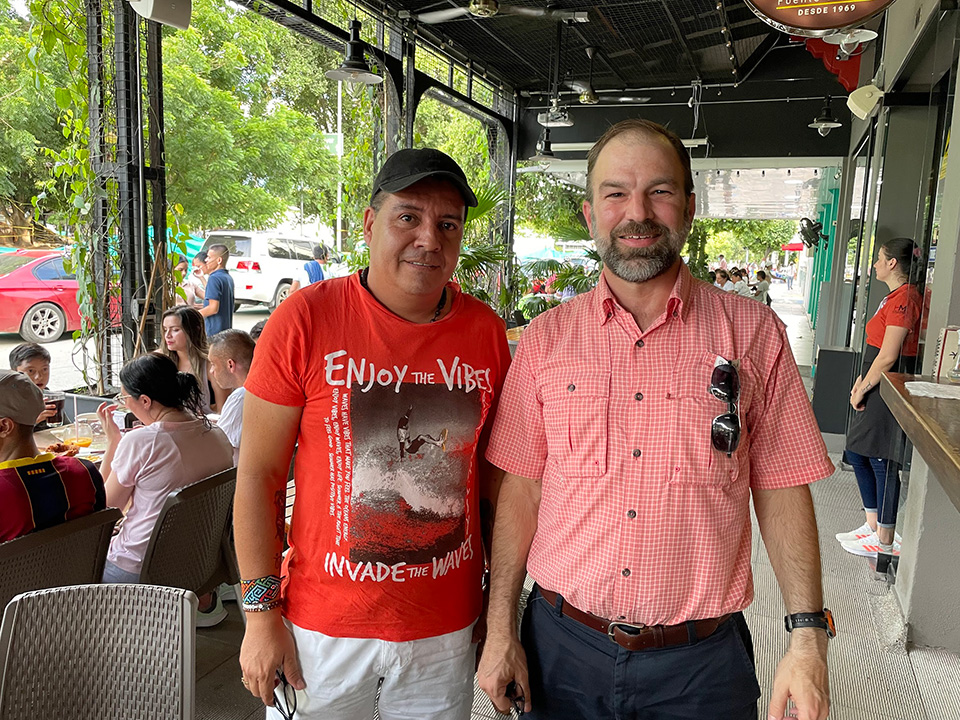 A summer spent among the coffee farms and sugarcane fields of Colombia has yielded a bounty of opportunities for a Lincoln University professor's study of rural local governments in developing nations.
Brian Norris, an associate professor of political science at Lincoln, began work this summer on a three-year study of basic service access in rural areas of Colombia and Mozambique. He hopes to document the success of local communities as they work to provide basic services and infrastructure in their areas. The research is funded by a Fulbright Global Scholar Award Norris won from the U.S. Department of State and the Fulbright Foreign Scholarship Board. Norris is among more than 800 other American citizens conducting research and/or teaching abroad for the 2022-2023 academic year through the Fulbright U.S. Scholar Program.
"Many people in rural areas of Colombia and Mozambique lack basic services that most Americans take for granted, such as running water, electricity, in-ground sewer, paved roads and more," Norris says. "The governments of Colombia and Mozambique have granted more power and autonomy to rural local governments that are often in a better position to provide services than the national government. In practice, though, it is very difficult to decentralize power in geographically large and sprawling countries of 50 million and 30 million populations, respectively; some rural local governments have done well with their new responsibilities while others have not. I want to know how the successful ones did it, and my Colombian and Mozambican colleagues and I want to document and publish those lessons."
Recently returned from Colombia, Norris spent time getting to know researchers from the four counterpart universities in Colombia who facilitated his travel to five rural communities in Caldas and Risaralda -- Colombia's coffee-growing region --  to interview mayors, school administrators, hospital directors and local police commanders. He then journeyed on to sugarcane areas in Valle del Cauca and wound up his 2022 studies in Cesar province, near the Venezuelan border.
The demographics of the various regions are another focus of Norris's research. "About 10% of the Colombian population is Afro-descendant, and the Valle del Cauca region is closer to the Pacific regions of the country that is more heavily Afro-Colombian," Norris says. "I have already noticed a difference in the social composition of Valle del Cauca compared to other regions."
Through his Fulbright Award, Norris will do similar research in Mozambique next summer and return to Colombia in 2024. By then, he hopes to set up a pilot exchange program for faculty and student exchanges between LU and his Colombian university partners.
"This is both an exciting and daunting prospect," he says. "My university partners and I have been working on a grant proposal for Partners of the Americas, a Washington, D.C.-based nonprofit that has high-level contacts with Latin American governments and funds educational and cultural exchanges, especially those for higher education institutions. If successful, we would bring about 12 Colombian faculty and students to LU in January 2024 and would send the same number of LU faculty and students to Colombia in May 2024. The idea would be that these initial exchanges are meant to assess the possibilities and limitations for future exchange programs and to build an advocacy group for such programs in the future."
Norris says his Colombian partners are excited about the prospect of educational exchanges. The Colombian government is funding the grant competition with emphasis on specific technical areas for funded projects -- agriculture, public health, social sciences with an emphasis on equity and inclusion, human rights/social justice and rural development.
"Many of these areas correspond to Lincoln University's strengths as a public institution with both a theoretical and applied curriculum, and my Colombian partners and I have been carrying out work sessions to identify specific faculty resources dedicated to these areas who might participate in the pilot exchanges," Norris says. "Of course, students would participate, too, especially as the program develops in a second phase in 2025 and 2026. I am already having meetings in Bogota, the capital of Colombia, for second-round funding to get us to that student-centered model of reciprocal exchanges."
As part of this bi-national outreach, Norris gave a talk to college students and faculty at the Catholic University of Luis Amigo in Manizales. The talk was on "inflation in the U.S." and "the U.S.A.s electoral college method of selecting a president", two topics selected by the Colombian faculty in attendance. "Colombia is a democracy, just like the US, and Colombian students and professors have a great curiosity about the US. They are really eager to have an exchange of ideas," said Norris.  
Norris believes the added benefits of his Fulbright work for Lincoln is consonant with LU's existing goals that support development of students' international perspective through understanding and appreciation of various cultures.
He looks forward to other doors opening for collaboration through these initial steps. "The trip has been a resounding success so far," he adds, "and I appreciate the opportunity that Fulbright and Lincoln University have given me to work on this."
Click to view photos from Norris's trip
Faculty/Staff University News