Lincoln University of Missouri Selects Dr. Michael J. Self, Sr. as Provost and Vice President of Academic Affairs
Lincoln University
|
July 19th, 2022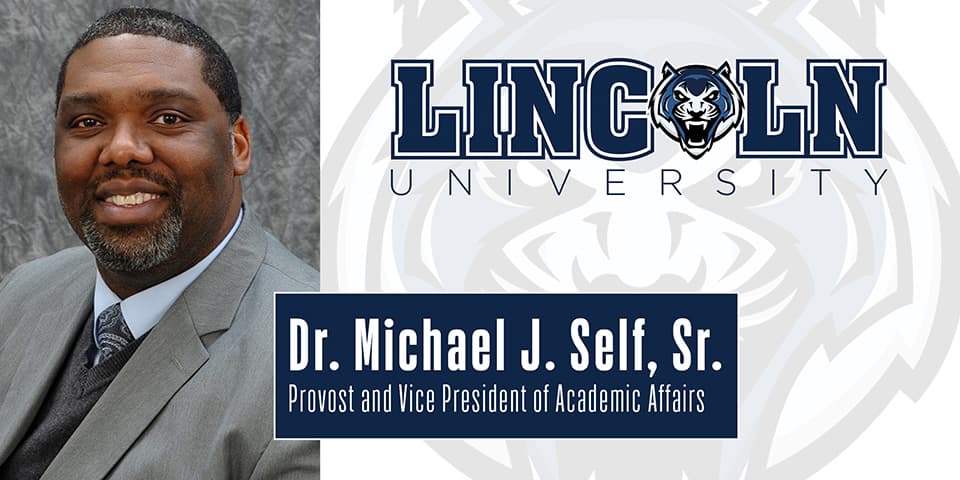 Following an extensive nationwide search, Lincoln University (LU) of Missouri has selected Dr. Michael J. Self, Sr. as Provost and Vice President of Academic Affairs. Self will assume responsibility of the academic division for LU, one of the nation's top HBCUs.
"Lincoln has a rich history and legacy of assisting students with achieving their life goals," said Self. "I was most attracted to Lincoln because of the amazing synergy between the university's strategic and academic plans, which focus on building a welcoming culture as a framework for sustained academic excellence and student success."
According to Lincoln University President Dr. John B. Moseley, Self will help Lincoln students meet their academic needs and champion their holistic success by leading the academic division and working across departments. He will support Lincoln's strategic emphasis on student success as the collaborative responsibility of students, staff, faculty, alumni, and friends of the University.
As provost, Self will work closely with Moseley to set strategic, operational, and financial directions for the university's academic division, articulate the University's academic vision, and provide academic planning leadership. He will also develop and administer educational budgets, memorandums of understanding, transfer articulation agreements, and programs related to completion of degree requirements at the undergraduate and graduate level. Self will also oversee teaching and learning across the University, including education, research, and faculty affairs.
Self holds a doctor of philosophy, in science and mathematics education from Southern University and A&M College, a master of science degree in mathematics from Southern University and A&M College, a master of arts degree in theological studies from Liberty University, a bachelor of science in mathematics from Louisiana State University and A&M College. Additionally, he holds a State of Louisiana teaching certificate in secondary mathematics and a fundraising certificate from the University of St. Thomas.
Self's academic leadership experience includes serving as assistant provost and dean of graduate studies at Metropolitan State University in St. Paul, Minnesota; vice president for assessment at Community College of Allegheny County in Pittsburgh, Pennsylvania; and dean of instruction for career and technical education at Bakersfield College in Bakersfield, California. He also served as vice provost for institutional effectiveness at Miami Dade College and vice president for institutional effectiveness and acting chief information officer at Fisk University in Nashville, Tennessee.
"Dr. Self's experiences will be a great addition to our team as we work help our students advance their academic achievements," Moseley said. "His background in university assessment and institutional research will inform data-driven decisions, enabling Lincoln to respond to student needs efficiently and elevate our classroom instruction to support student achievement."
Self will begin working remotely on August 1 and transition to in-person campus work in Jefferson City on August 15.
"I am really looking forward to meeting even more members of the Lincoln family and working together to continue the mission of helping students make their dreams come true," said Self.