Blue Tiger Bio: Keara Gaitan
Lincoln University
|
May 31st, 2022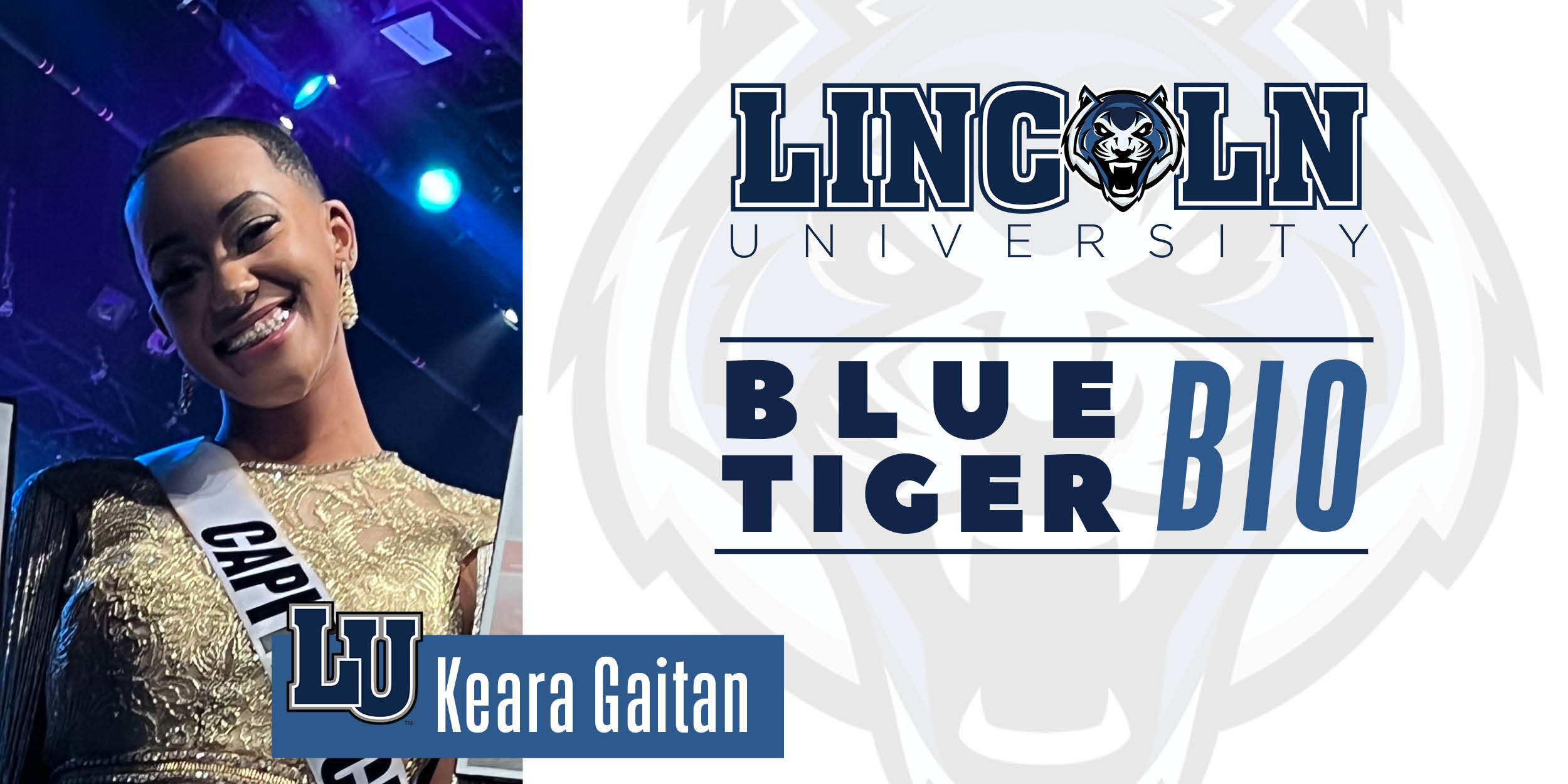 "Service with a smile" is an apt description of Keara Gaitan's reign as Miss Capital City. Her beaming countenance has been a fixture at community events throughout the Jefferson City area since she assumed the title last October. Her work ethic caught the eye of officials at the Miss Missouri USA pageant in May, where she won two awards honoring her community service work and her connection with young people.
Gaitan, a recruitment coordinator for Lincoln University, received the inaugural Tricia Langa Service Award honoring the Miss Missouri USA contestant who performed the most community service with her local title. Named for Tricia Langa, the director of domestic licensing for the Miss Universe organization, the award recognized Gaitan's unflagging service efforts within the community over the first six months of her reign -- visiting the babies and staff at Little Explorers Discovery Center, exploring the Jefferson City Fire Museum, which prompted her to send thank-you cards to the surrounding local fire departments, organizing the 2022 Miss Black and Gold Pageant, providing encouragement during a local fashion show and participating in various toy and coat drives. Gaitan also served as a spokesperson for the 2022 Missouri Black History program and raised $1,000 to fund two scholarships she established for local youth to use in the fall 2022 semester.
"Networking is where I thrive," she says, "and my passion lies in building healthy relationships."
The 25-year-old dynamo also won The Mentor award at the pageant, an honor voted on by Miss Missouri Teen competitors for the Miss Missouri contestant they most admired and looked up to as a role model. Gaitan interacted often with the Miss Missouri Teen contestants over the pageant weekend. "Winning the Mentor Award meant so much to me," she says. "Young ladies from different backgrounds were watching me and found comfort in my space. They saw me in the light of a big sister. We talked about everything, from my confidence to them telling me about 'pancakes and waffles' -- not the food, but different ways to hold hands!"
After the pageant, most of the Miss Missouri Teen girls followed Gaitan on Instagram. "They sent some of the nicest messages," she adds. "It brought tears to my eyes."
A 2019 Lincoln graduate with a degree in criminal justice, Gaitan wove education into her pageant platform --  called #KEYtotheCrown (Kindling the Excellence in You) -- expression. In her job as a recruitment coordinator/admissions ambassador supervisor for Lincoln, Gaitan revels in the opportunity to speak with, encourage and push high school and college students to attain their goals.
"I do love young people!" she says. "By establishing a comfortable and safe space, I can intentionally reach students where they're at and walk their journeys with them. Unfortunately, I've learned that some students lack the support they need. With my natural nurturing ability, I gladly pour whatever I can into them, watch them grow and continue to pour into them as they press forward."
She'll be keen to watch the growth of two young women especially this fall: scholarship winners Theleia Renfro, who will attend Lincoln University this fall, and Ariauna Bowles, who will attend Northwest Missouri State University. "It was a pleasure awarding Thee Key Scholarships to these two young ladies," Gaitan says. "It was not the easiest decision, determining who would be the recipients, but these ladies stood out."
The pageant experience "has holistically enhanced me," Gaitan says. "I am confident in who I am, which goes with me everywhere. My confidence tends to speak before I open my mouth, which has enhanced my soft professional skillset."
She counts three takeaways from the Miss Missouri USA pageant as values that have enhanced her life.
- It's OK to be your rawest and authentic self -- no facades, no pretend, no trying to make people think you're someone you aren't.
- Understand that the "noes" you might receive do not compare to the "yeses" that will come.
- Nobody can steal your joy unless you consent to do so.
Whatever comes next for Miss Capital City, she'll greet it with a smile. "The 'next' is still cooking," she says. "I'm on God's time! Whatever He deems necessary is what I will do!"