U.S. Agriculture Secretary Tom Vilsack Visits Lincoln University of Missouri to Announce Major Initiative Under Biden-Harris Administration
Contact
Office of Communications and Marketing
Young Hall
820 Chestnut Street
Jefferson City, MO 65101

Archives
Categories
Social Media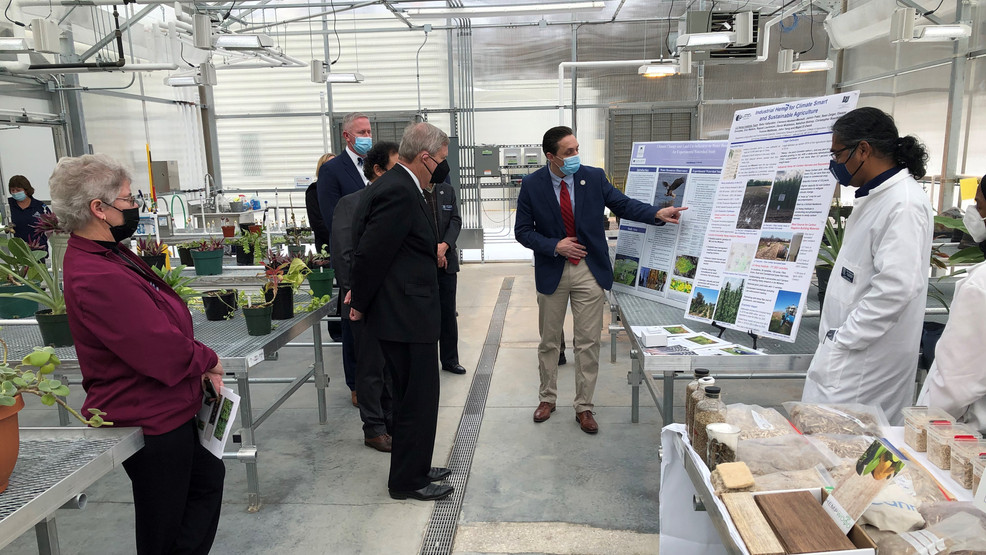 On Feb. 22, 2022, U.S. Agriculture Secretary Tom Vilsack visited Lincoln University of Missouri in Jefferson City, where he discussed the U.S. Department of Agriculture's commitment under the Biden-Harris Administration to combating the climate crisis.
This commitment by the Biden-Harris Administration, Vilsack explained, involves a major initiative partnering with agriculture, forestry and rural communities to develop climate solutions that strengthen rural America.
"I had a wonderful opportunity to meet some students and to see some of the great work that's being done at Lincoln University," he said of his visit. "I'm very impressed with the work that's being done on climate, very impressed with the work that's being done on sustainable building materials. … All of that activity is taking place here at Lincoln. And it's really a fitting place, if you think about it, to launch a major initiative.
"Universities are places that honor tradition but also challenge us to think anew — about ourselves and the world around us," he added. "I know this university; Lincoln University is dedicated to educating the next generation of new leaders and thinkers in agriculture."
Through the initiative, the USDA aims to build — through an application and grant process — a portfolio of projects involving a variety of agriculture and forestry operations working toward climate gains. The hope, Vilsack said, is that those who receive grants from the USDA for their projects will work with research agencies, land-grant universities such as Lincoln and other innovators to verify the climate benefits of the projects.
"Agriculture — it is such an exciting but challenging, critical but dynamic space," Vilsack said. "It's at the heart of our fight against climate change. … So this is an incredibly great time to think anew and to act anew. This is an incredibly great time to elevate the awareness within this great country of the important role that agriculture and forestry plays in all our lives."
The Feb. 7 event, which was live streamed, is available for viewing on the USDA Live page.
University News Press Release