Blue Tiger Bio: Maria Villamil
Lincoln University
|
November 11th, 2021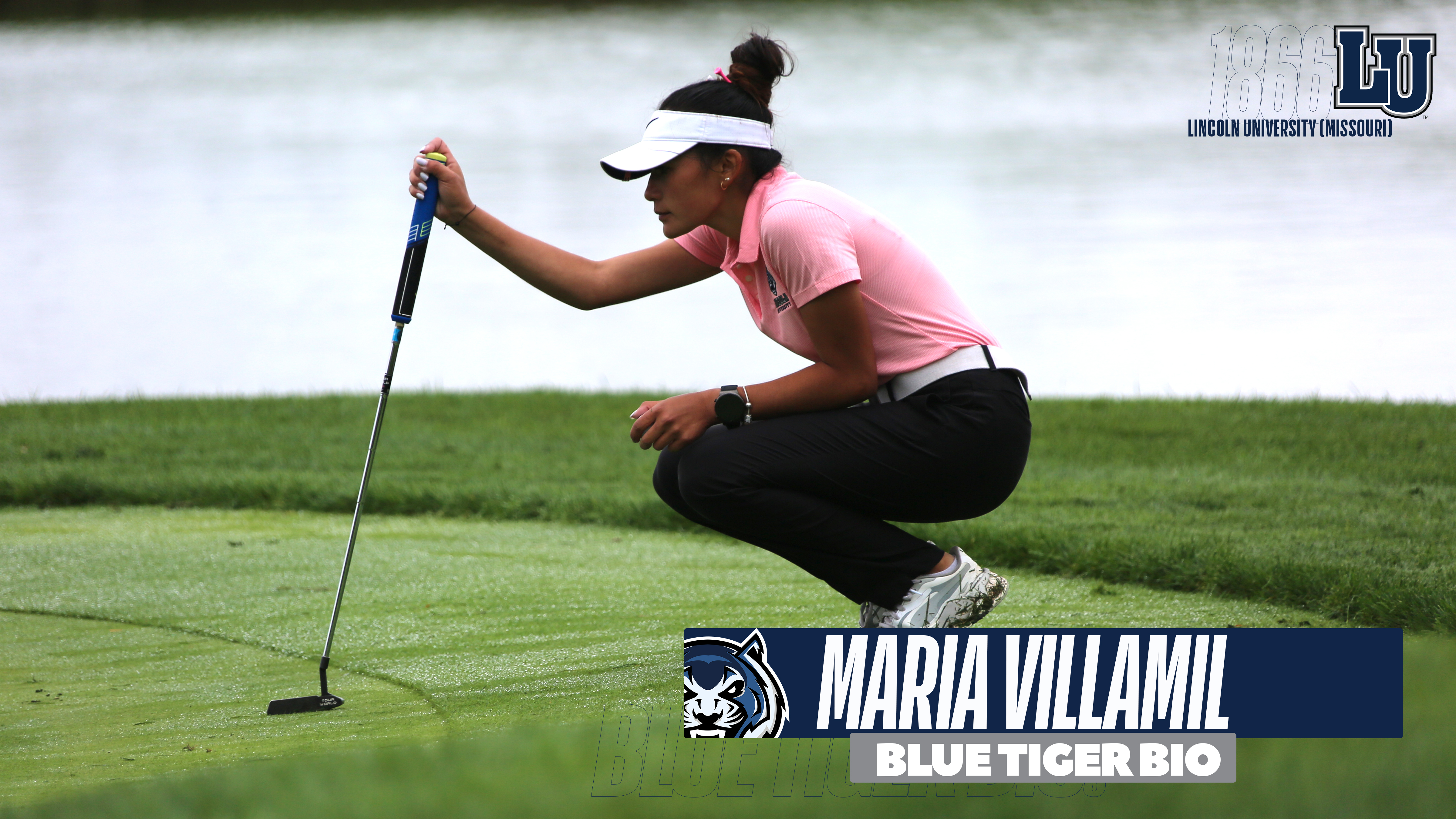 Coming from Bogota, Colombia, Lincoln University freshman Maria Villamil knew that Missouri was going to be a little different from her home.
"You can get all the seasons here," Villamil explained. "Which is pretty cool for me, because I didn't have all the seasons in Colombia. I'm excited to see snow. I've actually only seen it two times. So I'm excited, but I know it will also be super cold!"
Villamil acknowledges that the differences between Lincoln University and the schools she attended in Colombia extend past just the weather offerings.
"It's very different," she said. "The programs are different; you get to see and take other subjects that you cannot see back in Colombia. [At home], if you study psychology, you only get to take classes in psychology. You do't get to see other subjects. So I think it's super cool that you get to learn other things, both in and outside your major, here at Lincoln."
Villamil was a nationally-successful golfer in Colombia, recording seven top-10 finishes in Colombia interclub tournaments, and she at one point was ranked as high as 53rd in the junior division of the Colombia Golf Amateur rankings. She came to Lincoln for two primary reasons. The first was to join the Blue Tiger women's golf team. The second, and more important to her, was to get a quality education.
"I love my major, which is psychology," Villamil said. "I love learning about the human mind, like how the brain works and how we react to emotions."
Once she earns her degree at Lincoln, Villamil plans to either become a sports psychologist or a neuro-marketing specialist. Even though she is in her first semester at LU, Villamil believes that the professors have already begun to help her reach those goals.
"I very much like all of my professors," Villamil said. "For example, my general psychology professor, Mara Aruguete, she's always pushing you to be better every time. She's always sending messages in Canvas, saying things like, 'good job,' and it makes you happy to know that someone is seeing your progress and helping you improve.
"I feel like I really matter in the class," Villamil continued. "I'm not just a number. I'm someone, the professor knows who I am."
Villamil's first view of Lincoln came online, as she saw a video tour of the campus and was impressed with how pretty everything looked. She finally got to fly to the United States for a tour last May, and seeing the campus in person confirmed to her that Lincoln was the right choice.
"I came last May with my parents," Villamil said. "They loved it, I loved it. From the outside, the campus looks so pretty. I was a little scared, worried that the campus may not be what I thought it was, but it absolutely was what I expected. I'm very happy, I feel like I made the right choice."
Helping reassure Villamil that she made the right decision are the relationships she's built with her teammates on the Lincoln women's golf team and with her coach, Randy Bickel. From going out for meals to team-bonding experiences like escape rooms, Villamil says that being involved with the team has helped her feel like she has a new home.
"Coach is incredible," Villamil said. "I really like how he treats us, and how he manages our golf team. He's really like a second father to us, we're like his adoptive daughters! My teammates and I have become super close, we really talk to each other about our lives and we support each other.
"I like the relationship we have with each other, and with our coach. It's just so familiar now. It's really cool."
 
Dan Carr
Photo by: Keena Lynch