Blue Tiger Bio: Dr. Toni Westbrooks
Lincoln University
|
July 22nd, 2021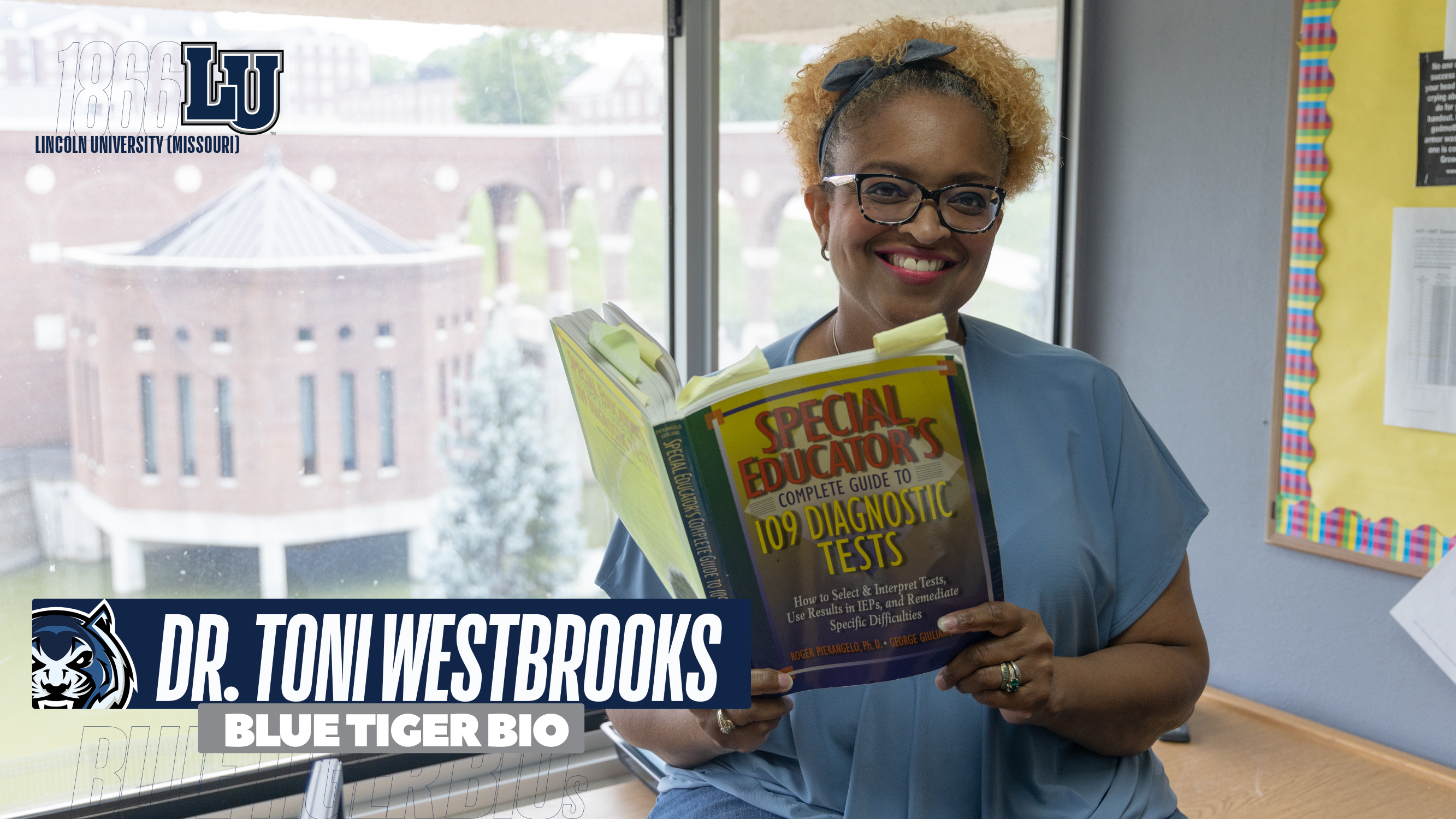 As a lifelong educator devoted to special education, Lincoln University alum and current professor Dr. Toni Westbrooks has made a lasting impact on countless students of all grade levels over the years. Like many students, however, she did not always know where her journey at Lincoln would take her.
"I was a music major here at Lincoln, for three years," said Westbrooks, a professor in the Lincoln University Department of Education who leads LU's Special Education program.  "During my junior year, however, President Reagan introduced Project 2000, which placed much more emphasis on math and science. This led to the number of positions available across the country for music teachers to be reduced, and I realized I would have a hard time finding a job in my chosen field. That's when I called my wise sister, who asked if I'd thought about special education."
Westbrooks took her first special education course over a summer session, and did an internship at the Special Learning Center of Jefferson City. That single experience ended up changing the course of her future.
"I fell in looooove! I was like, these are my people!" Westbrooks laughs. "That was it. That sealed it. It worked out beautifully, and I wouldn't change a thing."
Westbrooks earned her bachelor's degree in special education and her Master's degree in Principalship and Superintendency at Lincoln. After working as a special education teacher, principal and superintendent, she received a call from LU's dean of education offering a position as an instructor, and jumped at a chance to return home.
"I bleed the blue and white," Westbrooks says with a smile. "I love it!"
For Westbrooks, special education is not just a degree program or a career path, but a calling. She discovered a passion for connecting and instructing students with various needs beyond the traditional student body population, and has excelled at helping those individuals graduate from high school.
"One of the reasons why I really, really love the program is, I kind of refer to it as the nursing program of the field of education," Westbrooks said. "We take those (kindergarten through 12th grade) students who have not been successful in the general education population, and we're kind of that beacon, that safety net, that buoy for those kids. You have to know the base (of Lincoln's education program), and then you also have to know everything else."
Westbrooks' mission since returning to Lincoln has been to help every candidate in LU's special education program pass the Missouri Special Education Assessment. Not only does she want her students to just pass the assessment, she also wants to make sure they are prepared mentally for the rigors of the first three years of teaching.
To accomplish that mission, Westbrooks strives to support her students in any way possible. That includes giving them her cell phone number in case they have questions or need advice; framing lesson plans to better assist students in areas where they are struggling; and celebrating each milestone with them, from finishing their freshman years at LU to graduation and beginning their careers.
Lincoln students entering the program tend to double major in both education and special education, resulting in them often taking 18-21 credit hours per semester. Completing the special education program requires tremendous commitment, and Westbrooks strives to make the path towards graduation easier by supporting her students through both instruction and mentorship. The result of her commitment has been outstanding, as nearly every one of her students passes the assessment examination on either their first or second attempt.
"l'm very proud of the success rate of the students graduating from this program," Westbrooks said. "My students are as passionate as I am about education. (Watching them) walk across the stage at graduation with two degrees is amazing."

Dan Carr
Photo: Keena Lynch