Blue Tiger Bio: Stacy Landis
Lincoln University
|
June 24th, 2021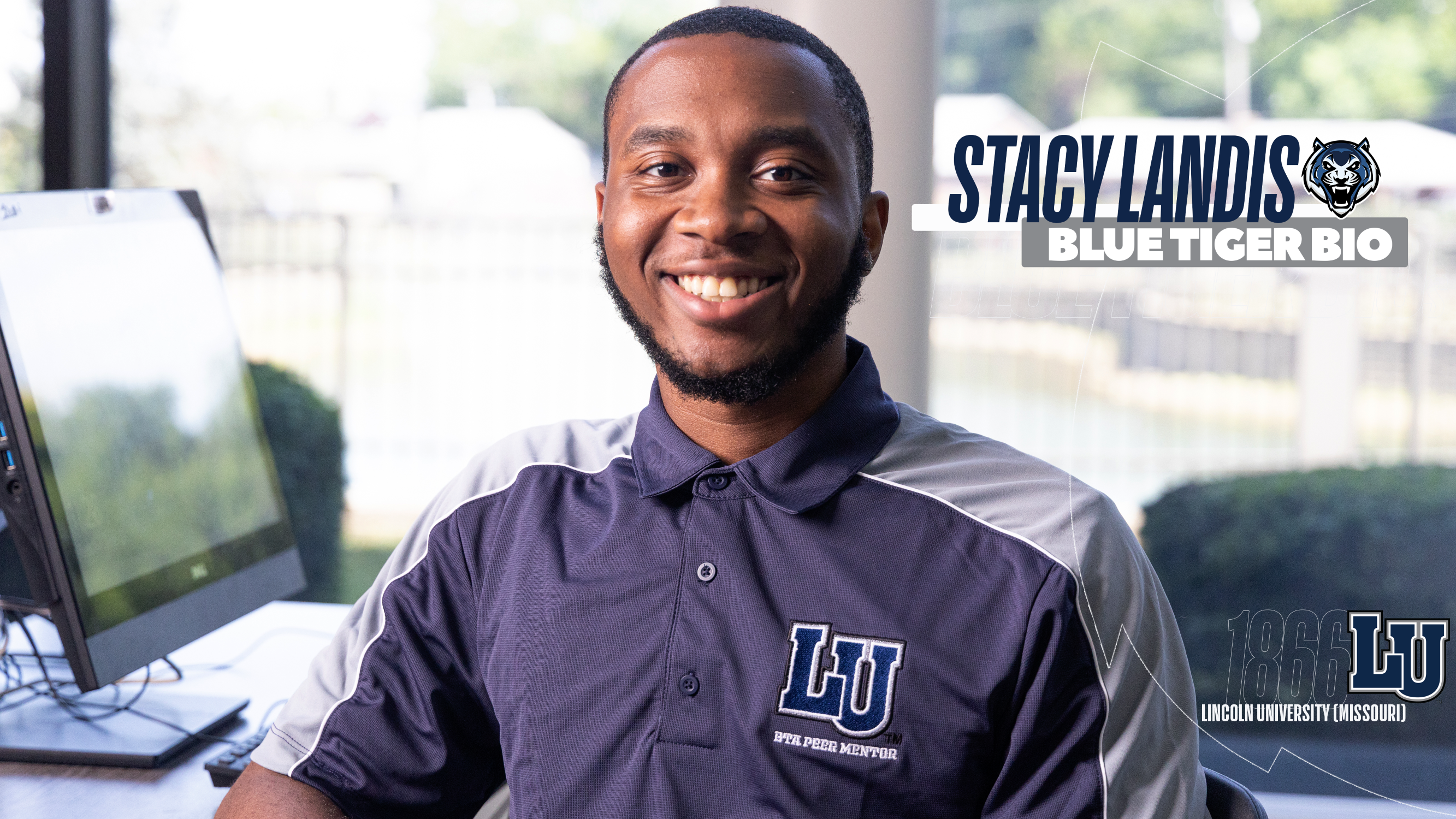 To Lincoln University senior Stacy Landis, few things in life are more important than one'sfamily.
"Absolutely, family is everything," Landis said. "They're your backbone, your support through thick and thin."
Landis, a Kansas City native and Lee's Summit alum, is Lincoln's Student Government Association President and is currently serving as a peer mentor in the Blue Tiger Academy, a summer academic program for incoming freshmen. Landis has accomplished much during his three years at Lincoln, but he credits his achievements to one person in particular.
"I would say my Dad is definitely my role model," Landis said. "Without him, I don't know where I'd be. He's like Superman to me. He definitely guides me whenever I feel lost, and pushes me in the right direction. I often get credit for the things I've done in college, but he pushed me towards college."
Landis has been a member of the Lincoln Student Government Association since beginning his LU tenure as "Mr. Freshman," and as a sophomore he was elected as an At-Large representative. As a member of the SGA, Landis has helped promote the Dawson Learning Center and worked with Sodexo to set up town hall meetings to improve the cafeteria. This year, he plans to work with the university administration to promote a 2.5 GPA initiative, strengthen Lincoln's relationships with the community and assist in raising the spirits of the student body after last year's pandemic.
"It's all a team effort," Landis acknowledges.
Collaboration comes naturally to Landis, because in his mind, his fellow Lincolnites are more than just a collection of students, faculty and staff. To Landis, they are all members of his extended family, and those relationships have been crucial to his success as an LU student.
"Lincoln is a big family," Landis said. "You know, once you get involved, you just really feel it, and you really understand that everyone here at Lincoln University is here to help you. We're just like a big family; everyone here is cousins, aunts and uncles, that's just how it is around here."
His experiences working with others at LU will certainly benefit Landis in the long run, as he is a psychology major who plans to pursue a career as a child psychologist. As one might expect, family has played a role in that decision, as Landis' aunt is a psychologist who works with patients experiencing trauma and PTSD. Landis is passionate about using the skills he's gaining at Lincoln to help children cope when they are at their most vulnerable.
"I just feel like (childhood is) where it all starts," Landis said. "It's like the saying, You can't teach an old dog new tricks.' I feel like it's easier to help children grow, to help them before they become adults."
The psychology classes as LU have strengthened that passion, as they mix classical textbook learning with opportunities to engage in discussion with their fellow classmates. The professors encourage students to talk about real world, everyday experiences, often using recent current events as a launching point into deeper conversations. Dr. Walter Johnson, Jr. and Dr. Mara Aruguete are two psychology professors in particular who are helping Landis achieve his goal of spending his life helping others.
"Dr. Johnson is an amazing professor, one of my favorites. Dr. Aruguete gives me a little bit of trouble, but she knows what she's doing," Landis adds with a laugh. "She's gonna hassle you, it's gonna be hard getting an A in her class, but it's gonna be worth it. She's a genius when it comes to teaching and trying to get us to understand different viewpoints. The goal is to teach you the correct way, not the easy way."
When he's not serving the campus community or studying, Landis can often be found playing basketball at The LINC, taking on other students, the occasional faculty or staff member, local high schoolers and anyone else up for the challenge. Landis also enjoys playing video games with his friends, listening to podcasts (he particularly recommends Million Dollaz Worth of Game) or Meek Mill and Jay-Z, and binge watching Martin and Grey's Anatomy.
No matter what it is he's doing, however, Landis is always enjoying and appreciating the experience of being a Lincoln University student. Whether he's engaged in conversation in a classroom, attending an SGA meeting at Scruggs, shooting some hoops at The LINC or hanging out in the cafeteria, Landis feels he is making the most of his time at LU.
Landis' advice to incoming students is to find a way to get involved at LU. In his own words, "It just makes things a lot smoother when you feel like you're around family."
Dan Carr
Photo: Keena Lynch