Student Opportunities


ORGANIZATIONS
Beta Beta Beta
The purpose of Beta Beta Beta is to function as an honor and professional society for students of the biological sciences. It is designed to stimulate interest, scholarly attainment and investigation in the biological sciences and to promote the dissemination of information and new interpretations among students of the life sciences.
Advisors: Dr. Aimee Wurst and Mrs. Cynthia Morin
Chemistry Club
The LU Chemistry Club is a student affiliate chapter of the American Chemical Society. The organization is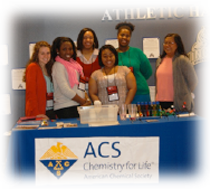 dedicated to promoting awareness and participation in chemistry and the chemistry profession. The members consist of students who share an interest in chemistry and a drive to participate in school and community events that focus on the understanding of chemistry and the natural sciences.
Advisor: Dr. Leilani Ramos
SCHOLARSHIP/INTERNSHIP INFORMATION
Students in the Department of Life and Physical Sciences may qualify for a variety of scholarship opportunities. Please visit the following websites for additional information and applications for university scholarships.
Lincoln University Academic Scholarship Information
Lincoln University Foundation Scholarship Information
The Lincoln University Foundation, Inc. administers a scholarship program in accordance with criteria established in cooperation with donors from throughout the United States. Scholarships are awarded depending upon investment performance and whether criteria are met. All scholarship candidates must demonstrate financial need through completion of the FAFSA application by the posted deadline. Every candidate must be enrolled at Lincoln University as a full-time student and be in good standing with the university. All applicants will be considered for General Scholarships, but each applicant may apply for up to two additional scholarships using the foundation scholarship application.
The following scholarships may be of particular interest to science students.
Corrine A Watkins Scholarship Fund (# 264)
Majors in Science, Math, Engineering and Technology.
Crayton Health Sciences Scholarship (# 156)
Majors in Health Sciences.
Biology, Chemistry and Physics Title III Endowed Scholarship Fund (# 303)
Majors in Biology, Chemistry and Physics.
Chemistry Education Scholarship
If you are a B.S.Ed. in Chemistry major, you may be eligible for a scholarship through the American Chemical Society. Please contact the Department of Life and Physical Sciences for more information and an application.