Missouri Minority Senior Citizens Focus on Better Brain Health at Lincoln University and Missouri Department of Health's 25th Missouri Institute on Minority Aging (MIMA)
Contact
Office of Communications and Marketing
Young Hall
820 Chestnut Street
Jefferson City, MO 65101

Archives
Categories
Social Media
Stephanie Cobian
|
September 6th, 2023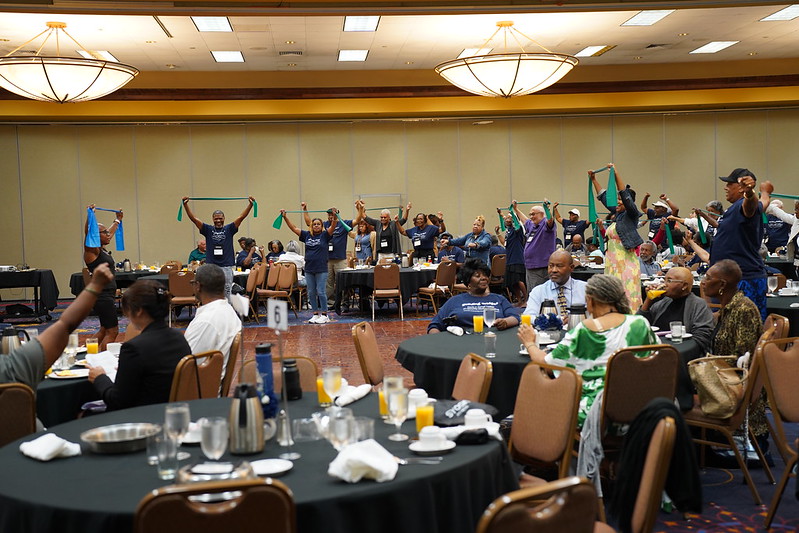 A milestone event in the field of senior health, the 25th Missouri Institute on Minority Aging (MIMA) was hosted by Lincoln University Cooperative Extension (LUCE), Paula J. Carter Center on Minority Health and Aging, and the Missouri Department of Health and Senior Services, Office of Minority Health. The forum convened at the Capitol Plaza Hotel in Jefferson City from August 28 to August 30. Attended by 120 minority senior citizens from across the state, MIMA focused on the theme, "Building Bridges to Brain Health," equipping attendees with a holistic approach to better brain health and enhancing personal well-being.
The event commenced with a warm welcome by LUCE Associate Administer Yvonne Matthews, who is also coordinator of the Paula J. Carter Center on Minority Health and Aging. The opening was complemented by an interpretative dance performance by Robert Evans, director of Dance Ministry Institute.
Dean of the College of Agriculture, Environmental and Human Sciences (CAEHS) Dr. LaVergne emphasized the seniors' profound influence on their families and communities in sharing their knowledge with the younger generation, stating, "Reach one, teach one. I encourage each of you to not only absorb the information presented here today for your own benefit but also to share it with others. Your outreach can have a meaningful impact."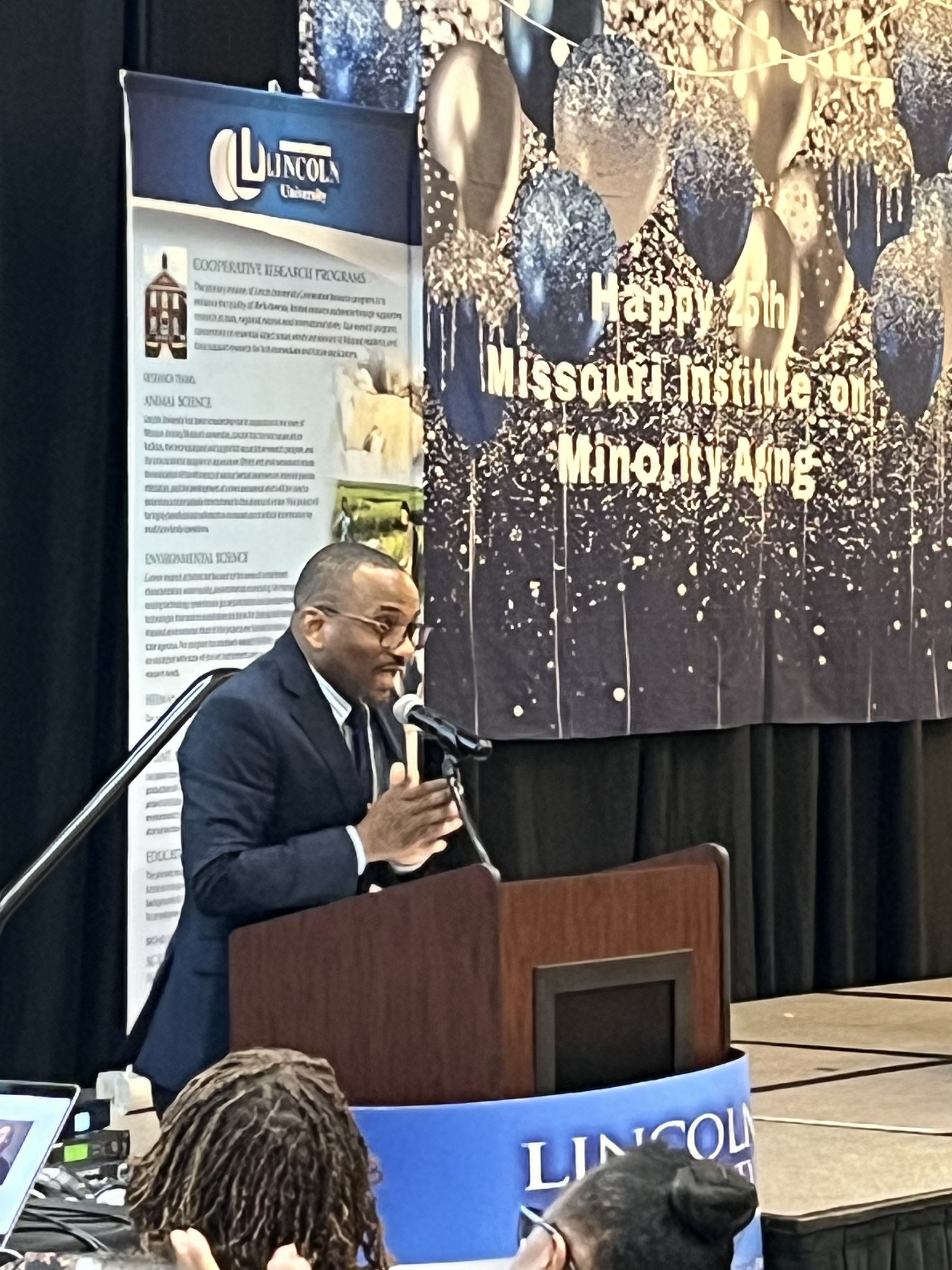 Dr. Douglas LaVergne, LU's Dean of the College of Agriculture, Environmental and Human Sciences (CAEHS), encourages MIMA participants to share knowledge from the forum to create better, healthier communities. 
Dr. Joel Shenker, M.D., Ph.D., Assistant Dean at the University of Missouri School of Medicine and Vice Chair of Education, Residency Director of the Neurology Department, delivered the keynote address Monday evening, delving into the intricate relationship between mind and brain health. Shenker enlightened attendees through his discussion on memory, sensory perception, social cognition and the effects on overall brain function. He also provided insights into dementia, Alzheimer's disease, mild cognitive impairment and associated warning signs.
Promoting a holistic approach to brain health, MIMA featured illuminating sessions led by experts in various specialties. Certified Fitness Instructor Estelle Brooks guided participants through invigorating cardio and strengthening exercises. The vibrant 70-year-old owner of Fit Four U Health and Fitness LLC in Kansas City stressed the importance of physical movement and making it feasible and sustainable. Additionally, seniors improved their memory and organizational skills by participating in line-dancing led by mother-daughter team and LU alumnae Andria and SaBria Hendricks.
LUCE Nutrition and Health Program Coordinator Sarah Eber shared invaluable insights on maintaining brain health through proper nutrition. Eber highlighted the impact of diet on inflammation, insulin sensitivity and conditions like diabetes. She discussed studies such as the Sprint-Mind Study, showing the connection between reduced blood pressure and improved cognitive function. Participants learned about dietary approaches like the DASH diet, known for lowering sodium intake, and the Mediterranean diet, which emphasizes the consumption of foods high in fiber to support brain health. Eber also shared programs aimed at lowering blood pressure including Heart Healthy Ambassadors Blood Pressure Self-Monitoring, Walk with Ease and Chronic Disease Management Training.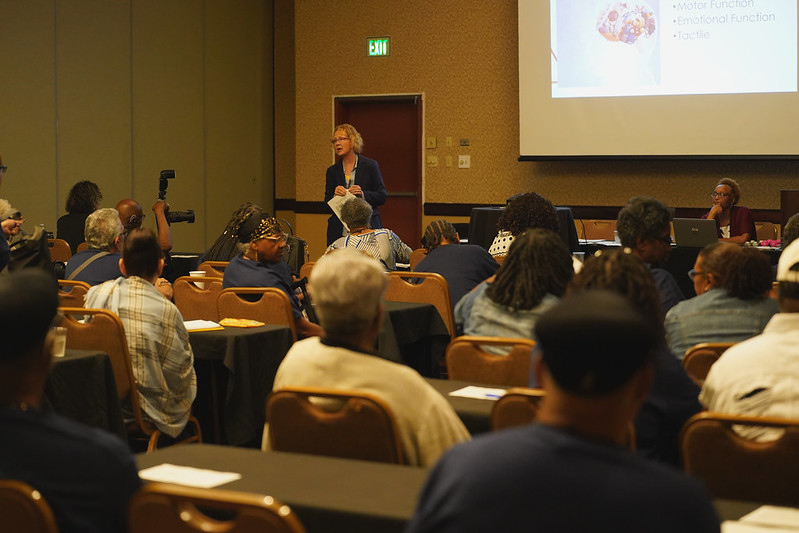 LUCE Nutrition and Health Program Coordinator Sarah Eber, MPH, RD, LD, CDE, speaks on proper nutrition's benefits to brain health.
"Fortunately, there's a lot of things you can do to improve your cognitive function," stated Eber. "The brain and our nerve endings can regenerate itself, which can be repaired through diet. Focusing on eating more foods with phytochemicals and antioxidants is key to reversing neurogenic delay."
Circle of Friends, an organization addressing social isolation through group experiences, spotlighted the emotional and social dimensions of brain health. Recognizing the significant issues surrounding social isolation among seniors, Marvin Boston, the Program Coordinator for Elderly and Disabled Services at the St. Louis Housing Authority (SLHA), took the initiative to start the first group in the St. Louis area. The program facilitates connection among seniors through conversation, creative projects and outings, fostering a sense of extended family.
"It's about developing trust and developing relationships," shared Sharon Burnside, an active member and facilitator of the Circle of Friends. "We do things that make us laugh. We do things that are scary, but we do it together!"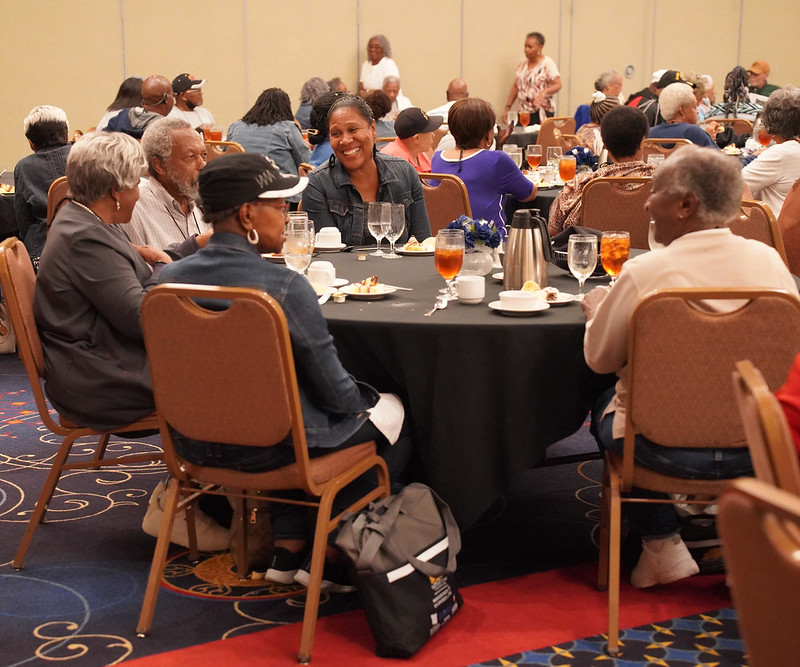 MIMA participants came from across the state to learn about the various aspects of brain health.
Panelists enthusiastically shared the various activities they engaged in with their Circle of Friends. These activities included transforming household items into unique artworks, crocheting stuffed giraffes, creating meaningful quilts using cherished family members' clothes, writing and publishing books and even enjoying the excitement of the Kentucky Derby together through virtual platforms like Zoom. Attendees learned about the positive outcomes of the Circle of Friends initiative, which promotes cognitive vitality through engagement and connection.
Estate planning experts, including LUCE Small Ruminant Specialist Dr. Homero Salinas and attorneys Connor P. Kelly and Lance F. Johnson, underscored the importance of protecting generational wealth. They elaborated on key components such as wills, trusts, beneficiary designations and powers of attorney, emphasizing how strategic planning ensures the desired distribution of assets and the well-being of loved ones.
As the 25th MIMA drew to a close, participants departed with enriched insights, strengthened connections and a renewed dedication to empowering brain health. The event served as a testament to the ongoing partnership between Lincoln University and the Missouri Department of Health and Senior Services, advancing the well-being of minority aging populations.
In her keynote address, Angel Surdin, Chief of the Office of Minority Health and Health Equity at the Missouri Department of Health and Senior Services, reaffirmed the commitment to eradicating health disparities among minority populations, including seniors. The significance of intergenerational community engagement was notably stressed as a powerful tool for enhancing overall health and well-being.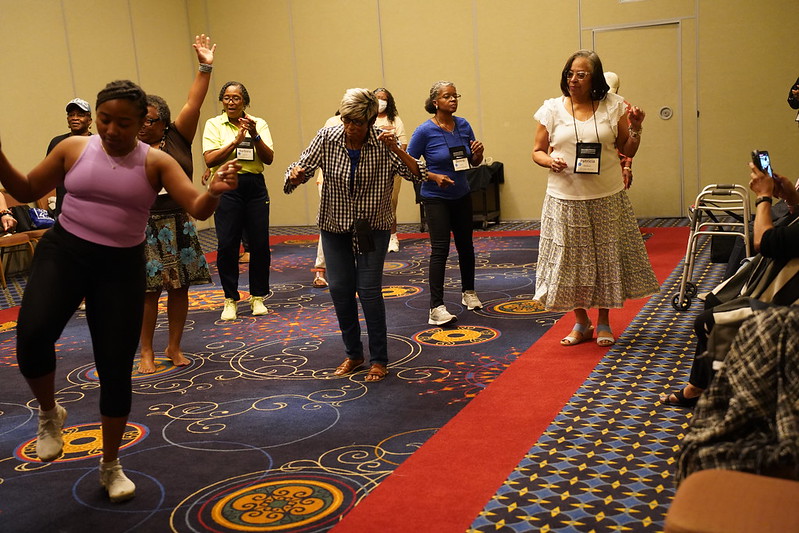 Seniors at MIMA danced their way to brain health following the mother-daughter team, Andria and SaBria Hendricks.
As Surdin commented, "Every individual in this room is a community leader, not in just the numbers, but there is a wealth of wisdom and experience that can benefit the younger generation when shared. Research shows us that meaningful engagement with young people is revolutionizing aging. Intergenerational community engagement is mutually beneficial and improves health for members of society."
LUCE's Paula J. Carter Center on Minority Health and Aging (PJCCMHA) improves the quality of life for Missouri's aging minority population by promoting health literacy and positive health behaviors to reduce disparities and inequities in access to health-related care. The Center provides leadership in addressing the health, social and psychological needs of minority and underserved people in Missouri aged 50 and over. This is accomplished through education, research-based information, policy analysis and the use of technology as strategic tools.
Community Press Release Cooperative Extension University News