Lincoln University of Missouri to Celebrate and Honor its Heritage During HBCU Week 2023
Contact
Office of Communications and Marketing
Young Hall
820 Chestnut Street
Jefferson City, MO 65101

Archives
Categories
Social Media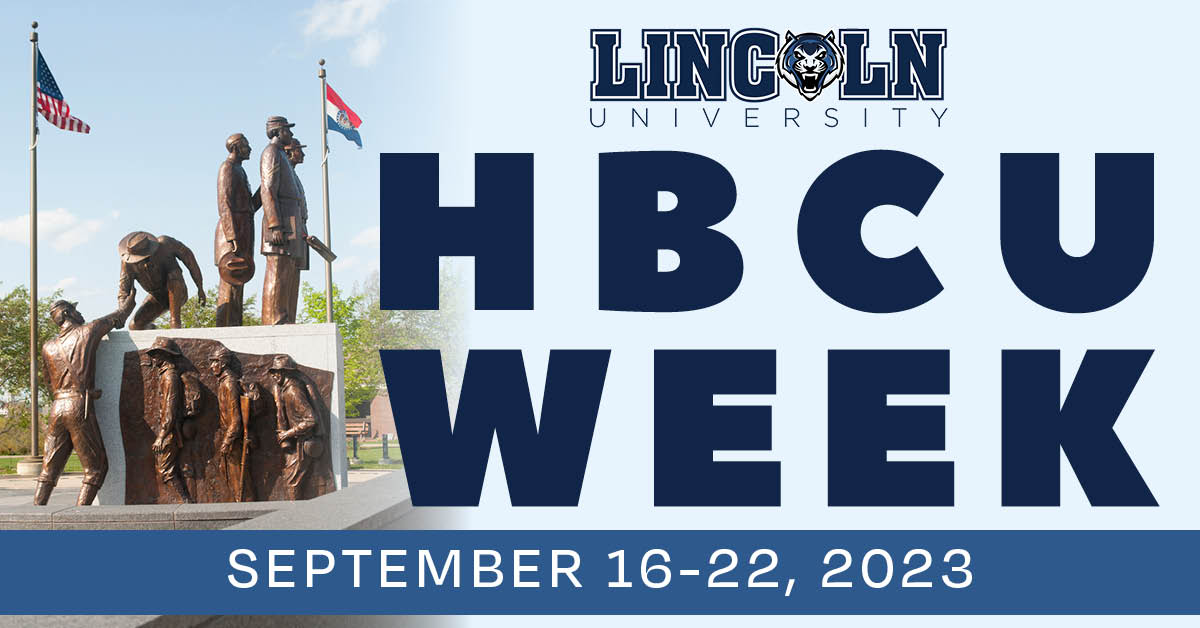 As one of two Missouri's HBCUs, Lincoln University of Missouri will celebrate the second-annual HBCU Week, September 16-22, 2023. During the weeklong event, students, faculty, staff, alumni and the community will join together to celebrate and honor Lincoln's higher education role as an HBCU and its founders, the 62nd and 65th United States Colored Infantries.
HBCU Week 2023 activities kicked off on Saturday, September 16, with the Lincoln Blue Tiger football home game against Washburn. Attendees were invited to show their HBCU pride by wearing HBCU apparel supporting any HBCU school. During the game, Lincoln recognized Senator Barbara Anne Washington for her support of HBCUs.
Senator Washington, who represents the 9th Senatorial District in the Missouri Senate, created the bill that started HBCU Week in Missouri. In June 2022, Governor Mike Parson signed Senate Bill (SB) 718 into law, officially establishing the third week in September as Historically Black College and University (HBCU) Week in Missouri.
Among Lincoln's HBCU Week 2023 activities, the Lloyd Gaines Ethnic Reading Room, located in room 317 of the University's Page Library (712 Lee Dr, Jefferson City, Mo.), will honor the University's past through exhibits and artifacts that highlight Lincoln's HBCU history. The facility is a developing museum which includes the following exhibits and artifacts:
Lincoln University of Missouri presidential portraits.
Artwork depicting Lincoln history.
Exhibits of Lincoln Institute, the founding fathers and documents.
Sculptures of prominent African American personalities.
Relics and artifacts from various academic departments.
In addition to the HBCU Week history feature, Lincoln is showcasing its dedication to the next generation of HBCU leaders and HBCU excellence through the 2023 HBCU Scholar Recognition Program. Lincoln students Chyler Hughes and Kennedy Thompson are serving as the University's 2023 student ambassadors for the program, which recognizes outstanding student leaders and empowers them with tools for excellence. Chosen for academic achievements, campus leadership, civic engagement and entrepreneurial spirit, Hughes and Thompson will attend the National HBCU Conference in Washington, D.C., September 24-28, 2023, with Lincoln University President Dr. John B. Moseley.
Press Release University News