Lincoln University's Quinoa Field Day Shines Spotlight on Groundbreaking Research on Nutrient-Rich Quinoa Greens and Grains
Contact
Office of Communications and Marketing
Young Hall
820 Chestnut Street
Jefferson City, MO 65101

Archives
Categories
Social Media
Stephanie Cobian
|
July 12th, 2023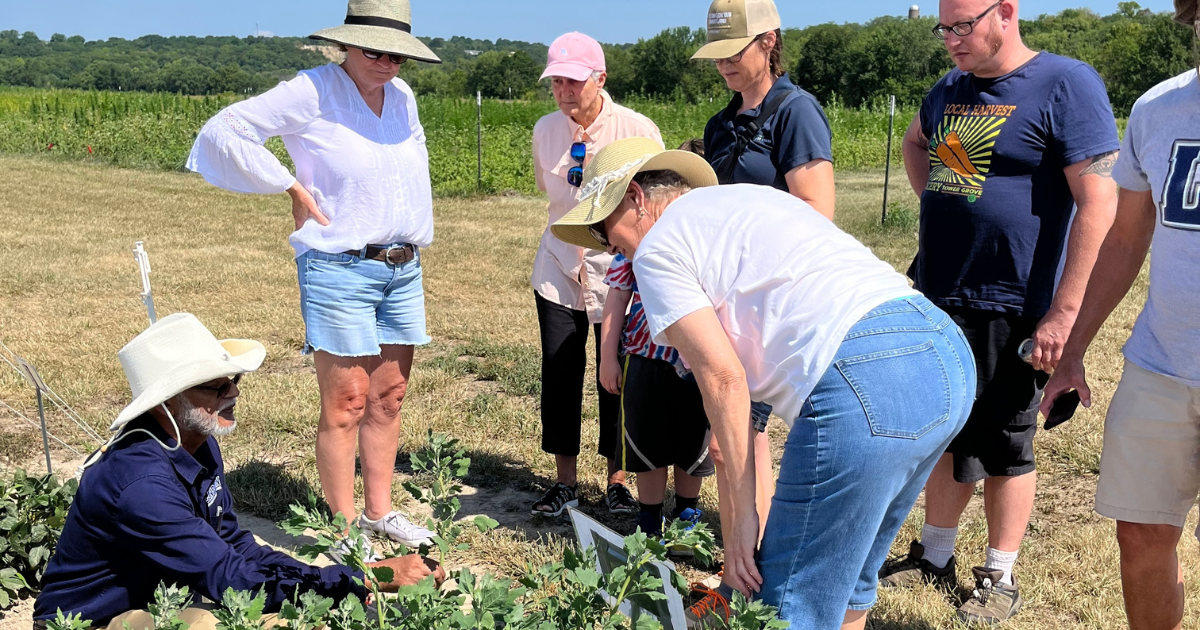 A growing interest in the rising superfood quinoa and its multiple health benefits was evident at George Washington Carver Farm, as Lincoln University's Cooperative Research (LUCR) hosted Quinoa Day on Tuesday, July 11. The informative and engaging event attracted approximately 30 producers and community members eager to learn about the latest groundbreaking research on this resilient climate-smart crop.
The event included remarks from President John Moseley and Dean of the College of Agriculture, Environmental and Human Sciences Dr. Douglas LaVergne. Both emphasized the institution's position as a leader in agriculture. President Moseley stated, "Lincoln University is currently engaged in a multitude of remarkable endeavors that inspire great pride within our community. Our researchers, faculty, and staff contribute to our institution's success, and we believe even bigger and brighter days lie ahead."
Visitors took a trolley ride to the quinoa fields, where they were given a comprehensive overview of the crop's lifecycle by Dr. Safiullah Pathan and his team. Dr. Pathan, Lincoln University's Associate Professor of Crop Science and the lead researcher, showcased the versatility and nutritional attributes of quinoa through each stage, from planting to cultivation and harvesting. The lush growth of the quinoa fields in the summer heat further demonstrates the crop's immense potential.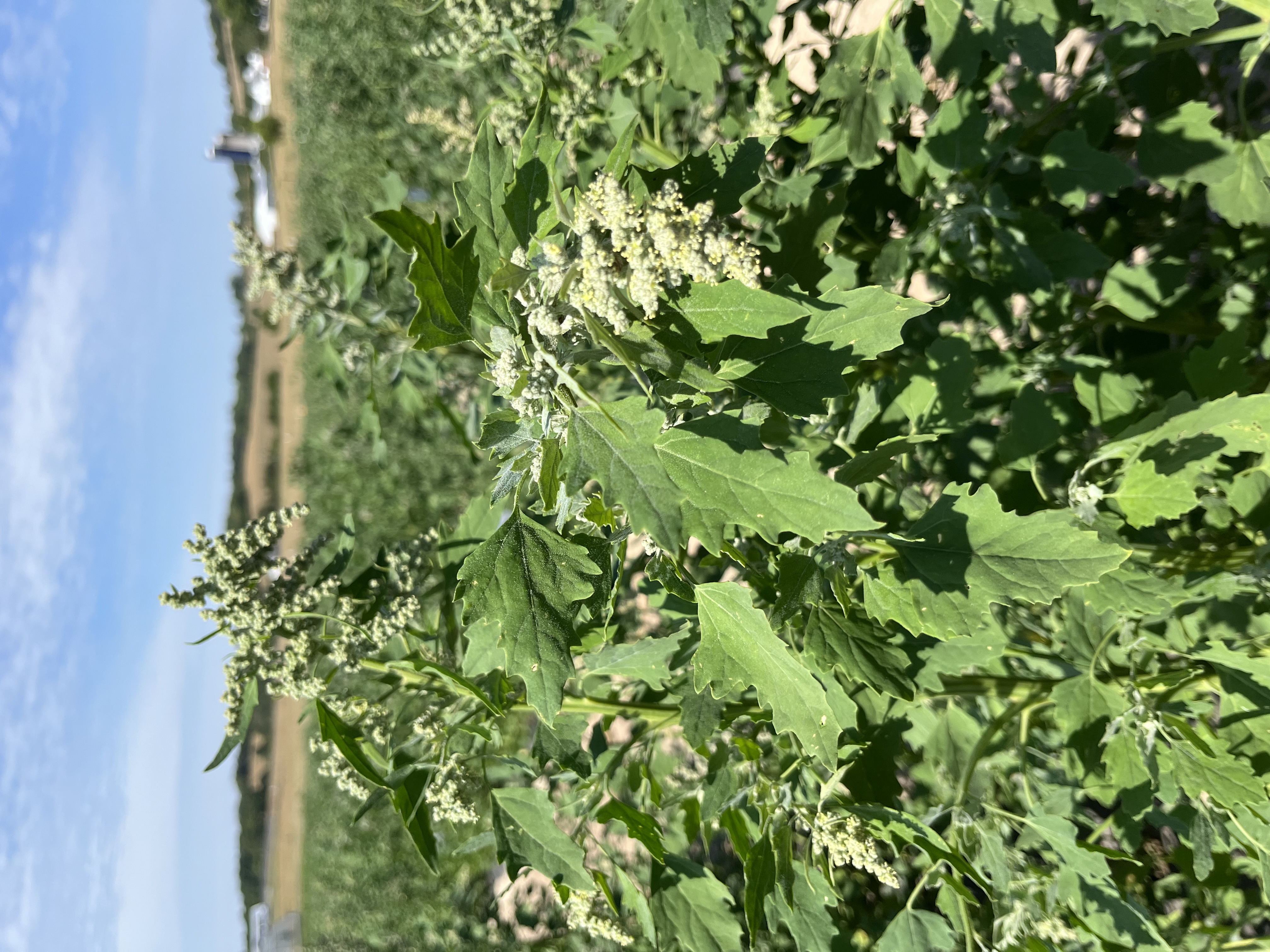 Quinoa–Nature's Nutritional Powerhouse. A resilient crop with unmatched nutritional value. From its ability to thrive in challenging conditions to its numerous health-promoting properties, quinoa offers a path to addressing malnutrition and ensuring food security.
Dr. Pathan highlighted ongoing research on the health benefits associated with both quinoa grains and greens. He emphasized that while many people are familiar with the grain, little information is available on the even more nutrient-rich quinoa greens. According to Dr. Pathan, "Quinoa greens have significant benefits for producers and consumers alike. Lincoln University is leading the research on this in the U.S."
Quinoa is a resilient crop that has been cultivated for centuries in South American countries due to its ability to withstand drought and salt, and grow in poor soil conditions with minimal inputs. Beyond its endurance, this remarkable crop holds numerous nutritional benefits within its grains and greens. Packed with antimicrobial, anticancer, antidiabetic, anti-obesity, antioxidant, and cardio-protective properties, quinoa proves to be a nutritional powerhouse.
Among its components, the gluten-free quinoa greens offer an exceptional source of protein, essential minerals, omega-3 fatty acids, and amino acids. Surprisingly, these greens remain overlooked as vegetables, despite their impressive qualities. Moreover, they could be a solution for tackling malnutrition challenges and contributing to the broader goals of food and nutritional security.
What makes quinoa greens even more enticing is their versatility and adaptability. They can be cultivated year-round in diverse environments, including open fields, high tunnels, and greenhouses, with rapid growth durations. While Northwestern states currently yield a modest quantity, the Midwest has yet to tap into the immense potential of quinoa greens.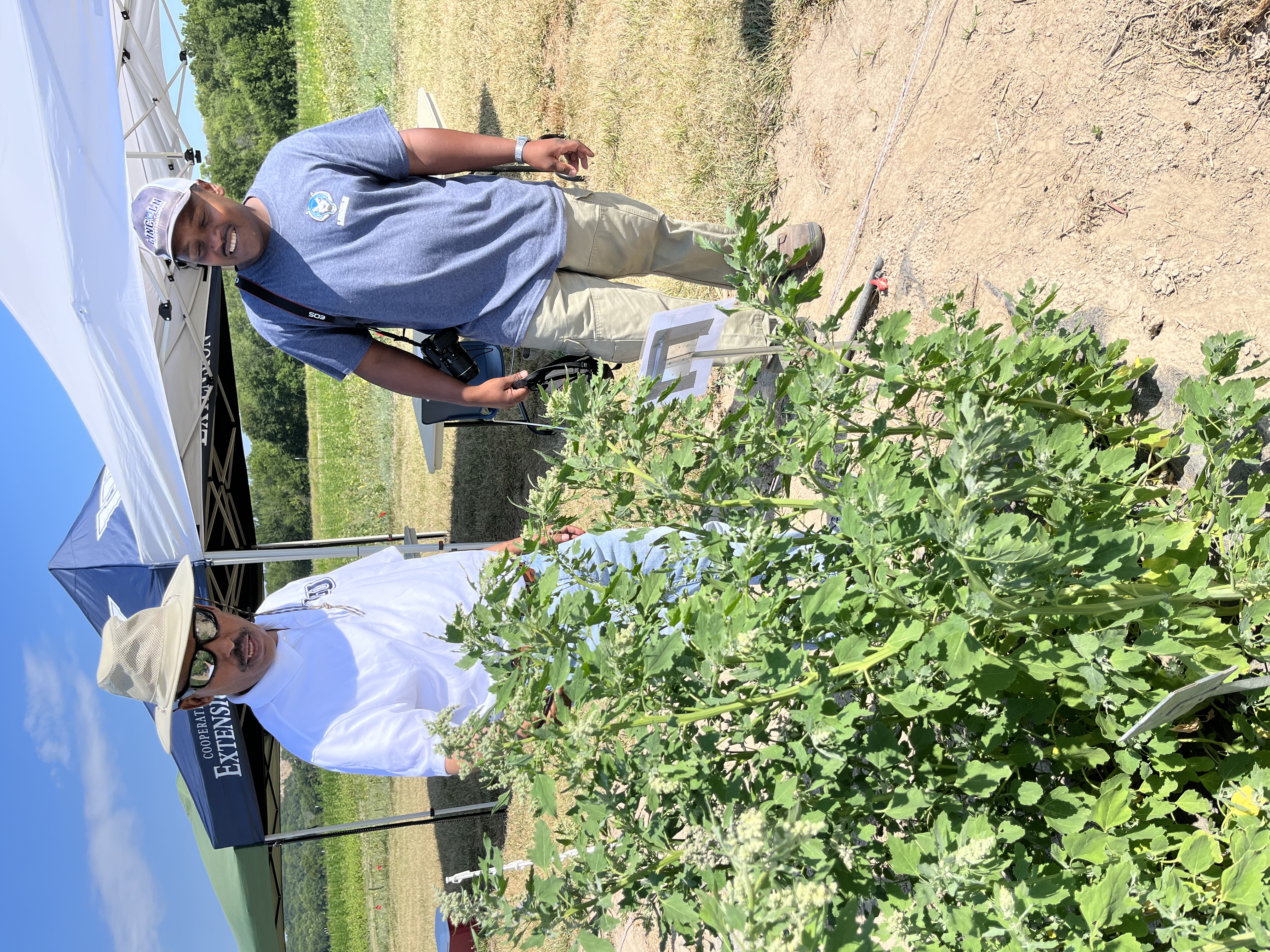 Assistant Professor of Plant Science, Dr. Addissu Ayele (left) and Research Technician II Grato Ndunguru (right), are dedicated members of Lincoln University's quinoa research team.
Peter Los, an organic grower partnering with Lincoln University for plant research, expressed his enthusiasm for quinoa's potential on the local food market. "This could really make an impact," he remarked.
Impressed by its ease of cultivation, resilience, and nutritional value, Los, who plans to sell at farmers' markets, believes quinoa could be the next sought-after product for his clientele. Furthermore, quinoa's ability to serve as a cover crop and its minimal water requirements make it an attractive option for sustainable farming practices. 
After the field tour, attendees enjoyed a complimentary lunch followed by an informative presentation by Dr. Pathan, focusing on the numerous nutritional and health benefits of quinoa. The discussion centered on its high protein content, essential amino acids, essential minerals, and gluten-free nature. Additionally, Assistant Professor of Plant Science Dr. Addissu Ayele shared his personal experience of healing from gastrointestinal reflux disease by incorporating quinoa greens into his diet.
Looking ahead, Dr. Pathan expressed his goals of raising awareness about quinoa greens, their various uses, health benefits, and marketability. He also announced plans to distribute quinoa seeds to interested producers starting in the new year. Each packet of one hundred grams will contain approximately 3,000 seeds, covering approximately 75 square feet of gardening space. For those interested in learning more about quinoa grains and greens, please contact Dr. Pathan at PathanS@LincolnU.edu.
University News Press Release Cooperative Research