Dr. DeNeia Thomas Selected as Lincoln University of Missouri's Dean of the College of Professional Studies
Contact
Office of Communications and Marketing
Young Hall
820 Chestnut Street
Jefferson City, MO 65101

Archives
Categories
Social Media
Abbey Tauchen
|
September 21st, 2023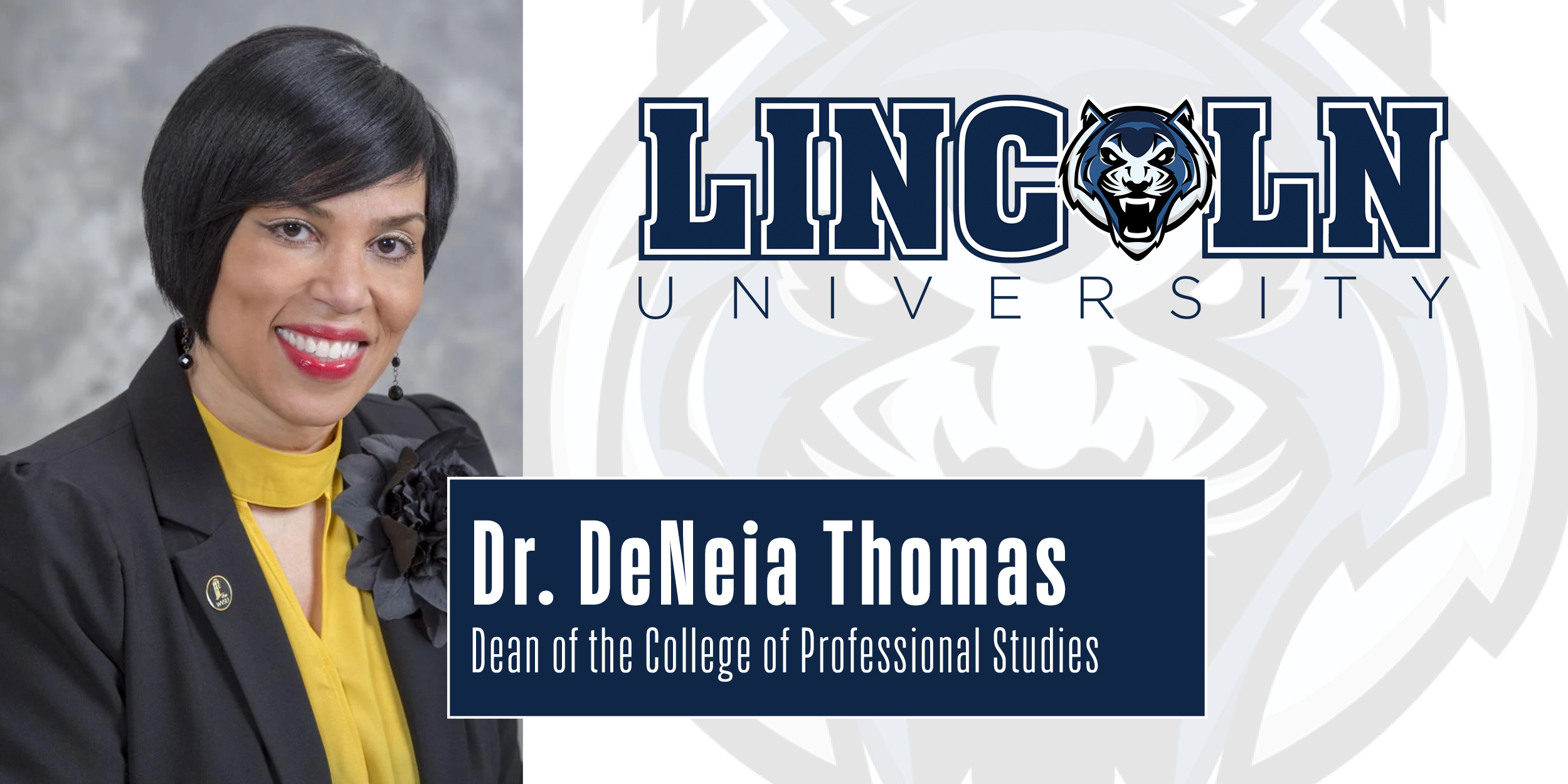 Lincoln University of Missouri has selected Dr. DeNeia Thomas as the new dean of the College of Professional Studies, effective October 9, 2023
As dean, Dr. Thomas will hold supervisory responsibility over the Schools of Business, Education and Nursing. She will offer forward-thinking leadership and guidance to department heads and the director of the Small Business Development Center. Her responsibilities encompass upholding compliance with federal, state and university directives, upholding accreditation benchmarks and forging meaningful strategic alliances. Dr. Thomas will promote cross-disciplinary cooperation and help foster the growth of academic offerings within the college.
Additionally, Dr. Thomas will be tasked with the following responsibilities:
Facilitating interdisciplinary collaboration and the development of academic programs.
Recommending faculty appointments, promotion and tenure.
Supervising and evaluating department heads and directors.
Participating in fiscal year budget planning in accordance with the strategic plan.
Serving on university committees when applicable.
Participating as a member of the extended President Advisory Committee and other duties assigned by the provost/vice president of academic affairs and the president.
"With over two decades of experience, expertise, and a proven track record of academic excellence and innovation, Dr. Thomas brings a wealth of knowledge and passion to add to our leadership team," said Lincoln University Provost and Vice President for Academic Affairs Dr. Stevie Lawrence II. "Her demonstrated consistency in fostering a dynamic and inclusive learning environment and dedication to empowering students and faculty alike aligns perfectly with Lincoln University's mission of access to excellent educational opportunities through teaching, research, and extension services within a nurturing, student-centered environment."
Previously, Dr. Thomas has served in numerous higher education administrative roles, such as vice president for enrollment and student success at Texas Southern University, chief of staff at West Virginia State University, associate provost for academic affairs, associate vice president for institutional effectiveness, director of testing services and comprehensive assessment coordinator. She has also held K-12 executive-level positions, including at the Kentucky Department of Education, where she served as a principal consultant with the E.D.U.C.A.T.E. group.
Dr. Thomas is a native of Kentucky. She earned her Ph.D. and M.S. in educational psychology and an Ed.S. in school psychology from the University of Kentucky. She completed her B.S. in psychology from Kentucky State University. She holds certifications with concentrations in psycho-social implications for school and community-based learning, socialization processes, motivation, school attachment, psychometry, assessment, accountability, evaluation and organizational management.
Academics Faculty/Staff Press Release University News