LUSGA Executive Cabinet 2022-2023
LUSGA Executive Cabinet 2022-2023

President | Falon Ensley
Ensley is a senior from St. Louis. She is a proud member of the National Association of Colored WOmen's Club. 
Why did you join SGA? I am the voice of those who are not heard, and I joined SGA because I want to effect positive change at my university and because I am not afraid of the people that are higher-ups. I signed up because I wanted to send a message to every African American student who had doubted themselves: You are capable of so much more than you give yourself credit for. Informing the Lincoln community that Student Government Association exists to bring change is a priority of mine.
Hobbies: Going to the gym and making money
Plans after graduation: Following graduation, I intend to enroll at Tennessee State University to complete a doctoral degree in physical therapy, which takes three years to complete, and I also intend to join the military after that.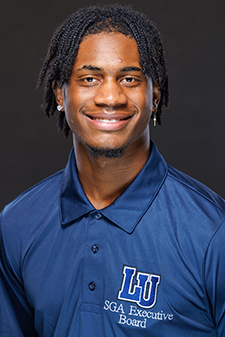 Vice President |  Cameron Johnson 
Cameron is a junior from Chicago Heights, Ill. A member of many organizations on campus and off, there are many reasons why SGA is a great involvement opportunity.  
Extracurricular activities: Member of MNNRS, Jazz Band, member of Kappa Alpha Psi Fraternity Inc., intern at Veterans United Realty and working for Fun City Youth Academy (nonprofit)
Why did you join SGA? I joined SGA to become more involved with campus life and help to make an impact in the upcoming great year. I want to build on what happened last year and how everyone on campus felt the atmosphere begin to change last semester. I also joined SGA because I want an outlet to continually evolve my business/political presence while implementing ideas from the campus and peers so I can bring about visions we have for the future of this university. 
Hobbies: I enjoy trying any and everything to experience a lot, but my main hobbies are golfing, skating, working out and traveling.
Plans after graduation: I plan on either going to work with one of the agencies within the USDA/FDA as an agent working on the economic side of things, continuing with any of the internships I am a part of and continuing to invest in real estate properties I manage.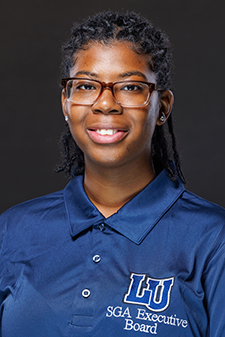 Treasurer | Cayla Jenkins 
 Jenkins is a senior from Gary, Indiana. In addition to SGA, she's also involved in Sigma Gamma Rho sorority, Inc. 
Extracurricular activities: Sigma Gamma Rho Sorority Inc. 
Why did you join SGA? Lincoln's campus is filled with a vibrant mix of clubs, events and extracurricular activities. My first year here at LU, I knew I wanted to get involved in the Blue Tiger community and make a difference. The Student Government Association  (SGA) was the perfect place for me to do that. Not only do I get to engage and create culture with my peers, but I also get to make changes on our campus. I have been allotted the opportunity to have a platform that others may not be privy to, and I want to use it for change. This is done by actively listening to the student body, openly taking complaints with a growth mindset , tracking every concern and actively welcoming all ideas for change.
Hobbies: I love to hang out with friends and try new foods and restaurants. 
Plans after graduation: I plan on relocating to Arizona and teaching second or third graders.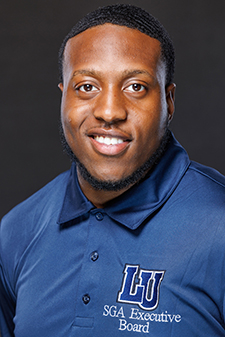 Executive Secretary | Jordon Strickland 
Strickland is a senior from St. Louis. 
Extracurricular activities: Honors Society, Alpha Phi Alpha Fraternity Inc.
Why did you join SGA? To assist my fellow classmates in making Lincoln a better place by using students' wants and ideas to shape the culture as an HBCU.
Hobbies: Traveling
Plans after graduation: Pursue a master's degree and work in a corporate setting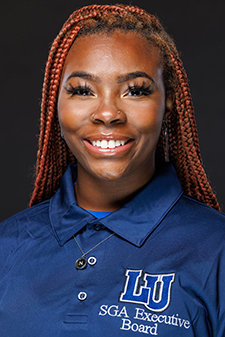 Representative at Large | Yessnia Austin-Dixon 
Austin-Dixon is a senior from Chicago. She is actively involved in the Lincoln University Marching Musical Storm Blue Flame Dance Line, Lincoln University Vocal Ensemble, Kappa Kappa Psi National Honorary Band Fraternity, and as a Royal Tigerettes Dance Team coach.
Why did you join SGA? I joined the SGA to step outside of my box and get well acquainted with my peers. I also wanted to become a better leader, someone any person would follow. I wanted to join to make a change in the on-campus culture and bring the best out of Lincoln University students.
Hobbies: I like to read, draw/paint, dance, sing and watch YouTube videos.
Plans after graduation: I plan on graduating with a degree in wellness with an emphasis in health promotions in hopes of becoming a certified personal trainer and dance instructor.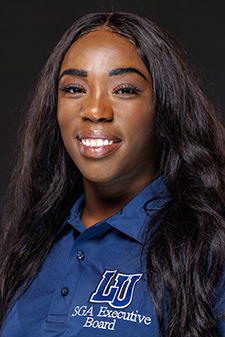 Campus Activity Board Chair  | Michaela Crenshaw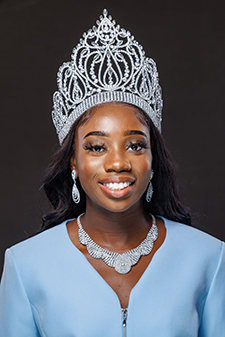 Miss Lincoln University | BaBari Naabien 
Naabient is a senoir from St. Louis, and serves as the 98th Miss Lincoln University of Missouri.
Extracurricular activities: National Association of Colored Women Club Inc., International Student Association, Thurgood Marshall College Fund Yard Ambassador
Why did you join SGA? I joined SGA because I wanted to use my platform to bridge the gap between domestic and international students.
Hobbies: I like to dance, run and travel for fun.
Plans after graduation: I plan to further my education by getting my master's degree.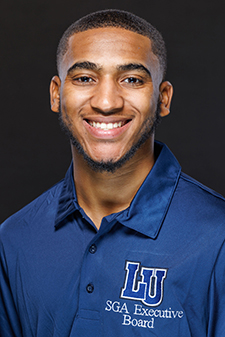 Mister Lincoln University | Tyree A. Stovall