Lincoln University Team Honored with Award from Missouri Public Health Association
Contact
Office of Communications and Marketing
Young Hall
820 Chestnut Street
Jefferson City, MO 65101

Archives
Categories
Social Media
Kathy Casteel
|
October 30th, 2023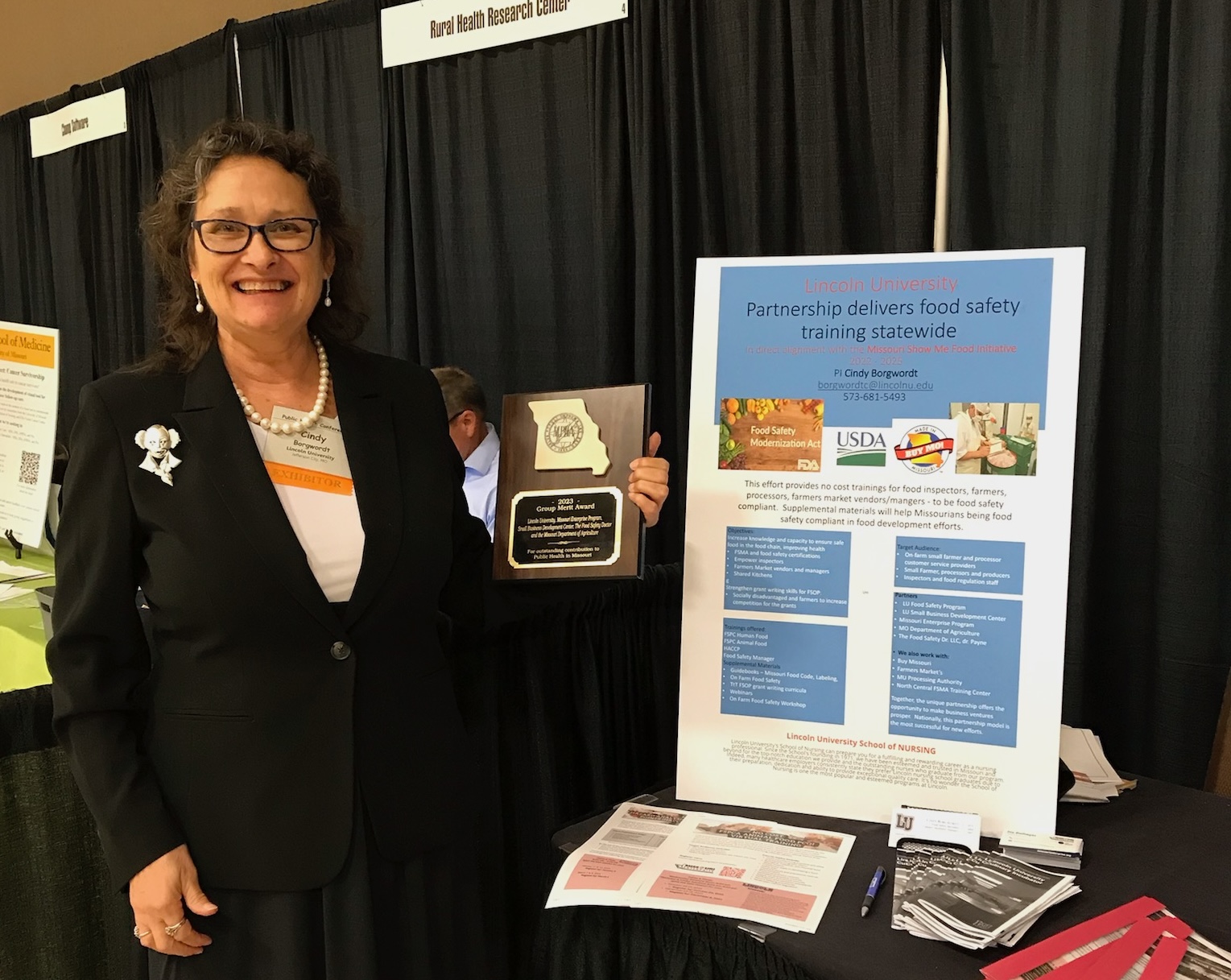 A food safety partnership led by a Lincoln University research specialist has won a merit award from the Missouri Public Health Association (MPHA) for its work in educating Missourians about food safety practices.
MPHA honored Lincoln University and its partners for continued efforts to provide excellence in food safety training for Missourians who work in food production and food safety. Cindy Borgwordt, a food safety specialist with Lincoln University's Cooperative Research, accepted the award for the group at the MPHA annual conference Sept. 18 in Columbia.
Borgwordt leads a team funded by a grant from the National Institute of Food and Agriculture to provide no-cost food safety courses and on-farm workshops, develop guidebooks and produce on-demand webinars for Missourians who work in food production and supply. The team targets beginning farmers, small farmers and small processors as well as health inspectors, farmers market managers and vendors, and shared kitchen managers to help them become food safety compliant."
Focusing on education and outreach, the team's goal is to increase knowledge and apply it to food safety practices, Borgwordt says. "The new Food Safety Modernization Act (FSMA) requires many trainings for food producers, yet some cannot afford them," she says. "This effort provides this training at no cost to traditionally underserved audiences." Training programs offered include Hazard Analysis and Critical Control Point (HACCP), FSMA Preventive Control for Qualified Individuals and Food Manager training. 
LU Cooperative Research is partnering in the award-winning effort with Lincoln's Small Business Development Center, the Missouri Enterprise Program, the Missouri Department of Agriculture and The Food Safety Doctor LLC, a training and consulting company. Named in the award with Borgwordt were Joe Bullinger, project manager at Missouri Enterprise Program; Stan Cook, program manager at Missouri Department of Agriculture; Lauren Carter, director of Lincoln University Small Business Development Center; and Derrick Payne, president of The Food Safety Doctor LLC.
"This award is a tremendous honor," Borgwordt says. "It recognizes our statewide efforts to empower people making food with the knowledge to ensure safe food production. Working together, the partners are able to reach farmers, processors, inspectors, cottage food producers and farmers market managers. Ultimately, this will result in fewer food-borne illnesses and reduce the burden on the public health care system."
University News Cooperative Research Faculty/Staff Press Release