Rooted in Excellence: Lincoln University Scholars Receive the American FFA Degree
Contact
Office of Communications and Marketing
Young Hall
820 Chestnut Street
Jefferson City, MO 65101

Archives
Categories
Social Media
Jenny Schaben
|
November 20th, 2023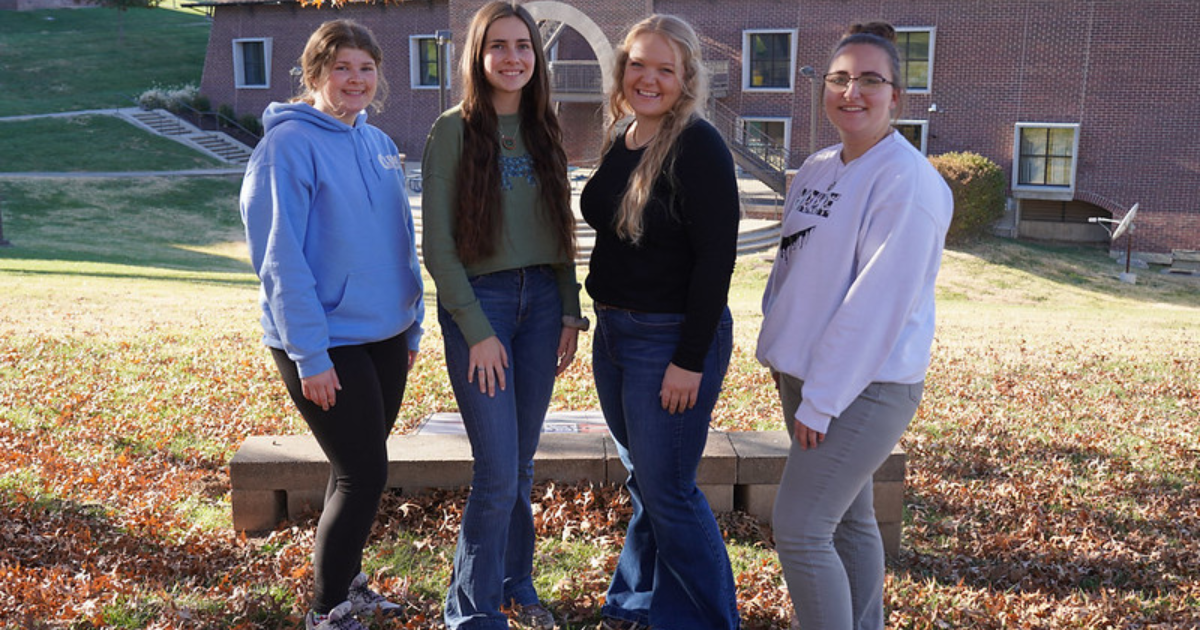 The Future Farmers of America (FFA) is a dynamic youth organization dedicated to transforming lives and preparing its members for leadership, personal growth, and career success through agricultural education. FFA's influence extends beyond high school, shaping the futures of individuals pursuing careers in various fields related to agriculture. At the 96th National FFA Convention & Expo on November 1-4 in Indianapolis, Indiana, four outstanding Lincoln University students were recognized for their exceptional achievements by being awarded the prestigious American FFA Degree.
The American FFA Degree, the highest honor achievable within the national FFA organization, symbolizes a member's unwavering dedication to their chapter and state FFA association. It reflects their outstanding leadership skills, community involvement, and the effort invested in their supervised agricultural experience. The recipients of this esteemed award from Lincoln University are Ryleigh Case, Dylan Knipker, Gretta Carrender, and Abby Sweezer.
To be eligible for the American FFA Degree, members must meet qualifications such as earning a State FFA Degree, holding active membership for the past three years, and attending secondary instruction in an agricultural education program. All four winners from Lincoln University are majoring in agriculture, highlighting the university's role in providing opportunities for academic and personal growth.
American FFA Degree recipient Ryleigh Case is a sophomore majoring in plant and soil science at Lincoln University. Reflecting on her journey, Case shared insights into her FFA experience, which commenced during her high school years in Russellville, Missouri. Notably, she emphasized the autonomy that FFA members have in deciding to pursue the American FFA Degree, showcasing the organization's commitment to individual growth. "You have to put a lot of time and energy into FFA and help the community," Case reported.
Dylan Knipker, an LU sophomore who began FFA in California, Missouri, said, "Receiving the American FFA Degree was really exciting, especially since my family was in FFA. My father only got the state degree, but I was the first in my family to receive the national degree." This accomplishment adds to the family's FFA legacy, marking a proud moment for Knipker. Looking ahead, she aspires to make a meaningful contribution to organizations such as the USDA or the Missouri Department of Agriculture after graduation. Knipker's pursuit of a career in animal science aligns with her dedication to furthering her knowledge and actively participating in the agricultural sector, emphasizing the broader impact and opportunities that FFA has provided.
"To find out that I received one of the most difficult and highest awards through FFA was an amazing experience. It was exciting to see that all my hard work had been rewarded," stated American FFA Degree recipient Gretta Carrender, an LU sophomore majoring in agriculture education. Carrender also serves as the secretary of the Lincoln University Ag Club and FFA organization. She emphasized community and knowledge expansion through FFA, expressing her passion for both livestock judging and leadership competitions. Carrender plans to either teach agriculture or delve into the swine industry in the future. She has wanted to pursue such goals since she was in FFA at Blair Oaks High School. Her high school FFA advisor, Katie Fifer, says, "FFA is a valuable student-led organization that teaches students about leadership and career readiness through agricultural education."
LU sophomore Abby Sweezer expressed her excitement about traveling to Indianapolis to receive the American FFA Degree. As a student in the agriculture education program at Lincoln University, Sweezer appreciates the fellowship among like-minded individuals and the intimate setting of a smaller university. She envisions a future as an agriculture teacher and FFA advisor, illustrating the transformative impact of FFA on her academic and professional aspirations. Sweezer began her FFA journey at Linn High School in Missouri and is currently serving as a reporter for Lincoln University's FFA organization.
Sweezer provided further insights into the enriching FFA experience at Lincoln University. As an officer on the executive team, she highlighted the diverse activities offered through Lincoln's FFA program. She also acknowledged Mrs. Kim Cash, her college advisor, as a source of invaluable support. Sweezer emphasized Cash's guidance in shaping her journey at Lincoln University. "She has a lot of experience and advice to give, and when I have a question or concern, she is always there to help," stated Sweezer.
The FFA program at Lincoln University, housed within the Department of Agriculture and Environmental Sciences, is dedicated to encouraging students to pursue agricultural degrees and enter the workforce. Lincoln University's FFA chapter actively engages in various events, from FFA days to industry tours and career development events. The chapter's commitment to career-readiness skills, industry partnerships, and outreach reflects Lincoln University's dedication to producing well-rounded and skilled professionals in agriculture.
The achievements of Gretta Carrender, Ryleigh Case, Dylan Knipker, and Abby Sweezer not only celebrate their individual successes but also exemplify the rich opportunities and comprehensive education Lincoln University's Department of Agriculture and Environmental Sciences provides. As these students embark on their future endeavors, they carry with them the values of leadership, community engagement, and a profound commitment to the agricultural industry.