Amy Bax: Cultivating Agricultural Excellence and Future Leaders at Lincoln University
Contact
Office of Communications and Marketing
Young Hall
820 Chestnut Street
Jefferson City, MO 65101

Archives
Categories
Social Media
Stephanie Cobian
|
November 20th, 2023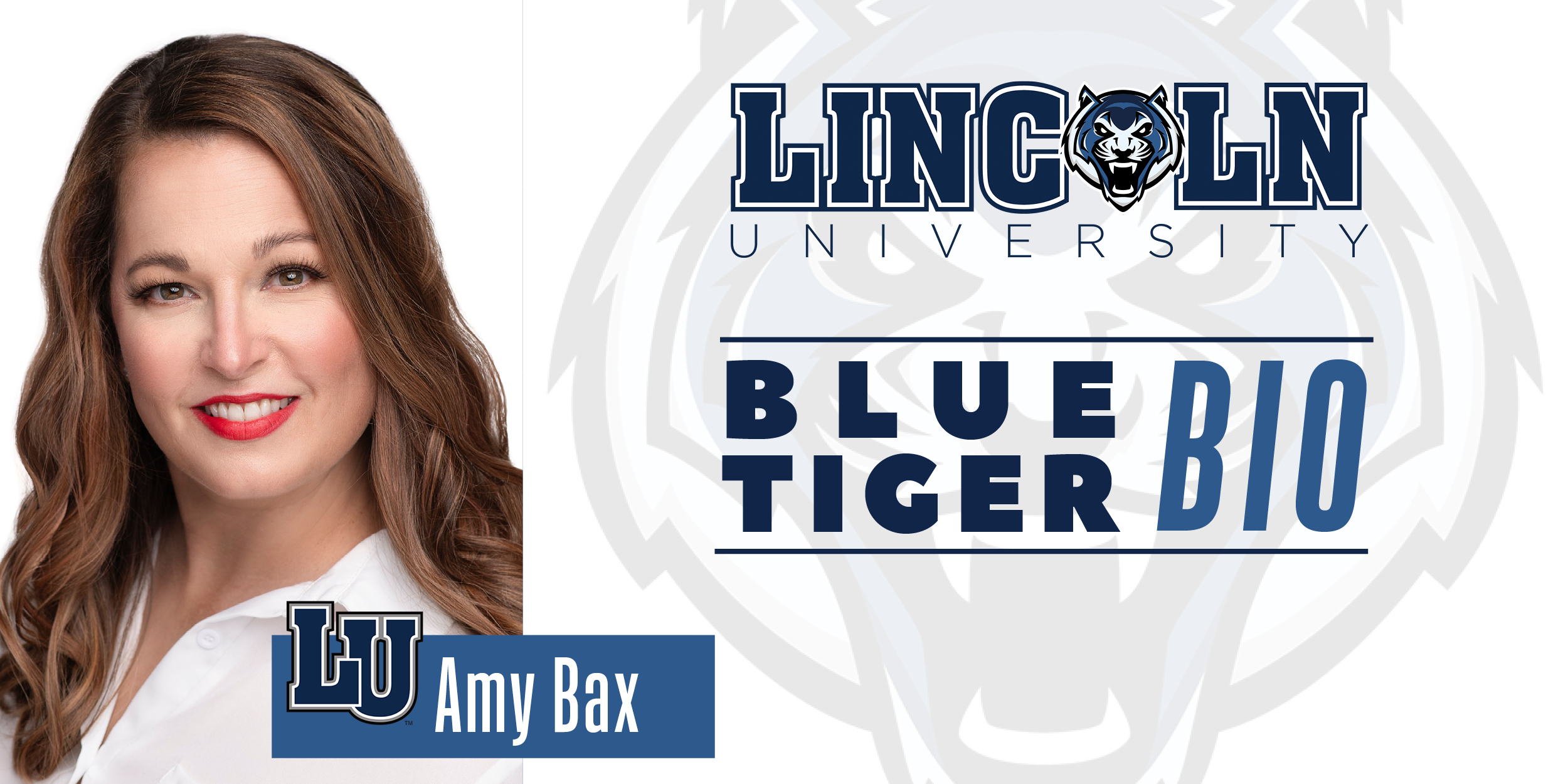 At Lincoln University and in the world of agriculture, Amy Bax has played a pivotal role in empowering and guiding the next generation of agricultural leaders. Over the past 12 years, the dedicated employee and former FFA alumna's profound institutional knowledge, agricultural expertise, and effective program execution have made her a valuable asset to both the University and the broader agricultural community.
Most days, Bax's office serves as a welcoming space for students seeking guidance, assistance, or just a friendly conversation. Faculty and staff also stop by regularly looking for Bax's input or help to troubleshoot a situation—a testament to her core philosophy centered around seeing others succeed.
"My first guiding tenant is what is in the best interest of our students, and then my second tenet is what is in the best interest of Lincoln University," noted Bax. "What's most important to me is helping new students find a career that makes them happy. That means helping them identify their passions and then doing whatever I can to assist them in securing those opportunities that make them marketable to that degree program or career field." 
She actively engages with students from diverse backgrounds, fostering curiosity and providing leadership development opportunities. She assists students with various aspects of their academic and professional journey, including graduate school applications, resume building, securing internships and honing their presentation skills.
Bax's love for agriculture began in her childhood living on a farm in Chillicothe, Missouri, and her involvement with Future Farmers of America (FFA) during high school solidified her passion. She attributes the organization, under the mentorship of her advisor, current Senator Rusty Black of Missouri District 12, to fostering her love for animals and preparing her for personal growth and career success.
After earning a Bachelor of Science in Animal Sciences at the University of Missouri, she began her career at Lincoln University as a research technician. Initially involved in land mine detection, her focus later shifted to Cooperative Research's animal science program, where she studied foot rot detection and out-of-season breeding in small ruminants. In 2019, she assumed the role of Extension Associate, delivering education and outreach to sheep and goat farmers and 4-H and FFA students across the state.
In 2019, Bax took the initiative to start the FFA Chapter at Lincoln University to inspire students to pursue agricultural degrees and careers. She not only organizes the Annual FFA Career Day Experience, which draws 700 high school students on average annually but also takes students to the State FFA Convention with the hope of inspiring them to become leaders and influencers in their own right. Additionally, Bax serves as a judge at several highly regarded agricultural-related events, including the FFA State Proficiency Awards, local, state, and national levels of the FFA Agriscience Fair, and numerous FFA speaking contests.
Amy's outstanding contributions to agriculture and education were recognized in April 2023, when she received the esteemed Honorary State FFA Degree at the Missouri FFA Convention in Columbia. This honor reflects her exceptional service to agriculture, agricultural education and FFA.
In her current role as Special Assistant to the Dean of the College of Agricultural, Environmental and Human Sciences (LUCAEHS), Amy continues to work for the betterment of Lincoln University. She takes on a multitude of responsibilities, from administrative tasks to report preparation, while providing support to various departments. Her expertise in troubleshooting, project management and event coordination have been crucial in keeping LUCAEHS at the forefront as a leader in the agriculture industry.
Bax's significant efforts include organizing tours for students and visitors, such as a recent group from Kansas City and another from Houston, Texas in November, providing firsthand insights into the diverse field of agriculture and its abundant opportunities
In October, she organized a tour of Lincoln University for USDA National Institute of Food and Agriculture (NIFA) Director Dr. Manjit Misra, along with NIFA Chief of Staff Michelle Samuel-Foo and Director of Communications Faith Peppers. NIFA representatives discussed their vision and commitment to agricultural research, innovation, and community engagement while also gaining a deeper insight into the diverse array of programs and projects initiated by LU's College of Agriculture, Environmental and Human Sciences (CAEHS). 
She also provided 43 FCS Financial THRIVE team members a tour of Lincoln's farms and facilities to help Missouri's largest agriculture lender deepen their understanding of the agricultural sector, supporting agriculture and rural communities. Amy's commitment extends further as she recently coordinated a "Train the Trainer" three-day workshop series for community leaders focused on creating thriving, sustainable community gardens in underserved areas to combat food insecurity.
This year, Bax achieved a significant milestone by earning her Master of Science in Agricultural Education and Communication from Kansas State University. As she looks to the future, her aspirations include teaching introductory courses at Lincoln, continuing to mentor students and guiding the next generation of agriculture leaders. Amy Bax's journey serves as a compelling testament to the profound influence we can exert on others, emphasizing that our most significant achievements are often in empowering others to reach their full potential.
Academics Alumni Faculty/Staff