Ambassador David Young, U.S. Ambassador to Malawi, to Visit Lincoln University of Missouri Campus
Contact
Office of Communications and Marketing
Young Hall
820 Chestnut Street
Jefferson City, MO 65101

Archives
Categories
Social Media
Abbey Tauchen
|
October 31st, 2023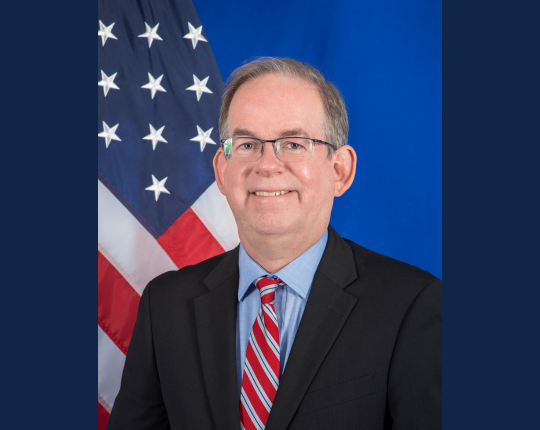 Ambassador David Young, the United States Ambassador to the Republic of Malawi, will visit the Lincoln University of Missouri campus on November 7. Ambassador Young assumed the role of U.S. Ambassador to Malawi on March 3, 2022, bringing a wealth of experience from his extensive service in African diplomatic posts over the past decade. While at Lincoln University, he will meet with President John Moseley, visit with students and present a talk.
Ambassador Young will present "Careers in Foreign Service" at a event open to the public in room 106 of Martin Luther King Hall (812 East Dunklin, Jefferson City, MO) at 1 p.m. when he visits campus on November 7. Street parking is available on Dunklin street.
Prior to his U.S. Ambassador position, he served as Chargé d'Affaires at the U.S Embassy in Lusaka, Zambia from 2020-2021. He was also Chargé d'Affaires at the U.S. Embassy in Abuja, Nigeria in 2019, as well as the Deputy Chief of Mission at the U.S. Embassy in Abuja, Nigeria from 2016-2019. Ambassador Young worked in Zambia as Deputy Chief of Mission from 2013-2016 and briefly served as Acting Deputy Chief of Mission in Khartoum, Sudan in 2012.
Ambassador Young had a 32-year career as a Foreign Service Officer. He previously held positions such as Deputy Director of the Office of the U.S. Special Envoy for Sudan and South Sudan, Executive Assistant to the Under Secretary of State for Civilian Security, Democracy and Human Rights, a Pearson Fellow in the House of Representatives and a Public Affairs Officer at Embassy Guatemala. His diverse assignments have taken him to Vietnam, Panama, the State Department Operations Center and several country desks.
Ambassador Young graduated from the University of Missouri with a bachelor's degree in journalism. He studied ecumenical studies at Trinity College in Dublin, Ireland, courtesy of a Rotary Foundation scholarship. He furthered his education by obtaining a Master of Divinity degree in social ethics and a Master of Arts in international relations from Boston University.
Born and raised in Kansas City, Missouri, Ambassador Young and his wife, Dian Weisz Young, have two grown children, Paul and Sarah. He enjoys traveling with his family, going to Coldplay and U2 concerts and watching sports of all kinds — especially the Kansas City Chiefs.
If you have any questions about Ambassador Young's visit, please contact Dr. Brian Norris at NorrisB@LincolnU.edu or Elizabeth Jordan at JordanE@LincolnU.edu.
Press Release University News