Lincoln University of Missouri Selects Eugene Diggs II as New Director of Bands
Contact
Office of Communications and Marketing
Young Hall
820 Chestnut Street
Jefferson City, MO 65101

Archives
Categories
Social Media
Abbey Tauchen
|
June 1st, 2023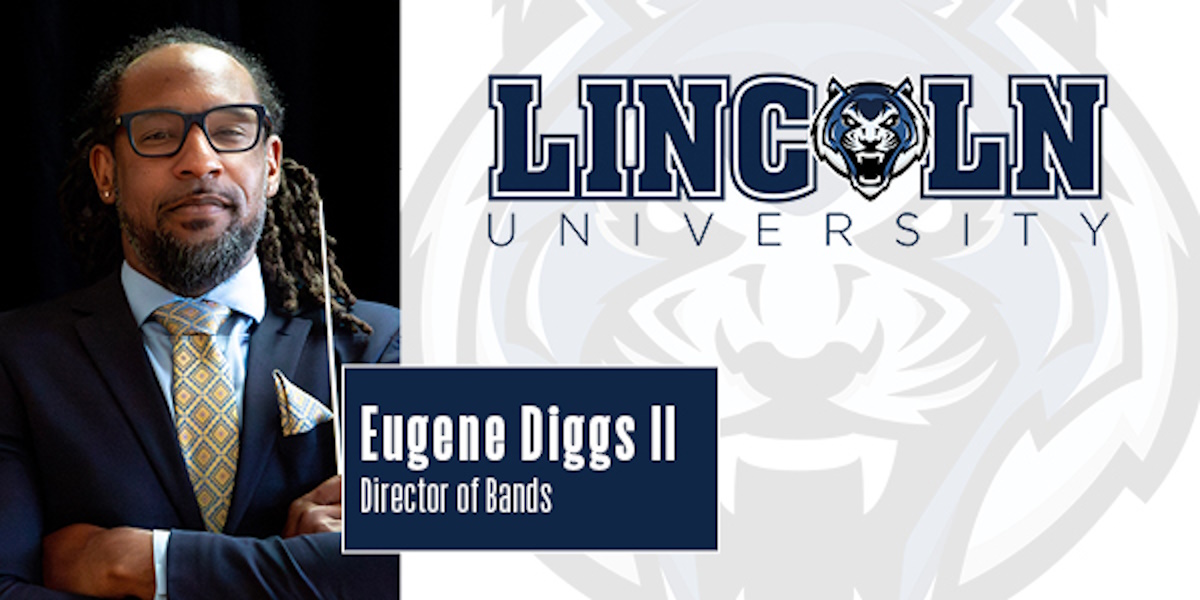 Following an extensive search, Lincoln University (LU) of Missouri has selected Eugene Diggs II as the new director of bands. As director, Diggs will provide effective leadership, organizational development and management and creative direction for the band programs, which includes the official university band (Marching Musical Storm), Symphonic Band, Pep Band and the Jazz Ensemble. By creating a band environment that supports the academic mission of the institution, Diggs will facilitate a program with a culture of excellence that embraces the historical aspects of an HBCU band.
As the new director, Diggs hopes to bring back the music education degree, increase membership and retention in the band program, increase student engagement and place musicianship at the helm of the program. 
"Our selection committee did an outstanding job identifying a composer of culture who will meet our students where they are and help them attain their personal, musical, and professional aspirations," shared LU Vice President of Advancement, Athletics and Campus Recreation Dr. Kevin Wilson. "Mr. Digg's reputation as a recruiter, composer, and family man is impeccable. He truly believes in the Marching Musical Storm brand and will pour his all into making sure it is a program can be a point of pride for current band members, the entire LU community, Jefferson City and Missouri."
Diggs has 14 years of teaching experience in Maryland, Washington D.C. and North Carolina, where his wind bands have been invited to perform at Carnegie Hall and university band concerts, as well as received Superior and Excellent ratings in regional concert band festivals. Diggs is proficient in producing marching bands; while directing Hopewell High School "Titanium Sound" in Huntersville, North Carolina, he and the band won seven grand championships in one marching season. Most recently, Diggs served as the Assistant Director of Bands for Morgan State University, where he conducted and arranged music, was the principal drill writer and a recruitment planner.
Diggs holds a master's degree in teaching leadership — curriculum and instruction from Gardner Webb University and a Bachelor of Music from Morgan State University, where he was a four-year drum major. He is currently pursuing a Doctor of Musical Arts in music education from Boston University, where his dissertation will focus on the preparation of music educators from HBCUs. He lives with his wife of seven years, Tia, and their six children.
Faculty/Staff Press Release University News