Lincoln University of Missouri Student DeAni Blake-Britton Selected as the Sigma Tau Delta English Honor Society 2023-2024 Midwest Region Associate Student Representative
Contact
Office of Communications and Marketing
Young Hall
820 Chestnut Street
Jefferson City, MO 65101

Archives
Categories
Social Media
Abbey Tauchen
|
June 12th, 2023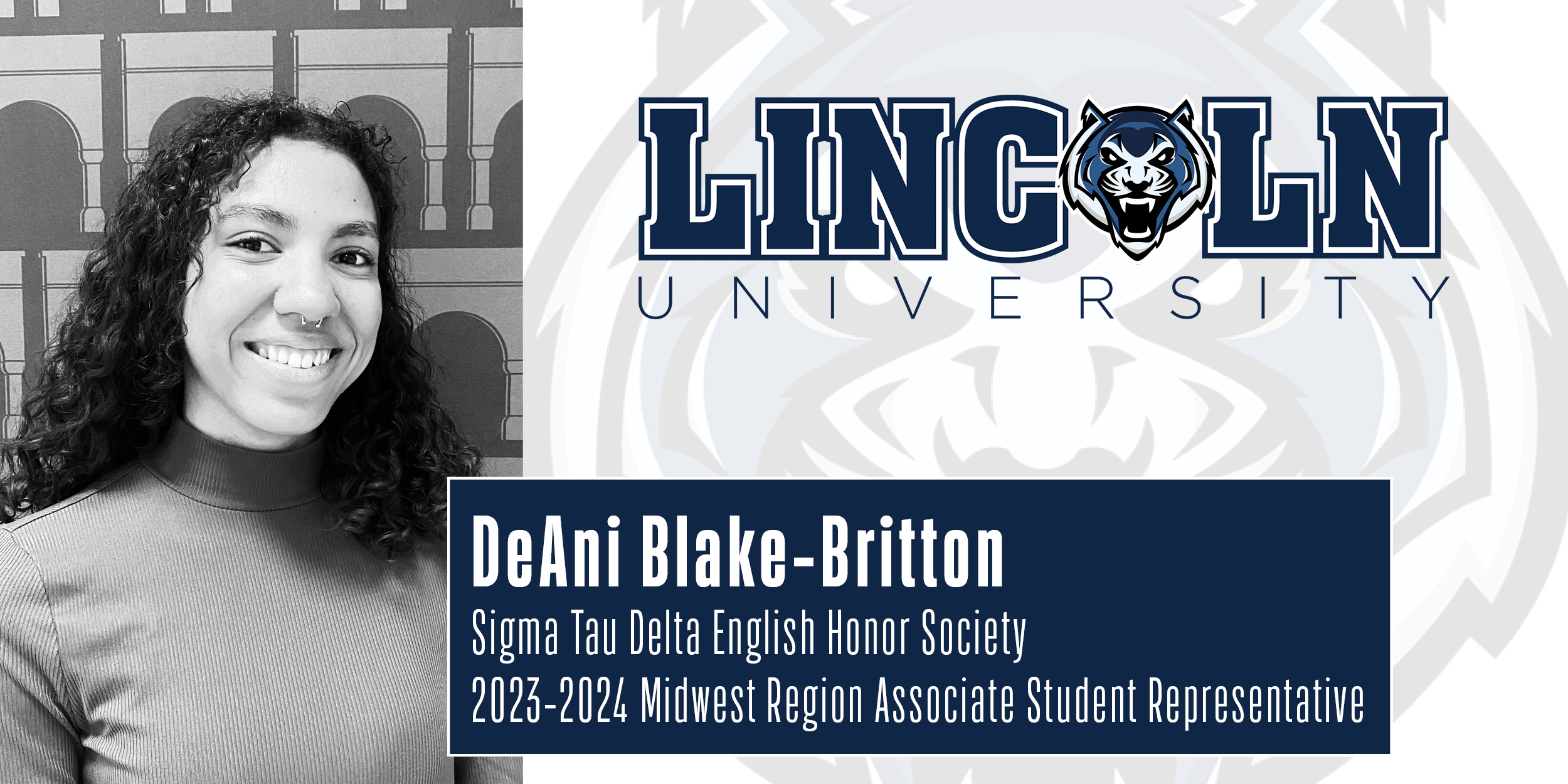 Lincoln University of Missouri student DeAni Blake-Britton was selected as the 2023-2024 Midwest Region Associate Student Representative for the Sigma Tau Delta International English Honor Society. Blake-Britton is an Honors College student majoring in English with an emphasis in creative writing and minoring in African American studies. She is from San Diego, California, and currently serves as the Omega Pi Chapter President of the Sigma Tau Delta International English Honor Society.
Blake-Britton will be representing all Midwest chapters — there are 153 Midwest chapters in Illinois, Indiana, Iowa, Michigan, Minnesota, Missouri and Wisconsin — at the international level of the honor society. Through this experience, she will gain valuable networking, organizational and leadership skills that will benefit her personally and professionally. Blake-Britton is particularly excited to collaborate with other organization members and contribute to the Sigma Tau Delta 2024 experience.
"I'm incredibly honored to have been selected as Midwest Region Associate Student Representative," Blake-Britton said. "I'd especially like to thank my chapter advisor, Mr. Burrell, for his encouragement and support throughout the application process."
Blake-Britton's duties as Midwest Region Associate Student Representative (ASR) include:
Assisting the Student Representative (SR) in their regional duties.
Contributing to the official Sigma Tau Delta platforms via Facebook, TikTok and other social media accounts by creating audiovisual content, writing blog posts and making chapter member spotlights.
Advising the Student Leadership Committee and SR on the annual board committee report and board position report.
Serving on the Student Leadership Committee and other board committees.
Planning, facilitating and participating in official regional conferences, opportunities or other activities.
Participating in official Student Leadership Committee communications and activities, including monthly committee meetings, corresponding with the central office and any special projects delegated by the student advisors.
Assisting in the promotion and dissemination of the application process for the succeeding Student Leadership Committee.
"I encouraged DeAni to apply for this position not only because she is our current chapter president and a naturally talented writer, but because she's always trying to find ways to sharpen her craft and promote literacy," said Eljah Burrell, LU associate professor of English. "Representation matters, and it's imperative that a gifted student from a leading HBCU is part of that. I'm overjoyed that she was selected.
Blake-Britton was the recipient of the 2023 Joanne M. Burrell Memorial Scholarship and the 2023 English Achievement Award. Following graduation, she hopes to obtain a terminal degree in creative writing, teach at the college level and be widely published. In her free time, she enjoys playing guitar, listening to music, reading and spending time with friends.
University News Students English