Lincoln University Wins DOE Grant to Train a Diverse STEM Workforce
Contact
Office of Communications and Marketing
Young Hall
820 Chestnut Street
Jefferson City, MO 65101

Archives
Categories
Social Media
Kathy Casteel
|
May 2nd, 2023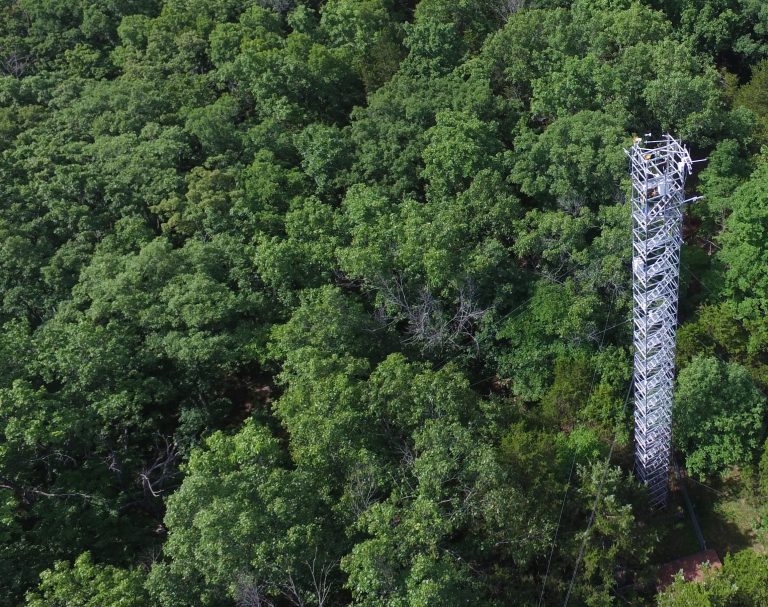 The U.S. Department of Energy (DOE) recently awarded an $800,000 grant to a Lincoln University of Missouri professor to fund efforts to develop a more diverse STEM workforce over the next four years.
Sean Zeiger, an assistant professor of forest hydrology and watershed management at Lincoln, leads the project to train a diverse workforce to measure and model energy, water and carbon budgets. A partnership with Oak Ridge National Laboratory in Tennessee and collaboration with the University of Missouri offers enhanced training and research opportunities for LU students selected for the program.
"The need to recruit and retain underrepresented minorities in science, technology, engineering and mathematics (STEM) is a national security issue impacting U.S. governmental agencies of the 21st century," Zeiger says. "The Department of Energy and other federal agencies are making historic investments in diversity and inclusion with Lincoln University and other historically Black colleges and universities."
Funded by the DOE Office of Science Biological and Environmental Research Program, the grant is part of an initiative called Reaching a New Energy Sciences Workforce (RENEW). The RENEW program seeks to build a foundation for research with training opportunities for students, researchers and faculty at academic institutions not currently well represented in U.S. science and technology. At Lincoln, Zeiger and his team will mentor undergraduate and graduate students in research studies at MOFLUX, the University of Missouri's AmeriFlux Missouri Ozark site near Ashland that examines the impacts of extreme weather and climate on forest-level carbon dioxide uptake and release. Students will maintain an existing network of six MOFLUX weather stations and analyze and synthesize the data they collect there.
The team will also develop student-friendly learning materials and training modules for research activities at MOFLUX and create a case-study curriculum for physical hydrology and geographic information systems (GIS) courses at Lincoln.
Students will spend time at Oak Ridge National Laboratory in an immersive short course on measuring and modeling ecosystem processes. While at Oak Ridge, they will undergo training in the theory and practice of ecosystem monitoring and modeling to develop a range of skills. As a capstone experience, graduate students will attend the Fluxcourse at the University of Colorado Mountain Research Station at Niwot Ridge near Boulder.
Zeiger, who joined Lincoln's faculty in 2020, holds a bachelor's degree in biology and environmental science from Drury University and both a master's and Ph.D. in natural resources/water resources from the University of Missouri. He teaches LU courses in applied watershed management and fundamentals of geospatial information sciences (GIS). "Our RENEW students are learning about the role of forests in climate- and water-related issues of the 21st century," he says.
Lincoln students will reap numerous benefits from this grant, Zeiger says. "Graduate research assistantships and undergraduate student employment, tuition support, hands-on student training in Mark Twain National Forest," he notes, as well as opportunities to present scientific research at internationally and nationally renowned science conferences, a journal club and travel to Oak Ridge National Laboratory for tours, scientific panels and hands-on activities. Plus, he adds, "We'll have sightseeing led by world-class scientists, a night of 'glamping' in the Great Smoky Mountains and travel to the Rocky Mountains."
Lincoln students interested in joining the program for hands-on environmental research training may contact Zeiger at ZeigerS@LincolnU.edu.
Faculty/Staff Academics Press Release University News