Show Your Blue Stripes Showcase: 14 Students, 3 Victors, Countless Triumphs in Mastering the Art of Public Speaking
Contact
Office of Communications and Marketing
Young Hall
820 Chestnut Street
Jefferson City, MO 65101

Archives
Categories
Social Media
Stephanie Cobian
|
May 3rd, 2023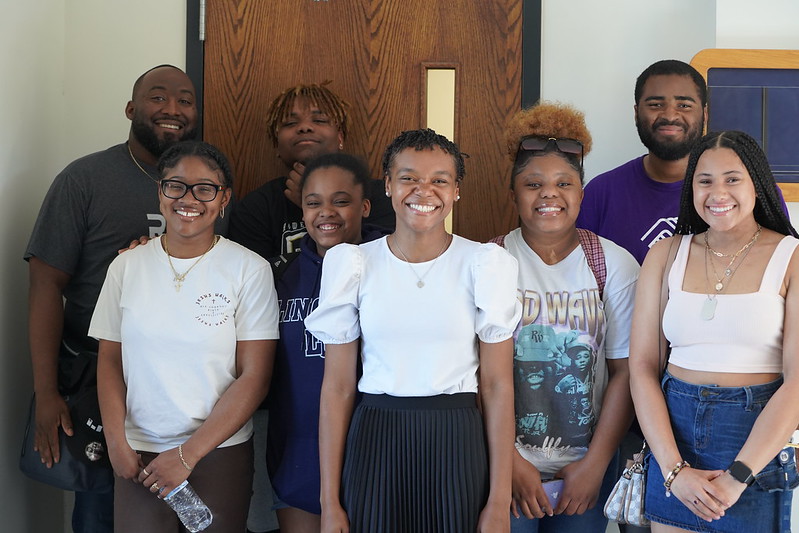 Lincoln University held its second annual Show Your Blue Stripes Showcase research conference on April 11 and 12, which was hosted in Page Library. Fourteen undergraduate students presented their independent or course research conducted during Fall 2022 or the current Spring semester to the public and Lincoln community. Among the participants, Chyler Hughes, Tyler Roe and Steve Ross won 1st, 2nd and 3rd place at the event, respectively.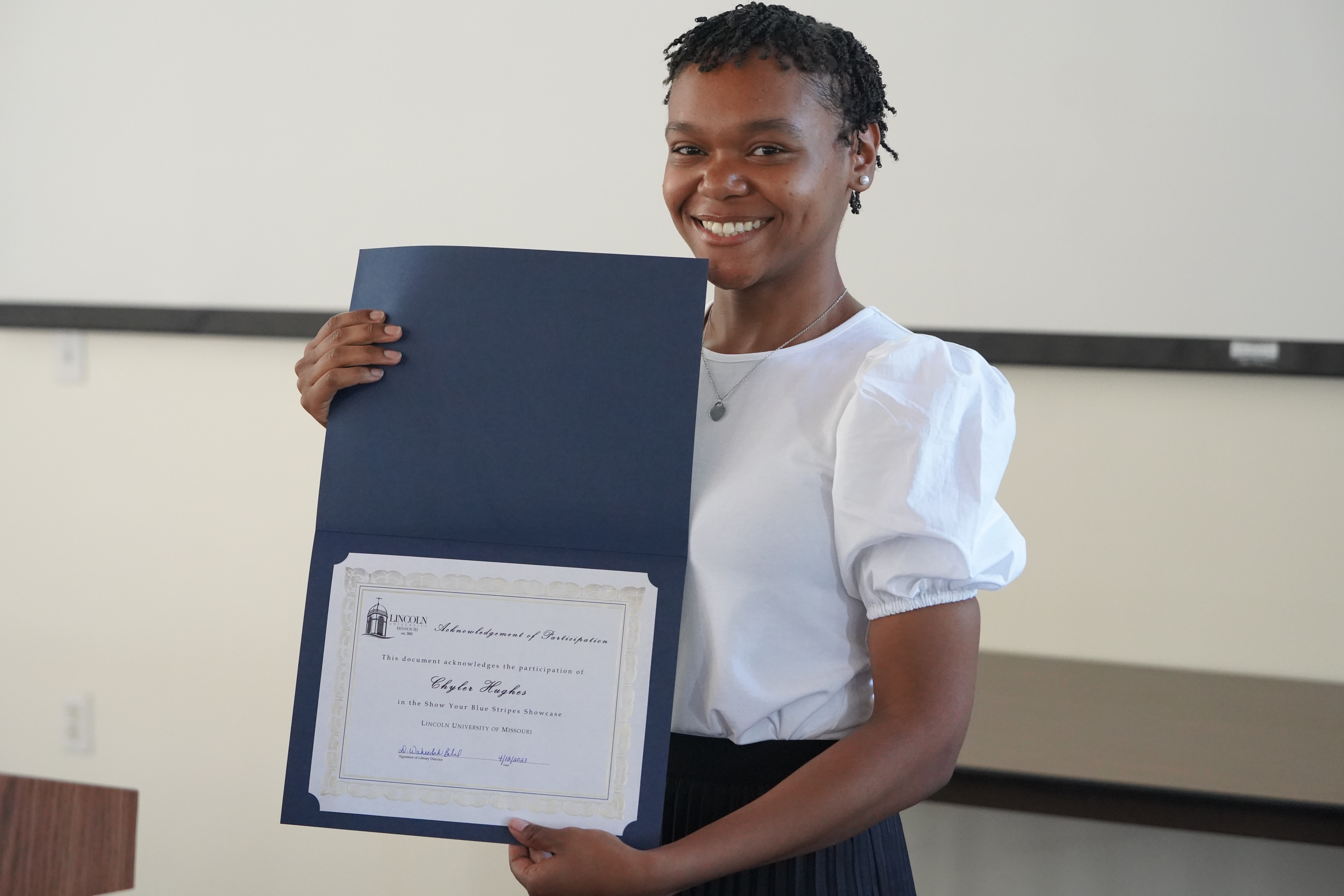 Executive Director of Academic Initiatives Dr. Darius Watson gave the opening remarks, followed by students' presentations. Each student was allotted 15 minutes to present their research on a wide array of topics ranging from Black pioneers in mental health, current events, and ethics and anthropology to plant and animal science, which were evaluated by a panel of judges from Lincoln University's faculty and staff.
"This is a great opportunity for the students to not only become a published author but also to develop the skills and confidence to speak in front of an audience in their future endeavors—whether it be in grad school, business or out in public," stated this year's event organizer and Lincoln's Reference and Instruction Librarian Ari Pappas.
To prepare for the showcase, students worked with an assigned advisor, who offered them opportunities practicing presenting and giving individualized feedback. Anthropology & Sociology Associate Professor Dr. Christine E. Boston served as one of the faculty sponsors for five students. Serving as an impromptu judge, Boston commented, "I was thoroughly impressed at the students' hard work in their research. They completed some great results with their individual research projects, followed by producing new material for their public presentations. The three winners epitomize Lincoln excellence, but all the students exemplify the greatness of Lincoln students, at every level—from novice to advanced researchers."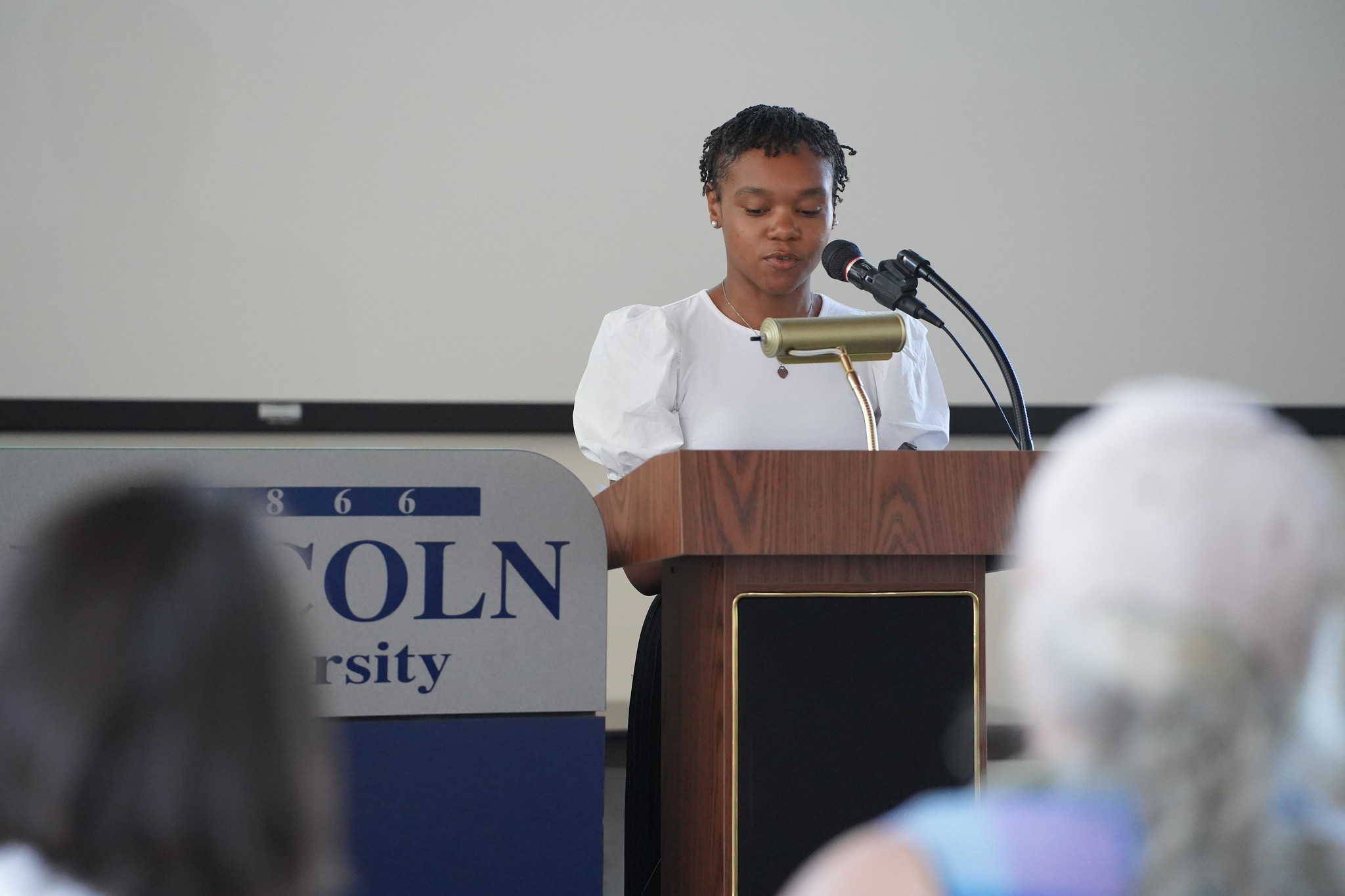 First place winner, Chyler Hughes, a junior majoring in agriculture with an emphasis in natural resources management attributed her success to the encouragement and guidance she received from her presentation advisor, Professor of Psychology Dr. Mara Aruguete and Lincoln University College of Agriculture, Environment and Human Sciences (LUCAEHS) Project Manager Amy Bax. The Kentucky native believes their advice to practice and give statistics was instrumental in winning first place. Hughes spoke on "Native Plant Testing: Community Response to EcoFarm Tour," an analysis of the results she received based on a survey given to participants who attended a FINCA tour and tasted samples of food that used native plants. After receiving feedback from participants, Hughes and her team made improvements to the recipes that will be used for future visits to FINCA EcoFarm. The FINCA is a small demonstrative farm with mostly native plants on campus led by Lincoln University Cooperative Extension Specialty Crops Specialist Dr. Nadia Navarrete-Tindall.
Second place went to psychology major, Tyler Roe, from Kansas City, Missouri. Roe, who will graduate in December 2023, gave his presentation on the "Archaeology of Homelessness."
Psychology major Steve Ross from Omaha, Nebraska, won third place with his topic "Primate Profile: Sumatran Orangutans." The freshman shared it was a great learning experience, giving him the practice needed for future classes and beyond college.
"I recommend that other students participate in this event in the future," Ross said. "We should be proud of our research and be excited to show it off on a platform such as this."
An awards ceremony acknowledging the students' achievements took place after the presentation. All three students won cash prizes, and Hughes' research will be published in the Blue Tiger Commons.
On April 21-22, both Roe and Hughes presented their research at the 60th Annual Missouri Academy of Science (MAS) Meeting held at Missouri Southern State University in Joplin, Missouri. MAS was established with the intent to promote interest in science and social science and to encourage collaboration among the various scientific fields in Missouri, making it an excellent platform for students to attend and participate. The event drew 250 participants from around the state and over 170 scientific posters and oral presentations.
The conference kicked off with a social and improv session centered on science. After presentations, Mr. Chad Pregracke, the founder of Living Lands and Waters, delivered the keynote speech to students, followed by a business meeting giving students the opportunity to network with other students and colleagues from a broad range of backgrounds.
Hughes took part in the showcase as she recognized the importance of public speaking skills for her future career in intelligence. She also encouraged other students to participate and believes the biggest takeaway was that "it's okay to make a mistake, just keep going."
For more information on the Show Your Blue Stripes Showcase, please contact Mx. Ari Pappas at pappasa@lincolnu.edu.
Academics Students University News