Unveiling of Felix Wulff Plaque at George Washington Carver Farm
Contact
Office of Communications and Marketing
Young Hall
820 Chestnut Street
Jefferson City, MO 65101

Archives
Categories
Social Media
Stephanie Cobian
|
February 15th, 2023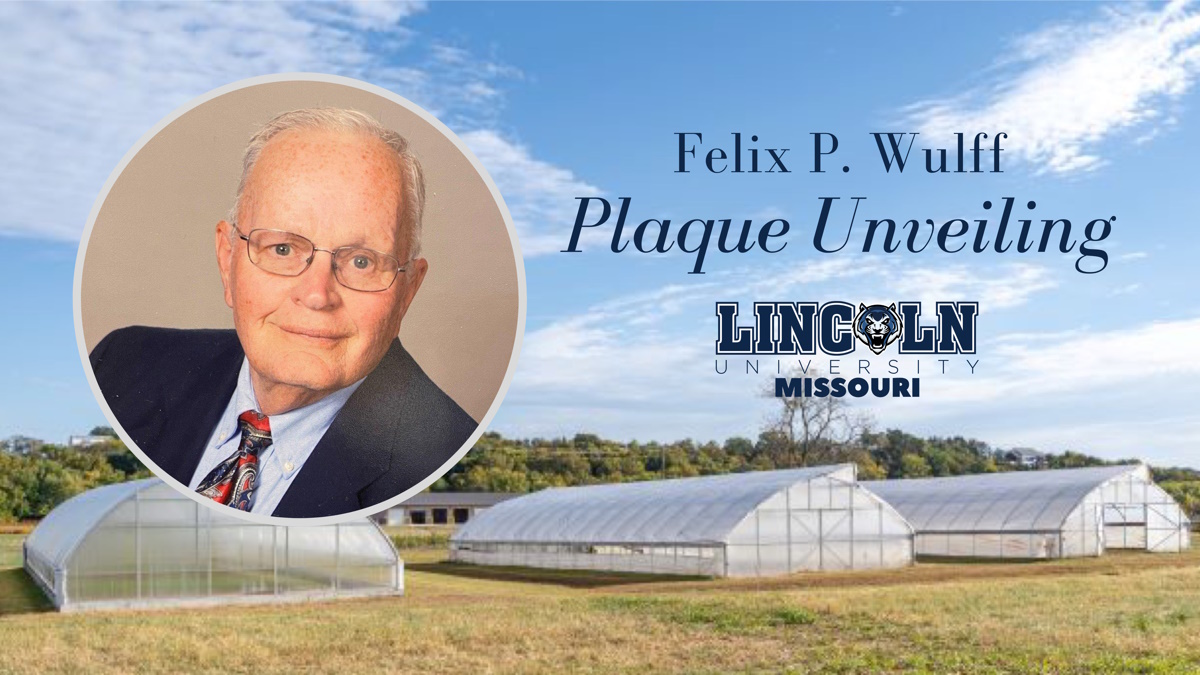 Lincoln University will host a dedication unveiling a plaque in honor of the late Felix P. Wulff (June 6, 1974 – Feb. 4, 2022) at George Washington Carver Farm on Friday, Feb. 17.
For 35 years, Wulff was a dedicated employee of Lincoln University, where he served as the farm manager and assistant professor. He graduated from LU in 1969 with a Bachelor of Science in agriculture and received the highest achievement award. He then earned a Master of Science in animal nutrition from the University of Missouri in 1971. In 1976, he became the LU farm manager and was instrumental in successfully helping to build, develop and oversee the projects of the agricultural program.
Wulff was very involved in everything related to research and extension at LU. Believing the community needed to know about Lincoln, he served as a major advocate, representing the university throughout the city, county and state, and actively recruited students to the agriculture program. Among his other accomplishments, Wulff was very active in the Ag Club and FFA activities at LU and served as a member of the Jefferson City Chamber of Commerce.
Wulff was a man of deep concern for others, even generously donating his own money to ensure students had the tools to succeed. He was a pillar in the community and Missouri farms, committed to Lincoln's cause and creating a purpose for future generations and farmers.
"The number of people that share stories about his legacy and commitment to both the university and its students speaks of a man of great character who cared deeply for the success of our students and their participation in agriculture," LU President Dr. John B. Moseley says.
The dedication ceremony will begin with an introduction by farm technician Doug Moeller, followed by remarks from Moseley. Guests are invited to share tributes and remembrances of Wulff. The plaque will be presented to Wulff's wife, Joann Wulff, and daughter, Lisa Wulff.
The public is invited to attend the dedication at Carver Farm—Multipurpose Building, 3804 Bald Hill Road. This event will take place Feb. 17 from 3 – 5 p.m. Guests are invited for light refreshments after the ceremony.
For more information, visit https://www.lincolnu.edu/events/index.html.